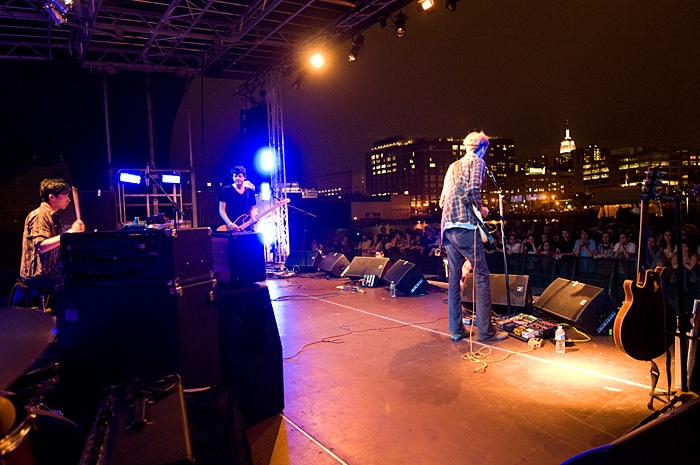 [photo courtesy of Natasha Ryan]
The last time we saw Deerhunter, it was two years ago (at Music Hall) and the band was riding the success of Microcastle and performing as a five-piece band. Bradford and the band were relaxed and playing with more confidence than ever. In the intervening two years, Deerhunter has not been particularly active as a touring band, as Bradford has released an Atlas Sound album (and tour) and the band got busy recording the next album — Halcyon Digest due for release on September 28 on 4AD Records. Last night in the rain at Pier 54, Deerhunter returned to NYC as a four-piece and played a blistering guitar-heavy set that featured four new songs and several re-worked older numbers. Of note were the upbeat "Rainwater Cassette Exchange", a long (eight minute) shimmering "Fluorescent Grey" (streaming below) and the completely rabid twenty-minute "Nothing Ever Happened" that devolved into a lengthy multilayered and looped guitar jam. Deerhunter means business with this more muscled approach and we expect that Halcyon Digest will be a superb new release.
This set was recorded with our mobile DPA rig from the first row on the rail, directly in front of the left PA stack at about 15 feet. The recording has an in-your-face directness and clarity, but the sound mix in the outdoor venue was spotty at times, and often over-modulated Bradford's guitar. With those caveats, enjoy!
Stream "Fluorescent Grey":
[audio:http://www.nyctaper.com/D9090Deerhunter8282/09%20Deerhunter2010-08-12_nyctaper_t09.mp3]
Direct download of complete show in MP3 files (HERE)
Download the Complete show in FLAC [HERE].
Deerhunter
2010-08-12
Pier 54
New York, NY USA
Digital Master Recording
Recorded from Front Row
15 Feet From Left Stack
DPA 4021's > Marantz PMD-660 (Oade BCM) > 16bit 44.1 wav > Soundforge (set fades, level adjustment, slight eq) > CDWave 1.95 (tracking) > Flac Frontend (level 7, align sector boundaries) > flac
Recorded and Produced by
nyctaper 2010-08-13
Setlist:
[total time 1:19:53]
01 Desire Lines
02 Hazel Street
03 Revival
04 Rainwater Cassette Exchange
05 Never Stops
06 Spring Hall Convert
07 Fountain Stairs
08 Wash Off
09 Fluorescent Grey
10 Helicopter
11 [encore break – loops]
12 Cover Me (Slowly)
13 Agoraphobia
14 Nothing Ever Happened / Jam
If you email nyctaper for access to this recording, we expect that you will PLEASE SUPPORT Deerhunter, visit their MySpace page, visit the band blog, visit the Halcyon Digest page, and purchase Halcyon Digest when it is released by 4AD Records [here].