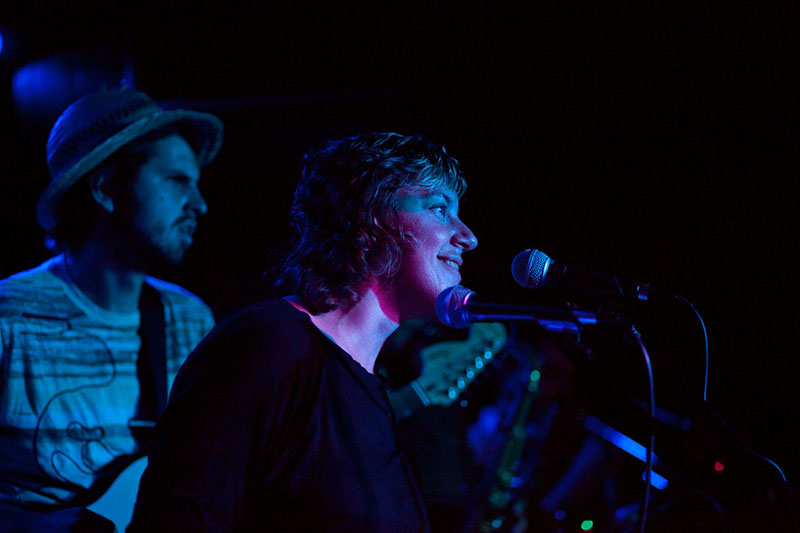 [photos for nyctaper by David Andrako]
Although she has played several times recently in NYC, we had not previously cross paths with Merrill Garbus and Tune-Yards. I had heard tremendous accolades for her set opening for Dirty Projectors at Bowery, so it was with great anticipation that we witnessed her Monday night set for the grand opening of The Rock Shop. The reports that Tune-Yards elevates their music to another whole level for the live show have not been exaggerated. From the very first moments of this set, Merrill was in complete control. As she opened with the abundantly sampled voice tracks of the anthemic "Hatari", the packed house swayed with every beat and responded to every call. While several songs were performed solo, for most of the set Merrill was accompanied by the outstanding bass of Nate Brenner, and for several special numbers she was also joined by a three-piece horn section. But the focus never left Merrill, as her stage persona is thoroughly compelling. Tune-Yards will soon record their follow-up to the well regarded debut record Bird-Brains, and several of those songs were on display on Monday night. Of the newer numbers, the call and response "Do You Want to Live?" retains Merrill's uncannily natural adaptations of African rhythms, while the encore "Powa" (streaming below) is a more offbeat pop number with multi-influenced rhythmic changes.
This set was recorded under the same conditions as the Sharon Van Etten recording and the sound quality is outstanding. Enjoy!
Stream "Powa":
[audio:http://www.nyctaper.com/T2080TuneYards1102/13%20Tune-Yards2010-08-02_nyctaper_t13.mp3]
Direct download of complete show in MP3 files (HERE)
Download the Complete show in FLAC [HERE].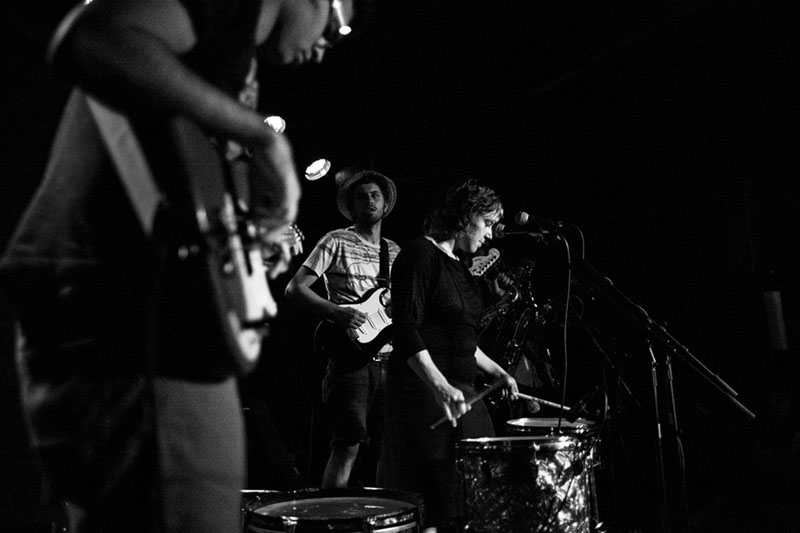 Tune-Yards
2010-08-02
The Rock Shop
Brooklyn, NY USA
Digital Master Recording
Soundboard + Audience Matrix
Soundboard + DPA 4021s > Edirol R-44 (Oade Concert Mod) > 2x 24bit 48kHz wav files > Soundforge (level adjustments, mixdown, set fades) > CDWave 1.95 (tracking) > Flac Frontend (level 7, align sector boundaries) > flac
Recorded and Produced by nyctaper
2010-08-04
Setlist:
[Total Time 59:39]
01 Hatari
02 You Yes
03 [banter]
04 Fiya
05 Gangsta
06 Real Live Flesh
07 News
08 Do You Want to Live?
09 Jumping Jack
10 [banter]
11 Biz
12 [encore break]
13 Powa
If you email nyctaper for access to this recording, we expect that you will PLEASE SUPPORT Tune-Yards, visit the website, visit the MySpace page, and purchase Bird-Brains directly from the 4AD Records website [HERE].