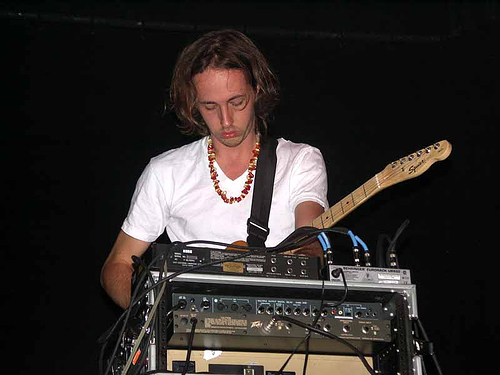 [photo courtesy of Shockmountain]
Tomorrow night Deakin (Josh Dibb) will perform his first solo show in NYC. The show takes place at Glasslands, where he supports Prince Rama at their CD release show. NYCTaper will be there to capture audio of this performance.
Since he took a leave from performing live with Animal Collective, Deakin has kept busy. In the interview below, Josh discusses his current solo career and looks forward. We're very happy to welcome back Jarrod Dicker to NYCTaper for this excellent interview.
Deakin Interview:

JD: The September 13th show at Glassland's kicks off your forthcoming tour with Prince Rama. What fueled the decision to begin the tour in New York?

Deakin: Well, I usually prefer to hit New York towards the end of the tour. This tour came about because I wasn't already on tour and I don't have a record of my own to tour right now. I figured it would be cool to go out and tour with somebody else for the time being. I asked them to do it and we began to throw around a bunch of ideas. Their record is set to release on the 14th, so they already prepared to do an album release show at Glasslands. The show is very much theirs; they started planning that before we even agreed to tour together.

JD: How about the routing of the rest of the tour; did you have any say choosing locations and venues?

Deakin: Yes but originally we wanted to do a southern tour. We used the booking agent from Animal Collective and we talked about ways we could possibly re-route it to the south. But personally, I don't want to be touring for more than three weeks. This is the longest tour I've ever done by myself so I don't want to go into the territory where I'd be doing a five week US tour. So the routing we ended up doing works out the best and we're happy with it. Its also the places where Prince Rama has to be because they're going to keep going after I stop.

JD: How did your relationship with Prince Rama materialize?

Deakin: I'd been spending a lot of time with Prince Rama ever since Animal Collective helped record their album back in April. We all became pretty good friends and doing a tour with them seemed to be the obvious choice since they're touring on that record. I felt it would be good promotion for them. As I said, I don't have the advantage of promoting my own record right now and since they do, we can both essentially help each other out.

JD: You've performed in the New York area many times over the years. What, if any, expectations do you have from the Brooklyn crowd this Monday at Glasslands?

Deacon: Actually not much in particular. New York tends to be a slightly more intense place to play than most other places. I don't know if its because I've spent so many years living there or if its other elements of New York that make it like that. I don't really have any specific expectations. I feel like New York generally ends up being a little bit more energized and people who want to know what's going on will form an opinion of it quickly. New York is always a place where people's opinions get in the middle of their listening experience. I guess that sounds like the way it should be but its definitely more intense in New York. Another difference is that a lot of my friends who haven't seen me play yet will be there. On a personal level I hope they like it [laughs].

JD: 2010 has been a year where you focused more on yourself and your solo work. You've played selected shows since January here and there but they have often been spread out and spontaneous. How do you look at this year, personally, and what to you want to get out of it?

Deakin: I'm very conservative about the dates I pick for a large part because I don't have a record to tour around yet. Even with my background–which I feel does help out a lot in terms of people knowing or caring that I'm playing a show–not having a record sort of makes it difficult. So I'm just waiting for an album to happen. The songs I'm working on in my mind are taking their time working themselves out. Its helpful for me to push myself out there and play live shows because it motivates me. It helps me in trying to take things to the next level. I think this year has been about that for me. This year has been about me doing things that I've been pretty shy doing in the past. Its a matter of taking opportunities as they come.


JD: How have fans been reacting to your solo material?

Deakin: You know I'm not exactly sure. Its definitely a mixed reaction. I have people come up after shows that seem really psyched but I've also made the mistake going on message boards now and again and reading fan reactions there. Some of them are good but a lot of them are nasty. I know better than to look there. I find when people take the time to write things on the internet, often times they want to say something gnarly. I just think Animal Collective have gotten so much attention these past few years. People that have come to know about us have really trying opinions of us; they're either really excited about it or really hateful towards it. So I feel there's a lot of that energy when I play shows, both the obscene excitement and desire to criticize. Its sometimes a little hard to want to engage yourself in that. But I often find there's a middle ground. I just try to ignore it for right now because I don't think it helps me when trying to accomplish what I set out to do. Its just what it is.

JD: Your role as a solo artist is very different from your role in Animal Collective. Is it difficult to jump back and forth between projects? Is it a complicated transitional process?

Deakin: They're many things that make both pretty different. I'm responsible for a lot more when I do my solo work. When the four of us–or three of us, whatever it ends up being at the time– are working together we all have a big hand in what all the songs come out to be. In general Noah Lennox (Panda Bear) and/or Dave Portner (Avey Tare) are the primary song shapers or melody makers for AnCo. Everybody really has their separate role. I don't consider myself a drummer or maker of rhythms where as Noah is really great at it. But I don't have Noah with me now [laughs], so I'm trying to take on everything in a sense. I am used to having those guys around so its definitely a different role. I feel like there's a certain level of ease and fun that can be removed when you don't have the comfort of playing with the other guys. If we're on stage and all four of us are going at it, there's a lot of energy going back and forth between us. You hope that the other guys are getting inspired by that and you feed off what the other guys are doing. When its me by myself and I feel like I'm lagging, I need to sort of push myself and its a stranger feeling than when I'm playing live with the dudes.

JD: What inspirations guider your musical process as of late? Is it different than say the creative energy you harbored a few years ago?

Deakin: I think its really similar in a lot of ways. They're a lot of benchmarks sonically, for me that remain the same. I guess for me, the level that has become new again is the songwriting element and what that really means. I wrote a lot in high school and would work to complete songs. And when we started doing AnCo stuff I let a lot of that go.

JD: In terms of traditionally writing songs?

Deakin: In terms that I started to create more of my music through jamming. I create from a place of jamming. That's really important to me whether its a matter of picking samples to loop or just finding a sound on my guitar that I'm psyched on. I'll start to mess around with it and melodies usually come out of that. I have to spend a lot of time just going over and over and over playing on the same idea. Its out of that where I've been able to understand how I preconceive things in my head and figure out how to realize them.

JD: Do you follow that same philosophy lyrically?

Deakin: When I play live, for the most part, I make up the lyrics as I go [laughs]. Initially that came from the first couple shows I played. I hadn't quite figured out exactly what I wanted to do yet and I did envision that I would get to a place where it would become real clear. All in all, its scary as hell, but I'm kind of open to it in a way. When it works it works really well but when it doesn't it becomes really frightening, especially when you're playing live in front of a lot of people. Personally I get more out of it when I let whatever seems appropriate at the time come out. Its been really helpful for me in terms of writing and figuring out what I want songs to be about; what emotions or energy I want to come out through them.

JD: As you stated before, you would like to create a solo album eventually once all the mechanics work themselves out. Would you ever take some of this material to the boys of Animal Collective and possibly use it on an AnCo album?

Deakin: I can see it going both ways. I definitely intend on doing a solo record but I definitely would be psyched to take some of the stuff I've been working on to the dudes as well. I think I started off this year with really clear expectations on how it would play itself out and I found that I have to give in a little more when working solo. When I'm working for other people its easier because I'm given a deadline and a clear purpose. While I've been exploring this process of doing it by myself I realized its a lot harder to say I'm going to spend a month recording a record. To me its just an open process. I absolutely want to make a record but I just don't know when. The improvisational thing is that I have songs but its very loose structures. There's this sort of a looseness built into it. Parts can change how they cut in and lyrically as well. There's a lot of space for melodies to change.

JD: Anything else fans should be looking forward from the AnCo or Deakin camp?

Deakin: We've always been doing home recordings but this year it suddenly became a little bit more intense. I helped engineer Prince Rama's record and then I did Dave's record that's coming out in October. That t was a big project and based on a couple things we have done at his house, we're psyched about where we are. And Noah just asked Dave and I to mix his record when that's finished so I'm really looking forward to that.

JD: Seems like you have a lot on your plate.

Deakin: I mean there's also a lot of other stuff that I'm looking forward to at this point in addition to music. I want to get more involved with sustainable building and plant medicine. I'm seeing how I'll be able to do all these different things. I'm super inspired to do it and want to find a way to feed my need and apply myself in other parts of the world. I've been doing carpentry and building on and off the entire time I've been working with AnCo. I'm starting to feel I really need both energies to be firmly rooted in my life. I'm hoping next year could be a lot about that. We've been talking about future AnCo stuff as well. Were not entirely sure when it will be exactly, but its something we're all starting to feel and look forward to.