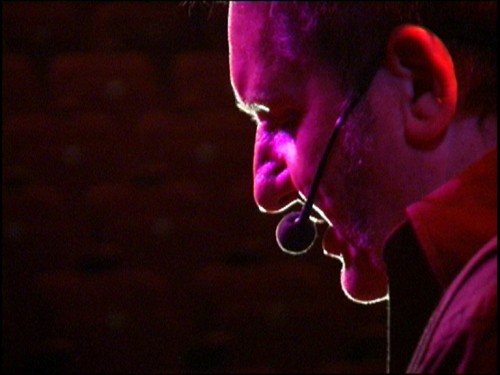 [photo courtesy of pierceturner.com]
I saw Pierce Turner at Joe's Pub a couple of weeks back, and it was the first time I've seen him in two years. The show was a delightful performance that proved that although he may have slowed a bit, Turner is still capable of charming an audience and energizing the fans. The aftershow conversation steered towards the past, and I was reminded of the archive of outstanding Pierce Turner performances that I have recorded over the years.
Throughout the 90s, Pierce did a series of "residencies" at local Irish clubs. In the early part of the decade, his Friday nights at Nevada Smiths were legendary and led to the release of the live album Manana in Manhattan, recorded at Smiths on a crazy Monday night in 1994. Later, his "Sunday mass" at Swift Hibernian Lounge drew an eclectic Sunday afternoon crowd and continued from 1996 until early 1998. When the Swift residency ended, Pierce moved the Sunday shows to Fiddlesticks, which is an enormous Irish pub on Greenwich Avenue that had recently opened back in '98.
The recording posted here was the very first night of Sunday's at Fiddlesticks, a series of shows that would continue for about six months. On this opening night, Pierce brought out all the stops, and played a nearly two-hour show packed with all of his best material and several rarities. The band consisted of the regular string quartet and drummer Michael Dawe, although regular cellist Tomas Ulrich was unavailable on this particular night. Pierce opened the show with "I Set You Up to Shake" from US version of The Sky and the Ground, accompanied only by backing tapes as he walked on top of the bar and the tables. It was a song he had not performed live in several years. "Groovy Hearts", a song that appeared on Turner's first album but was originally recorded for the final (never released) Major Thinkers album was a special rare treat. Five encores and a couple of hours later, the show ended with promises to return, which Pierce honored for months.
I recorded this set with a feed from the soundboard into my Sony M-1 DAT deck. Pierce's live sound at the time was mixed by a talented engineer named Scott Whitney with whom I've unfortunately lost touch. Scott mixed the show superbly on this evening and the result is an excellent recording and listening experience. Enjoy!
Stream the entire concert:

Direct download of complete show in MP3 files (HERE)
Direct download of the FLAC files available at Archive.org Link (HERE)
Pierce Turner
1998-02-15
Fiddlesticks
New York, New York USA
Master Digital Soundboard Recording
Soundboard > Sony M-1 DAT
DAT Master > Panasonic SV-3800 > digital coaxial > Audigy 2 ZS Platinum > Soundforge (level adjustments, set fades) > 16 bit 44.1 wav > CD Wave (tracking) > Flac Frontend (level 7, align sector boundaries) > flac
Recorded by nyctaper in 1998
Produced by nyctaper 2010-11-08
Setlist:
[total time: 1:55:59]
01 I Set You Up To Shake
02 Thunderstorm
03 Moonbeam Josephine
04 Don't Want Her To Feel That Way
05 [banter]
06 Say You Don't Mind [Colin Blunstone]
07 You Can Never Know
08 [banter]
09 Ball and Chain (Snakes and Ladders)
10 Who's Your Advisor
11 [banter]
12 Groovy Hearts
13 Oh Ireland
14 Mr. Smith
15 Lithium [Nirvana]
16 [banter]
17 For No One [Beatles]
18 [banter]
19 Manana In Manhattan
20 Not A Bad Day For A Wednesday
21 [band introductions]
22 Wicklow Hills
23 [encore break]
24 God Only Knows [Beach Boys]
25 [banter]
26 Band Of Gold [Freda Payne]
27 Musha God Help Her
28 [second encore break]
29 Big Big Bruise
30 [banter]
31 Orange Coloured Sun
If you email nyctaper for access to this recording, we expect that you will PLEASE SUPPORT Pierce Turner, visit his website, and purchase his releases directly from the online store at his website.