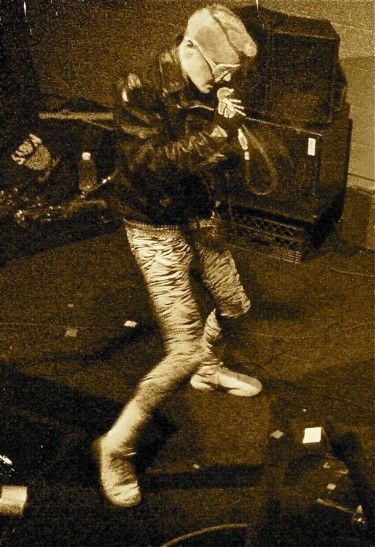 [photos by acidjack with iPhone4 and Hipstamatic]
The man who I anointed the male Lady GaGa (followed by Pitchfork co-opting the comparison in their review of Special Affections) after he played the NYCTaper 2010 CMJ Show was at it again on a Saturday night early this month, and he remains on a roll. Glasslands has had some especially strong rosters lately, in part thanks to the efforts of PopGun Booking, and this was no exception, with ArpLine, Austra and Body Language also on the bill. But the tall, blonde man from Toronto was clearly the main draw. Don't think that a one-man act cannot put on a rock-n-roll show; John O'Regan (Mr. Diamond Rings himself) gave that the lie big-time as he danced, played guitar, spazzed out, and rocked out all over the stage. If this is what he is capable of with no backup of any kind on the Glasslands stage, he might just be scary at the next level; even at this show, a creepy guy in the front was photographing his shoes and (from where I was sitting, at least) his crotch. But you can't fault people for getting a little creepy – the sexual energy of O'Regan's set is undeniable, and unlike really anything crossing most indie rock stages these days. He vamps, he flaunts, he owns the place. And O'Regan is about to gain a much wider audience for his music, too, as he begins at tour as the opening act for Robyn (tour dates here). She'd better be ready, or O'Regan just might blow her off the stage.
I recorded this set with a soundboard feed from the Glasslands staff and the DPA microphones. Other than some light distortion on the board feed during one track, the sound is outstanding. Enjoy!
Stream "Play By Heart":
[audio:http://www.nyctaper.com/D1807DiamondRings2211/DiamondRings-PlayByHeart2010-12-04.mp3]
Direct download of MP3 files [HERE]
Download the Complete show in FLAC [HERE].
Diamond Rings
2010-12-04
Glasslands
Brooklyn, NY USA
An acidjack master recording
Recorded and produced by acidjack for nyctaper.com
Equipment: Soundboard+DPA 4021>Edirol R-44 [Oade Concert Mod] (24/48)
Position: Clamp to balcony, ROC, ORTF
Mastering: 2x24bit/48kHz WAV>Audition (apply compression to soundboard track)>Audacity (split soundboard track, copy right channel, mixdown, set fades, tracking, balance, downsample)>FLAC ( level 8 )
Tracks
01 Play By Heart
02 On Our Own
03 banter
04 Wait and See
05 Something Else
06 banter
07 You & Me
08 It's Not My Party
09 banter
10 All Yr Songs
If you download this recording from NYCTaper, we expect that you will PLEASE SUPPORT Diamond Rings, visit the website, visit the MySpace page, and purchase Special Affections from the Secret City Records [HERE].