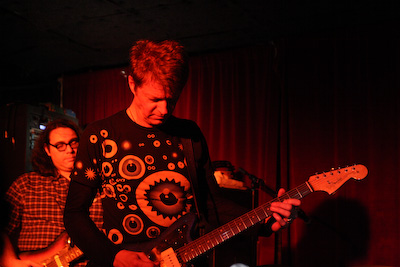 [photo from Ira's Hanukkah Diary]
I hope I'm entitled to change my mind once in a while. I had previously declared the brilliant Night 5 of Yo La Tengo's 2010 Hanukkah Maxwell's shows as my favorite. That night was a stunning example of noisy YLT at its best. But after reviewing and editing the recording for Night 7, I think I'm changing my vote. Any show that features uber-guitarist Nels Cline is a sure winner, and this particular show was no exception. The band began quietly with a sweet version of "I Feel Like Going Home", but shortly after, all hell broke loose. The twelve-minute electronic controlled mayhem of "All the Glitter Is Gone" gave Ira and Nels an early chance to blend their distinctive chops and it was pure noisy bliss. Later in the set, Georgia's "Little Eyes" (streaming below) was a perfect spotlight for each member's talents. The real meat of the set started with the fast "Big Day Coming" (fourth time of the week, but still not old) and ended with "Pass The Hatchet", which was propelled for fourteen solid minutes by the hypnotic bass work of James with Ira and Nels again provided dueling axes. YLT kept up the energy with two Ramones covers, before Bonnie Prince Billy and his band joined for the finale.
I recorded this set with the Neumann microphones placed in their usual front corner of the booth mixed with a board feed. The sound quality is excellent. Enjoy!
Stream "Little Eyes":
[audio:http://www.nyctaper.com/Y6644YLT9879/Little%20Eyes.mp3]
Direct download of complete show in MP3 files (HERE)
Download the Complete show in FLAC [HERE].
Yo La Tengo
2010-12-07
Maxwell's
Hoboken, NJ USA
Digital Master Recording
Four Channel Soundboard + Audience Matrix
Soundboard + Neumann KM-150s > Edirol R-44 (Oade Concert Mod) > 2x 24bit 48kHz wav files > Soundforge (level adjustments, mixdown, set fades) > CDWave 1.95 (tracking) > Flac Frontend (level 7, align sector boundaries) > flac
Recorded and Produced by
nyctaper and acidjack
2010-12-23
[Thanks to Jesse for setlist help]
Setlist:
[Total Time 1:41:01]
01 I Feel Like Going Home
02 All the Glitter Is Gone
03 Swing For Life
04 [banter]
05 Wasn't Born To Follow [Carole King]
06 Season of the Shark
07 The Last Days of Disco
08 [banter2]
09 Shadows
10 Little Eyes
11 [banter3]
12 Black Flowers
13 Satellite
14 Big Day Coming
15 Serpentine
16 Artificial Heart
17 Tom Courtenay
18 Pass the Hatchet, I Think I'm Goodkind
19 [encore break]
20 Pet Cemetery [Ramones]
21 Sheena Is A Punk Rocker [Ramones]
22 [banter4]
23 Heavenly Arms [Lou Reed]
If you email nyctaper for access to this recording, we expect that you will PLEASE SUPPORT Yo La Tengo, visit their website, visit their MySpace page, and purchase their official releases from the store at their website [HERE].