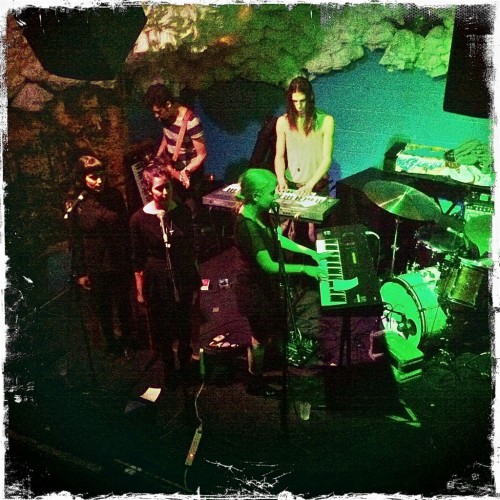 [Photo by acidjack with iPhone4 with Hipstamatic]
Toronto's Austra came to town with one of that music scene's current favorite sons, Diamond Rings, who referred to them later that night as "my favorite band." This set at Glasslands gave many of us our first taste of a band that is likely to get big in a hurry, as they just signed to the UK's famed Domino Records just a few days ago (with a new record on the way this spring), and have embarked on an extensive European tour. The brainchild of well-known Toronto-based vocalist Katie Stelmanis (Autra is actually her middle name), Austra play dreamy leftfield pop at home in the current moment; those searching for references might think about a band like The Knife; I also hear a less poppy, less histrionic bit of a band like Florence and the Machine as well (listen to "Lose It" for the reference). The centerpiece of the band's sound is unquestionably Stelmanis' powerful vocals, which soar above the driving electro beats. Expect to see Austra again stateside for SXSW, and look out for a video from them next month!
I recorded this set from the same location as the Diamond Rings recording, and other than some isolated crackling from the house system, the sound is outstanding. Enjoy!
Stream "Lose It":
[audio:http://www.nyctaper.com/A1204Austra2010/Austra-LoseIt.mp3]
Direct download of MP3 files [HERE]
Download the Complete show in FLAC [HERE].
Austra
2010-12-04
Glasslands
Brooklyn, NY USA
An acidjack master recording
Recorded and produced by acidjack for nyctaper.com
Equipment: DPA 4021+Soundboard>Edirol R-44 [Oade Concert Mod] (24/48)
Position: Balcony, ROC, mics roughly DIN
Mastering: 2x24bit/48kHz WAV>Audacity (mixdown, set fades, tracking, smooth peaks, amplify and balance, downsample)>FLAC ( level 8 )
Tracks
01 Darken Her Horse
02 Lose It
03 The Villain
04 The Choke
05 Beat and the Pulse
06 Spellwork
If you download this recording from NYCTaper, we expect that you will PLEASE SUPPORT Austra, like them on Facebook, and purchase their releases directly from Domino Records here.