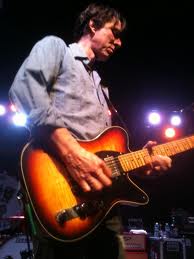 [photo by Penny Lane from 3 Dimes Down forum]
Patterson Hood is an artist very much in tune with the varied influences in his music. It helps that he comes from a deep musical tradition — including famous father David Hood. At Brooklyn Bowl last Thursday, David performed three songs live with Drive-By Truckers, which included two Muscle Shoals classics. The eclectic cover selections for this show also included Warren Zevon ("Play It All Night Long/Ain't That Pretty At All" streaming below) and what has become the band's standard show closer, Jim Carroll's "People Who Died". While this night was a "warm-up" for their New Year's Eve show at Terminal 5, the entire show lasted well over two hours, and provided more proof that DBT are also one of the most fan-friendly bands around. The setlist was spread evenly among all of their recent releases, and included just three songs from the soon-to-be-released (February 15) new album Go-Go Boots.
I recorded this set with the four microphone rig in the left side of the roped off soundboard area on the floor. Unfortunately, the distance, the problematic acoustics in the venue, and the chatty crowd created a not-ideal taping situation and the results are somewhat below the usual quality for this site. Its still a decent listening experience. Enjoy!
Stream: "Play It All Night Long" (Zevon cover):
[audio:http://www.nyctaper.com/D8030DriveByTruckers3838/Play%20It%20All%20Night%20Long-Ain%27t%20That%20Pretty%20At%20All%20%5bZevon%5d.mp3]
Stream "Respect Yourself" (Staple Singers cover):
[audio:http://www.nyctaper.com/D8030DriveByTruckers3838/Respect%20Yourself%20%5bStaple%20Singers%5d.mp3]
This Recording is now available for Download in FLAC and MP3 at Archive.org [HERE].
Drive-By Truckers
2010-12-30
Brooklyn Bowl
Brooklyn, NY USA
Digital Four-Track Master Recording
Recorded at Soundboard Booth
100 Feet from Stage
Neumann KM-150s + DPA 4021s > Edirol R-44 (Oade Concert Mod) > 2x 24bit 48kHz wav file > Soundforge (level adjustments, set fades, downsample) > CDWave 1.95 (tracking) > Flac Frontend (level 7, align sector boundaries) > flac
Recorded and Produced by nyctaper
2011-01-03
Setlist:
[Total Time 2:14:43]
01 [introduction]
02 Tornadoes
03 A Ghost to Most
04 Feb 14
05 Marry Me
06 Play It All Night Long/Ain't That Pretty At All [Zevon]
07 Get Downtown
08 (It's Gonna Be) I Told You So
09 After the Scene Dies
10 Birthday Boy
11 Girls Who Smoke
12 3 Dimes Down
13 [banter]
14 Dancin' Ricky
15 [banter2]
16 Respect Yourself [Staple Singers]
17 [banter3]
18 Everybody Needs Love [Eddie Hinton]
19 72 (This Highway's Mean)
20 Tales Facing Up
21 Women Without Whiskey
22 A World of Hurt
23 Shut Up and Get on the Plane
24 [encore break]
25 I Used to be a Cop
26 Self-Destructive Zones
27 18 Wheels of Love
28 People Who Died [Jim Carroll]
If you email nyctaper for access to this recording we expect that you will PLEASE SUPPORT Drive-By Truckers, visit their website, pre-order their new album Go-Go Boots (release Feb 15) at the site, and purchase their official releases at the DBT Store at their website [HERE].