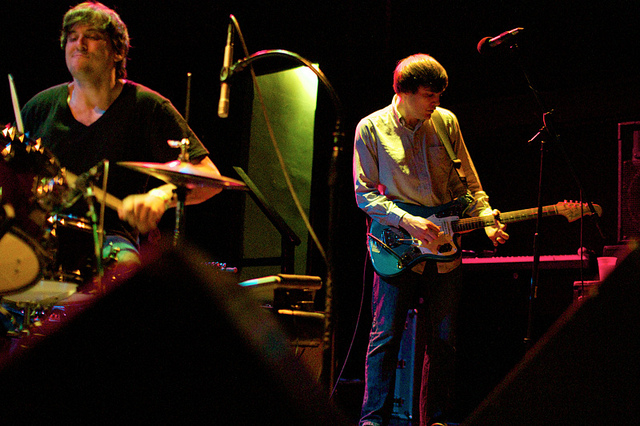 [Grooms at Bowery Ballroom last year. Photo by Amanda Hatfield]
Grooms released their searing debut LP, Rejoicer, in late 2009 (followed by a broader re-release in 2010), and have a second, tentatively entitled Prom, already around the corner. In a treat for the audience, they dedicated the majority of this set at Rock Shop, celebrating the debut of our friends A Heart Is A Spade, to new material from that album. Despite frontman Travis Johnson having thrown his back out earlier in the day, he, drummer Jim Sykes and bassist Emily Ambruso drilled the new material. Where some artists could almost be two different bands between their live and recorded sound, Grooms bring the taut, aggressive musicality of their records to the live setting effortlessly. If you liked Rejoicer, you will likely not shy from the new material, either; I particularly liked the new title track, "Prom" and the rocking "Into the Arms." The knock, if you wish to call it that, on Grooms has been that they have a "90s sound", which, if it means that they make aggressive guitar music without keyboards, laptops, DJs and other totems of the current scene, that's true, and all to the good. Being a three-piece without the aforementioned accoutrements, one thing that Grooms' sound has is a sense of space and air in their music, giving you a chance to better appreciate the interplay and skill of the individual musicians, and how each contributes to the whole. Prom should be released on Kanine Records early this year, but until then, here is a taste of what's to come.
I recorded this set from the left corner of the room by the soundboard with the DPA microphones, coupled with a soundboard feed from Shane at Rock Shop. The sound was dialed-in throughout the night, and resulted in an outstanding recording. Enjoy!
Stream "Into the Arms":
Audio clip: Adobe Flash Player (version 9 or above) is required to play this audio clip. Download the latest version here. You also need to have JavaScript enabled in your browser.
Direct download of MP3 files [HERE]
Download the Complete show in FLAC [HERE].
Grooms
2011-01-08
Rock Shop
Brooklyn, NY USA
An acidjack master recording
Recorded and produced by acidjack for nyctaper.com
Equipment: DPA 4021+Soundboard>Edirol R-44 [Oade Concert Mod] (24/48)
Position: LOC, mics pointed at stacks at 8.5ft
Mastering: 2x24bit/48kHz WAV>Audacity (EQ on both sources, mixdown, set fades, tracking, smooth peaks, amplify and balance, downsample)>FLAC ( level 8 )
Tracks [Time 34:02]
01 Tiger Trees
02 Imagining the Bodies
03 Expression Of
04 Prom
05 Acid King of Hell (Guitar Feelings)
06 Aisha
07 Sharing
08 Into the Arms
09 3D Voices
If you download this recording from NYCTaper, we expect that you will PLEASE SUPPORT Grooms, visit their website, and purchase their official release from Kanine Records here.