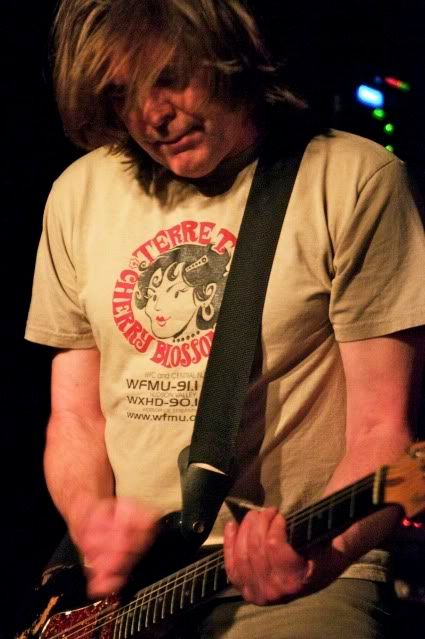 [photo by Chris Gersbeck – courtesy of brooklynvegan]
We've followed Mission of Burma, version 2.0, for almost twice as long as the original run of the band in the early 80s. The most consistent element of their live show has always been the ferocity of the performance. The band plays live with the kind of kinetic energy that defines their sound, and provides earth shattering volume to prove the point. The other aspect MOB's live show is that the setlists are always quite divergent. The Bell House recording posted last night by acidjack is an entirely different show than what we experienced Friday night at Maxwell's. Now performing live material for what will soon become their fourth post-reunion album, the band is operating on all cylinders. Each of the three stage players offer new songs that rival the quality of their career output and Friday night's show featured a healthy dose of them. One might expect that the packed house would become impatient with the mid-set big block of new material, but in fact the mixed-age crowd seemed equally enthralled throughout the show. Mission of Burma rewarded them with a lightning-speed foursome of classics in the encore slot that closed with a reverse play of their debut single — "Max Ernst" into "Academy Fight Song" (streaming below). When the band left the stage the cries for "more" lasted for a good ten minutes before the house music came up — one of the most prolonged crowd calls we've seen in a while, and well deserved.
I recorded this set in the same location as all of our recordings from this outstanding venue and the sound quality is superb. Enjoy!
Stream "The Setup":
[audio:http://www.nyctaper.com/M4509MissionofBurma2239/The%20Setup.mp3]
Stream "Academy Fight Song":
[audio:http://www.nyctaper.com/M4509MissionofBurma2239/Academy%20Fight%20Song.mp3]
This Recording is now available to Download in FLAC and MP3 at Archive.org [HERE].
Mission Of Burma
2011-01-28
Maxwell's
Hoboken, NJ USA
Digital Master Recording
Four Channel Soundboard + Audience Matrix
Soundboard + DPA 4021s > Edirol R-44 (Oade Concert Mod) > 2x 24bit 48kHz wav files > Soundforge (level adjustments, mixdown, set fades) > CDWave 1.95 (tracking) > Flac Frontend (level 7, align sector boundaries) > flac
Recorded and Produced by
nyctaper and acidjack
2011-01-29
Setlist:
[Total Time 1:12:30]
01 Donna Sumeria
02 Let Yourself Go
03 1,2,3 Partyy!
04 Just Waves
05 Part the Sea
06 [new song – My God Can Beat Up Your God]
07 [new song – This Ghost]
08 [new song – Evasive Action]
09 Devotion
10 2Twice
11 [banter]
12 Forget Yourself
13 [new song – Totally Ridiculous]
14 Good Cheer
15 The Setup
16 Nancy Reagan's Head
17 [encore break/effects]
18 This Is Not a Photograph
19 That's How I Escaped My Certain Fate
20 Max Ernst
21 Academy Fight Song
22 [outro/effects]
If you download this recording from NYCTaper, we expect that you will PLEASE SUPPORT Mission of Burma, visit their website, and purchase their official releases directly from the Store at their website [HERE].