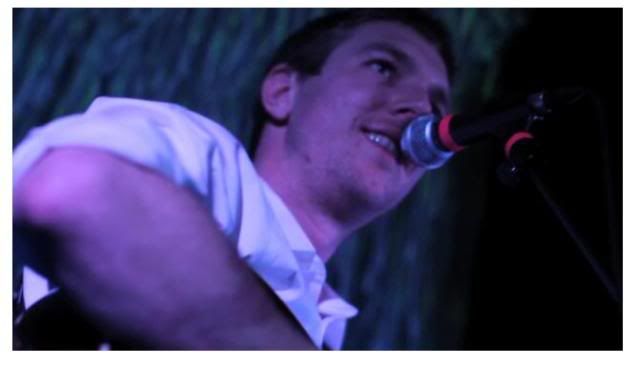 The first show in what promises to be a long-running charity series called Noncerts took place in the end of February at the Cameo Gallery. The main purpose of Noncerts is to purchase a piano for every public school in Brooklyn, and all proceeds from the events go towards that goal. The first night featured performances from Noncerts founder Dave Godowsky, superb songwriter David Dondero, Ween leader Gene Ween, and the lead singer of The Walkmen Hamilton Leithauser. Hamilton's set threw us for a bit of a loop — but in a good way. Instead of solo Walkmen numbers, the entire Leithauser set consisted of fairly obscure but brilliant covers, which included nyctaper-favorite Cass McCombs ("Don't Vote"), and DC political punk band Weird War (stream "See About Me" below) . We also recorded the second Noncerts show in the end of April, and hope to offer sets from that night soon.
I recorded this set with the Neumanns mounted at the front of the sound booth and mixed with an excellent soundboard feed. The sound quality of this set is superb. Enjoy!
Support Noncerts by following them on twitter [here].
Stream "See About Me" (Weird War cover):
[audio:http://www.nyctaper.com/N2002Noncertsxcv1102/See%20About%20Me%20%5bWeird%20War%5d.mp3]
Direct download of complete show in MP3 files (HERE)
Download the Complete show in FLAC [HERE].
Hamilton Leithauser
2011-02-20
Cameo Gallery
Brooklyn, NY USA
Digital Master Recording
Soundboard + Audience Matrix
Soundboard + Neumann KM-150s > Edirol R-44 (Oade Concert Mod) > 2x 24bit 48kHz wav files > Soundforge (level adjustments, mixdown, set fades) > CDWave 1.95 (tracking) > Flac Frontend (level 7, align sector boundaries) > flac
Recorded and Produced by nyctaper
2011-02-21
Setlist:
[Total Time 28:39]
01 [introduction]
02 Tall Tale Storyline [Mazarin]
03 [banter]
04 Don't Vote [Cass McCombs]
05 [banter2]
06 Young Fool [Max St. Michael]
07 Road Song [Max St. Michael]
08 [banter3]
09 See About Me [Weird War]
10 [banter4]
11 Ballz [Josh Wise]
If you download this recording from NYCTaper, we expect that you will PLEASE SUPPORT Hamilton Leithauser and The Walkmen, visit their website, and purchase their official releases from the Fat Possum Records website [HERE].