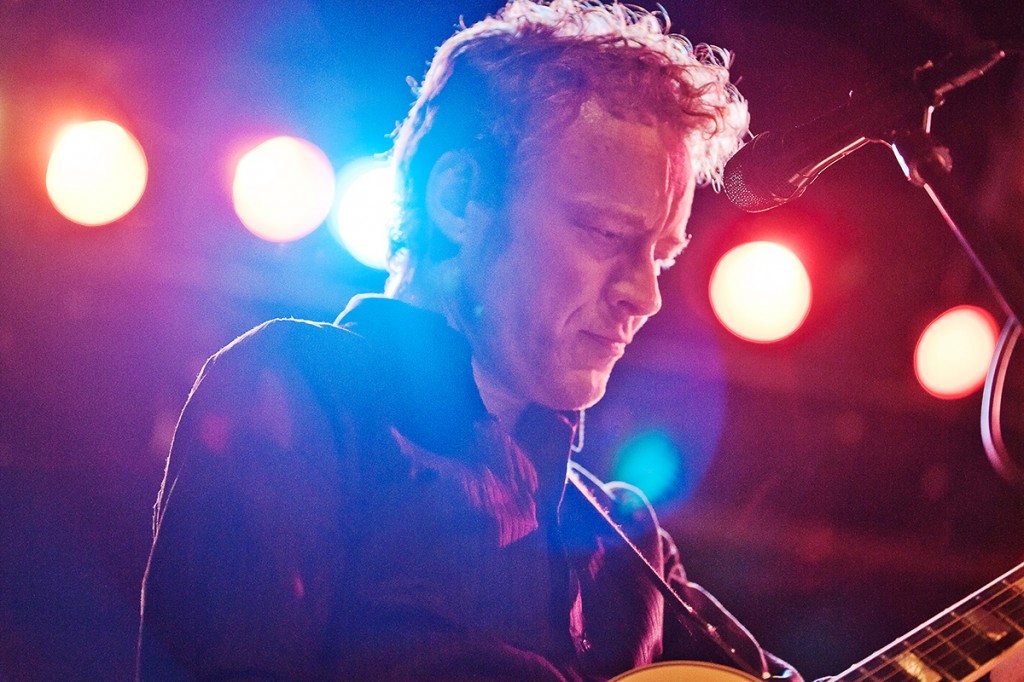 [Photos by wagz2it and courtesy of A Heart Is A Spade]
Low are perhaps the best musical example of the value of speaking softly.  Since 1993, they have been playing perfectly expressed, understated American music with a deftness and grace that eludes all but the very best artists.  Much is made of the fact that, throughout a musical period where brash, loud and reckless are the touchstones of popular indie bands, they have won legions of fans with songs that are none of those things.  Indeed, their songs are tightly written concoctions; their primary strength lies in the singular vocal harmonies of guitarist Alan Sparhawk and drummer Mimi Parker, who plays a limited set of drums standing up. But really, being different is not what makes Low stand out.  What makes people pay attention to them – to cause them to watch their entire 90-minute performance in stunned rapture, punctuated only by bouts of furious applause – is what should always make people pay attention to anything.  That is, that they are excellent at what they do, phenomenally talented, dedicated and musically almost perfect (one little false start notwithstanding).  Although the band have many, many fine albums under their collective belt at this point, their recent release C'mon nonetheless represents another high watermark for the band, as it is not only contains some amazing new numbers like "Witches" and the expansive rocker "Nothing But Heart," but is flawlessly recorded in an old church that captures the warmth of the band's sound ideally.
This being a Wednesday night, the band was rewarded with an attentive and devoted Bowery Ballroom crowd that watched Sparhawk, Parker and bassist Steve Garrington give a majestic performance that was one of the best I have seen in my entire life.  What struck me most about Low was their level of control; Sparhawk and Parker are a seamless vocal instrument, such as on the lovely first encore, "Sunflower" from 2001's Things We Lost In the Fire, and their command of their material a pleasure to watch unfold in the live setting.  The venue was ideal for the band – intimate enough for us to be able to hang on every word, but large enough to let them unleash the power of their more soaring songs, including the epic quiet/loud combo on their second encore, "When I Go Deaf".  That they played a second encore is a sign of what a rich and outstanding show this was; everything was going right. At a quiet show like this, you often worry about people not paying attention, talking, and generally distracting other listeners; Low don't seem to have that problem. It is impossible to be torn away. Sometimes, there is value in speaking softly.
I recorded this set with the DPA microphones in my usual location in the venue with a hand-built analog preamp for added warmth and detail. Because the band was playing very quietly at certain points, there are some moments of perceptible hiss from both the venue PA and my equipment, as well as some spots of light wind noise from the venue's HVAC system that are almost never audible during louder shows.  Despite these minor flaws, I think this is overall an excellent recording and a great capture of the evening  (including the very respectful and very enthusiastic crowd).
Download the MP3 and FLAC files on the Live Music Archive [HERE]

Low
2011-04-27
Bowery Ballroom
New York, NY USA
An acidjack master recording
Recorded and produced by acidjack for nyctaper.com
Equipment: DPA 4021>Oade M248>Sony PCM-M10 (24/44.1)
Position: Slightly ROC, clamp to balcony rail, pointed at stacks
Mastering: 24bit/44.1kHz WAV>Audacity (set fades, amplify and balance, select noise reduction, smooth peaks, hard limit clapping, balance and amplify individual tracks, amplify entire performance, downsample)>FLAC ( level 8 )
Tracks [Total Time 1:27:24]
01 Point of Disgust
02 Breaker
03 Try to Sleep
04 You See Everything
05 Monkey
06 Silver Rider
07 Witches
08 Especially Me
09 Last Snowstorm of the Year
10 $20
11 Majesty/Magic
12 Nightingale
13 Nothing But Heart
14 Something's Turning Over
15 [false start]
16 Murderer
17 [encore break 1]
18 Sunflower
19 Violent Past
20 Cue the Strings
21 [encore break 2]
22 When I Go Deaf
If you download this recording from NYCTaper, we expect that you will PLEASE SUPPORT Low, like them on Facebook, and purchase C'mon directly from SubPop Records [HERE]