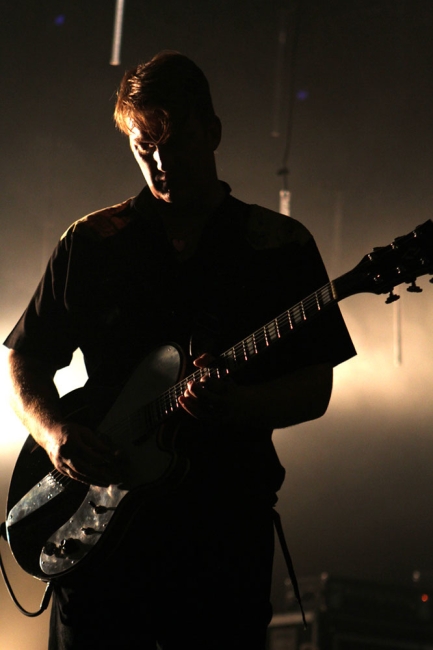 [Photos courtesy of a.f. cortes.  See more of his outstanding work HERE]
It's basic fact that Josh Homme has been one of the principle contributors to the stoner rock handbook and it would've made for a very different read without his input.  Starting with his first band, Kyuss, in the early 90's and continuing through present day with Queens of the Stone Age, he's been adding chapters to it ever since.  On tour to coincide with the re-release of their long-out-of-print debut album, the crux of these shows was to play it in its entirety; a popular trend that seems to be the case with many bands nowadays.  The sticking point is that the Queen's self-titled first disc is brilliant, a touchstone of hard rock that many professional reviewers and fans alike have added to "must-have" rosters.  With many of these songs rarely showing up in setlists, it was a treat to hear them performed in a live setting.  In addition to surrounding himself with talented musicians that have great chops, Homme takes to the frontman role well and has a knack for keeping the audience entertained.  The proof being the crowd's interaction with him, the adulation that teeters on the brink of feverish worship and the many declarations of love from female fans that I witnessed during this sell-out performance.  With devotees like that, I predict this band will have more continued years of success.
Per our usual in this venue, we were set up in the dead-center spot on the first balcony.  Terminal 5 can be tricky when it comes to getting the sound just right, so while the instruments sounded very good and are nicely balanced, the vocals were pretty low in the mix throughout most of the concert.  Nonetheless, the recording is solid and a great snapshot of the show.  Enjoy!
Stream "If Only":
[audio:http://www.nyctaper.com/Q3052QOTSA1012/QOTSA_-_If_Only.mp3]
Direct download of the complete show in MP3 [HERE]
Direct download of the complete show in FLAC [HERE]

If either of the links are no longer working, email nyctaper with a request for the download location of the files.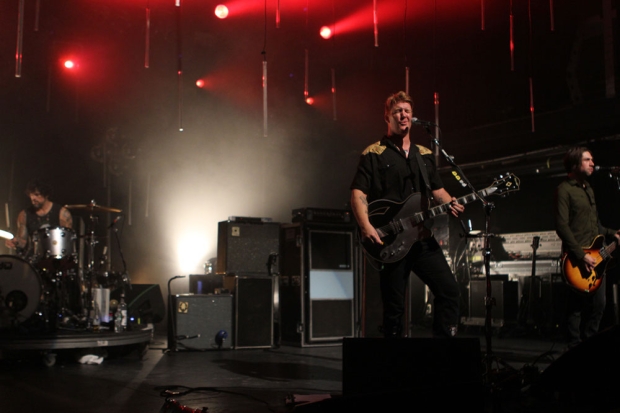 Queens of the Stone Age
Friday, March 25, 2011
Terminal 5
New York, NY, USA
(opening band: The Dough Rollers)
Source: AUD > DPA 4021's > Edirol R-44 (WAV @ 24-bit/48kHz)
Lineage: R-44 > USB > PC > Adobe Audition (mixdown, adjust levels, downsample, dither, tracking) > WAV (16-bit/44.1kHz) > Trader's Little Helper (check/fix SBE's, FLAC conversion) > FLAC (level 8 )
Recorded and produced by: Johnny Fried Chicken Boy
SETLIST:
[Total time: 1:40:05]
01. Regular John
02. Avon
03. If Only
04. Walkin' on the Sidewalks
05. You Would Know
06. How to Handle a Rope
07. Mexicola
08. [banter]
09. Hispanic Impressions
10. The Bronze
11. Give the Mule What He Wants
12. I Was a Teenage Hand Model
13. You Can't Quit Me Baby
14. [1st encore break]
15. Turnin' on the Screw
16. Long Slow Goodbye
17. Little Sister
18. [2nd encore break / banter]
19. Burn the Witch
20. [banter / band intros]
21. Make It Wit Chu
22. No One Knows
If you download this recording, we expect that you will PLEASE SUPPORT Queens of the Stone Age, visit their website, visit their MySpace and Facebook pages, and purchase their official releases and merchandise [HERE].