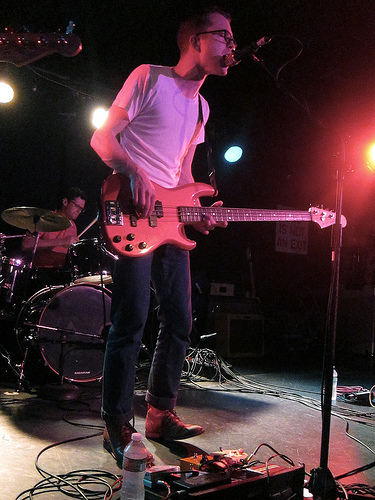 [photo by Joe Parker]
The comeback of Tom Vek was unexpected, but based upon the early returns it has been well worth the wait. After the success of his debut in 2005 We Have Sound, Vek fell out of sight. Six years later, his second album Leisure Seizure contains the same melodic but frenetic energy that propelled Sound, but works within a more mature framework. Tom came to NYC for a quick two-show trip last week, and we were fortunate to catch the Union Pool show on Wednesday. Vek took the stage with a four-piece band of multi-instrumentalists, that at times includes three bass guitars, two guitars and keys, effects, drums and drum effects. The band members were all amplified by separate digital interface ("DI's") boxes and inner-ear monitors (IEM's), so that while the stage sound was silent, the PA speakers burst forth with crystal clear sound. Vek began the show with two tracks from Seizure, including lead-off "Hold Your Hand", before revisiting the 2005 charting single and the debut album's first track "C-C" (streaming below). The set then flowed unabated except for minor instrument swaps through a well-paced hour of songs from each of the two albums. The band seemed to be all business as Vek spoke very little to the crowd and the group wasted no time in between songs. The quality of the material and Vek's no-nonsense approach bode well for the return of this compelling artist. Tom Vek is currently on an extensive tour through the UK, but we expect he'll return to the US for a full tour this Fall.
I recorded this set with the Neumanns mounted on the balcony and mixed with a superb balanced board feed. The band's advanced equipment set-up created a board mix of great clarity and this recording reflects that quality. Enjoy!
Stream "C-C":
[audio:http://www.nyctaper.com/T1307TomVek2101/03.%20C-C.mp3]
Direct download of complete show in MP3 files (HERE)
Download the Complete show in FLAC [HERE].
Tom Vek
2011-07-13
Union Pool
Brooklyn, NY USA
Digital Master Recording
Four Channel Soundboard + Audience Matrix
Soundboard + Neumann KM-150s > Edirol R-44 (Oade Concert Mod) > 2x 24bit 48kHz wav files > Soundforge (level adjustments, mixdown, set fades) > CDWave 1.95 (tracking) > Flac Frontend (level 7, align sector boundaries) > flac
Recorded and Produced by nyctaper
2011-07-19
Setlist:
[Total Time 54:02]
01 Hold Your Hand
02 We Do Nothing
03 C-C
04 World of Doubt
05 If You Want
06 Someone Loves You
07 Nothing But Green Lights
08 Aroused
09 I Aint Saying My Goodbyes
10 Seizemic
11 A Chore
12 APOLOGY
If you email nyctaper for access to this recording, we expect that you will PLEASE SUPPORT Tom Vek, visit their website, and purchase their new album Leisure Seizure from the links at his website [HERE].