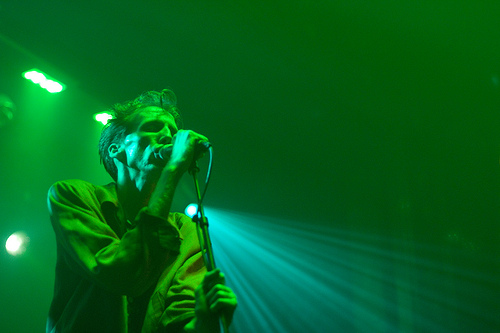 [Photo by Maryanne Ventrice]
The first show I saw by the ultra-talented recording artist Bradford Cox was an Atlas Sound set at the ATP New York music festival in 2009. It was a disaster. Consisting mostly of pedal troubles and tuning woes that took up more than half the set, with Bradford apologizing profusely, it didn't live up to the promise of the recorded material. So, despite the unique, compelling sound of Bradford's records, I was reluctant about the live show – even though both Deerhunter and Atlas Sound have been featured on this site many times (albeit not my recordings).
This Deerhunter show at Webster Hall erased my doubts – and made me kick myself for not going to see this band sooner. This show was one of the best I have seen this year, with Bradford confidently, brilliantly owning his instrument, his voice, and the stage. Deerhunter is rock music – popular(ish) rock music, at least – at its bleeding edge, where Radiohead used to be, creating an entirely new sound from the tools that have (mostly) been there for rock's 40+ years. This show kicked off with the anthemic "Fluorescent Grey", featuring original bandmember Colin Mee, who stuck around for the first five songs. The band spent the entire show bathed in green light, with Cox commanding a visceral torrent of sound. The band's live sound feels like a living, breathing thing – an alien form that surges, crackles, crinkles and trills. The band's best songs on this night were otherworldly: "Nothing Ever Happened" morphed into an extended jam, with Cox melding in some of Patti Smith's "Land". "Twilight at Carbon Lake", closing the main set, held us in rapture. Almost the entire show was seamless, with extended guitar loops and chirps filling in between songs. The show ended with "Calvary Scars II", which bled into an extended loop that terminated as the lights went up.
As this show ended, I understood what had happened at ATP a few years ago. Cox may not always be perfect – someone as prolific, as ambitious as he is almost can't be. But he is the kind of artist whose excesses must not only be tolerated, but celebrated – this creator needs every encouragement we can give him to create and succeed. And when he does succeed, you get a night like this night: phenomenal.
I recorded this set from the center of the floor with the DPA microphones. I spent a great deal of time post-processing and was rewarded with an excellent recording than is free of unnecessary crowd chatter almost throughout. No recording can match the experience of being at a show like this – but turn this up, and you might get close. Enjoy!
Stream "Nothing Ever Happened":
Audio clip: Adobe Flash Player (version 9 or above) is required to play this audio clip. Download the latest version here. You also need to have JavaScript enabled in your browser.
Stream "Earthquake":
Audio clip: Adobe Flash Player (version 9 or above) is required to play this audio clip. Download the latest version here. You also need to have JavaScript enabled in your browser.
Direct download of MP3 files [HERE]
Direct download of FLAC files [HERE]
If the FLAC link is no longer working, email nyctaper for the FLAC files
Follow acidjack on twitter
Note: All of the material on this site is offered with artist permission, free to fans, at our expense. The only thing we ask is that you download the material directly from this site, rather than re-posting the direct links or the files on other sites without our permission.  Please respect our request.
Deerhunter
2011-08-23
Webster Hall
New York, NY USA
An acidjack master recording
Recorded and produced by acidjack for nyctaper.com
DPA 4021>Edirol R-44 [Oade Concert Mod]>24bit/48kHz WAV>Audition (EQ, effects, parallel compression, downsample to 44.1kHz)>Audacity (tracking, fades, amplify and balance, downsample to 16bit)>FLAC (level 8 )
Tracks [Total Time 1:30:31]
01 Fluorescent Grey
02 Intro>
03 Cryptograms
04 White Ink
05 Lake Somerset
06 [banter]
07 Earthquake
08 Don't Cry
09 Revival
10 Never Stops
11 Nothing Ever Happened
12 Twilight at Carbon Lake
13 [encore interlude]
14 Desire Lines>
15 Calvary Scars II
If you enjoyed this recording, PLEASE SUPPORT Deerhunter, visit their MySpace page, visit the band blog, visit the Halcyon Digest page, and purchase Halcyon Digest from 4AD Records [here].