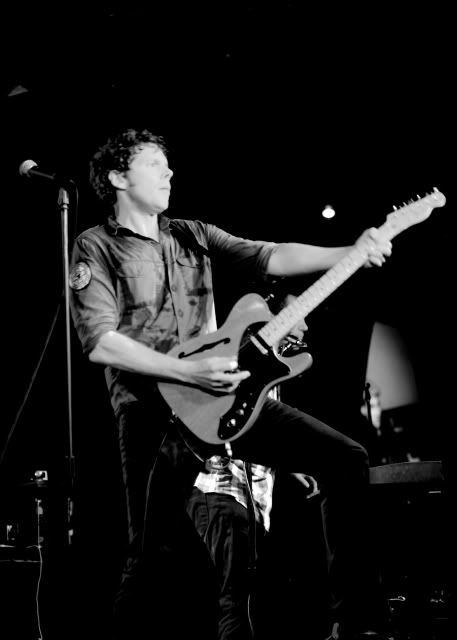 [photo by Tim Besa]
A couple of weeks ago, Wantagh witnessed an embarrassment of riches, as Deer Tick played a massive two-hour set late into the night. When we posted that set, our review did not mention another highlight of the evening, the outstanding opening set by Wormburner. When we recorded Wormburner in December, their set clued us into the fact that this is a band to be reckoned with — strong instrumentation, excellent songwriting, and the indefatigable stage presence of lead singer Steve "Hank" Henry. The Wantagh show also proved one other thing — they are really generous guys. As we've reported before, this event at Mulcahy's was a benefit concert for the Tommy Brull Foundation. Two weeks later, we learned that the show raised a phenomenal $12,000, all of which was donated directly to Camp Anchor, a recreation program for disabled children in Nassau County. And as Deer Tick would follow, Wormburner played their hearts out for this show. Their 45-minute set began with a bang and never let up. The band also featured two outstanding covers, including Guided By Voices, and the Decemberists (streaming below). Other highlights included "Pike City Proper" and "The Interstate" (also streaming below) from their Spring 2011 release Placed By The Gideons. Wormburner return to NYC and will be playing Mercury Lounge on September 9.
I recorded this set in the same manner as the Deer Tick show and the sound quality is excellent. Enjoy!
Stream "The Interstate":
[audio:http://www.nyctaper.com/W1021Wormburner1020/10.%20The%20Interstate.mp3]
Stream "O Valencia!" [Decemberists cover]:
[audio:http://www.nyctaper.com/W1021Wormburner1020/12.%20O%20Valencia!%20%5bThe%20Decemberists%5d.mp3]
Direct download of complete show in MP3 files (HERE)
Download the Complete show in FLAC [HERE].
Note: All of the material on this site is offered with artist permission, free to fans, at our expense. The only thing we ask is that you download the material directly from this site, rather than re-posting the direct links or the files on other sites without our permission. Please respect our request.
Wormburner
2011-08-10
Mulcahy's
Wantagh, NY USA
Tommy Brull Foundation Benefit Concert
Digital Master Recording
Soundboard + Audience Matrix
Soundboard + DPA 4021s > Edirol R-44 (Oade Concert Mod) > 2x 16bit 44.1kHz wav files > Soundforge (level adjustments, mixdown, set fades) > CDWave 1.95 (tracking) > Flac Frontend (level 7, align sector boundaries) > flac
Recorded and Produced by nyctaper
2011-08-18
Setlist:
[Total Time 52:49]
01 Breaker Breaker
02 Two Kinds of People
03 Peekskill
04 Meanwhile Corey Lee
05 Teenage FBI [Guided By Voices]
06 A Standing Invitation
07 Little Things
08 Sleepy Jane
09 Pike City Proper
10 The Interstate
11 [banter]
12 O Valencia! [The Decemberists]
If you download this recording from NYCTaper, we expect that you will PLEASE SUPPORT The Tommy Brull Foundation and DONATE to the Foundation [HERE].
If you email nyctaper for access to this recording, we expect that you will PLEASE SUPPORT Wormburner, visit their website, and purchase their official releases from the Store at their website [HERE].