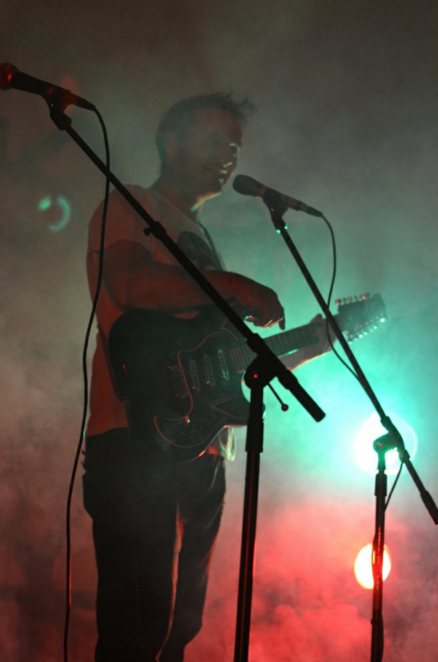 [photo by Juliet Eldred courtesy of Impose Magazine]
Phil Elverum is one of those elusive and otherworldly presences in music, who can take the simplest organ line or bell tone and build a surprising, hauntingly beautiful song around it. Best known for his work under the moniker The Microphones, Elverum rechristened the project Mt. Eerie in the middle of the last decade, but continues with many of The Microphones' themes and sounds. This show at 285 Kent, presented by the legendary ToddP, had the type of intimate feel that echoed the very bedrooms where Elverum has made many of his compositions. This nine-song set showcased material new and old, and represented Elverum and the touring band's triumph over what had been a very finicky PA system earlier in the evening. The band followed this show with a Monday performance at Le Poisson Rouge – another venue of considerable charm – but really, what better place to see a bedroom recordist than one of the Brooklyn scene's coolest living rooms?
I recorded this set with the DPA microphones near the right stack, coupled with a soundboard feed. Other than some light noise from a fan near the mics during the first couple songs, the sound quality is outstanding. Enjoy!
Download the MP3 and FLAC files on the Live Music Archive [HERE]
Follow acidjack on twitter
Note: All of the material on this site is offered with artist permission, free to fans, at our expense.  The only thing we ask is that you download the material directly from this site, rather than re-posting the direct links or the files on other sites without our permission.  Please respect our request.
Mt. Eerie
2011-09-21
285 Kent
Brooklyn, NY USA
An acidjack master recording
Recorded and produced by acidjack for nyctaper.com
Soundboard + DPA 4021 (X/Y on post 3ft from right stack, 8ft)>Edirol R-44 [Oade Concert Mod] (24/48)>Audition (effects, mix down, normalize)>Audacity (tracking)>FLAC ( level 8 )
Tracks
01 I Felt Your Shape
02 Between Two Mysteries
03 Ancient Questions
04 No Inside, No Out
05 [banter]
06 The Place I Live
07 Lone Bell
08 [unknown]
09 Stone's Ode
10 [unknown]
If you enjoyed this recording, we expect that you will PLEASE SUPPORT Mt. Eerie, visit their website, and purchase their records directly from them at their online store.