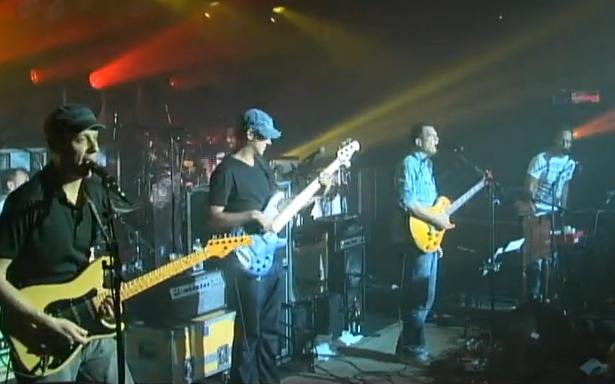 [still from this video]
If you look at the bands I generally post about on this site, most of them tend to fall pretty far from the "jam band" category.  But you can't really be in the hobby of taping without being aware of this rich, diverse and somewhat pejoratively-titled genre, and the Chicago band Umphrey's McGee are one of the rising stars of the scene.  So, three of us – hi and lo, Johnny Fried Chicken Boy, and myself – hit up UM's final show at Brooklyn Bowl, the culmination of a five-night stand at the venue that has rapidly become a staple for improvisationally-minded bands when they come through the NYC area (a trend even picked up on by the review of Thursday's show in The New York Times).  It being a Friday night, fans came ready to party, and UM rewarded with two full sets of their staple extended numbers as well as their usual offerings of fun covers like Van Halen's "Hot For Teacher", all backed by an outstanding light show.
The vibes from the band and crowd were all good, although the Brooklyn Bowl PA was oddly not very loud (good for conversation, bad for music).  Still, you couldn't deny the virtuosity of the band, whose dense musical explorations often turned in unexpected directions, led by their dueling guitarists Brendan Bayliss and Jake Cinninger.  UM are known for a heavier sound that references prog-metal acts like King Crimson, Yes, Pink Floyd and Iron Maiden (and if you closed your eyes during a few parts, Metallica) that sets them in a unique position between the traditional funk/bluegrass/folk sound of some of the older bands in the scene and the "rocktronica" sound that has gained popularity of late.  Heady instrumentals like "Push the Pig" demonstrate that intersection of prog and "jam" music perfectly, combining a funky groove with a proggy guitar sound.  And, it should be mentioned, as a live experience, these guys just throw a hell of a party.  The three of us stumbled out of the show happy, for sure.
The band's recent blitz of NYC was to promote their new record, Death By Stereo. Although it was largely ignored at this show, there are some amazing packages available if you buy DBS online, including the opportunity to tune into all-request webcasts where the band will play fan requests, band favorites, and acoustic and solo material.
Three of us recorded this show from one of the usual taping spots in the venue with our mic stand as high as it would go (about 15′) to avoid crowd chatter, using three sets of high-end mics and a variety of similarly high-end pre-amps.  Although the somewhat low PA volume meant a few chatterers here and there weren't completely drowned out, and the venue's layout presents certain sonic limitaitons, hi and lo's outstanding post-production mix of these three sources has produced a recording that captures the sound and feel of the show perfectly.
Stream "Nemo":
Audio clip: Adobe Flash Player (version 9 or above) is required to play this audio clip. Download the latest version here. You also need to have JavaScript enabled in your browser.
Download the FLAC/MP3 files and stream this entire show on the Live Music Archive [HERE]

Note: All of the material on this site is offered with artist permission, free to fans, at our expense.  The only thing we ask is that you download the material directly from this site, rather than re-posting the direct links or the files on other sites without our permission.  Please respect our request.
Umphrey's McGee
Brooklyn Bowl
Brooklyn, NY, US
2011-09-09
Digital Master Audience Recording
Recorded and produced for nyctaper.com
Recordist : hi and lo, acidjack, and Johnny Fried Chicken Boy
Location : Right side on-stand, ~ 30 yds
Source : Schoeps MK5 > CMR > PFA > PSP-2 + Schoeps MK41 > CMC6 > Oade M248 + DPA 4021 > Sound Devices MixPre >> Tascam DR-680 @ 24 bit / 48 kHz
Edit : WaveLab v5 (fades/dither/+11dB gain), Izotope SRC/Dither
Final Format : 16 bit, 44.1 kHz
Tracking : CD-Wave v1.98
Encoding : FLAC v1.2.1 ( level 8 ) with TLH v2.6.0 (Build 168)
Tracklist:
Set I
01. Jazz Odyssey
02. Prowler
03. Words
04. All In Time
05. Push the Pig
06. Nemo
07. Pay the Snucka
08. Hot For Teacher [Van Halen]
09. Wizard Burial Ground
Set II
10. Divisions > "Jimmy Stewart" > Divisions
11. Bridgeless
12. Eminence Front [Townshend]
13. Hurt Bird Bath
14. America the Beautiful [Bates/Ward]
15. Soul Food I
16. 1348
17. (Encore Call 1)
18. Front Porch
19. (Encore Call 2)
20. All In Time
Running Time: 2:44:13
We expect that you will PLEASE SUPPORT Umphrey's McGee, visit their website, go see them on tour, and purchase Death By Stereo directly from their online store [HERE]