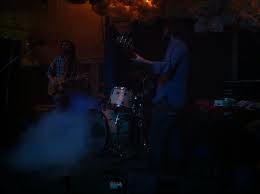 [Photos by acidjack]
Thrill Jockey's band page for Arbouretum describes them as a "taper's dream", and they could well be right about that.  With open song structures, a hard-rocking, Southern-informed psych-rock sound an solid dose of showmanship, the band comes off a bit like an updated, thinking man's version of bands like CCR and Lynyrd Skynyrd, and they play a hell of a good show that doesn't belie that comparison.  The band took the stage behind a veil of smoke, launching into a brief psychedelic intro before hitting full stride on "False Spring" the leadoff track to their 2009 record, Song of the Pearl.  That led into "White Bird", the sole song played from their latest Thrill Jockey release, The Gathering.  The musical virtuosity only went up from there, with "Down By the Fall Line" leading directly into "Mohammed's Hex and Bounty" in a combined 17-minute piece that found the band in top form.  Frontman Dave Heumann puts a lot of thought into his dense, literary lyrics, and (somewhat unusually for an indie artist) actually sings them so you can hear them.  As audience members called out various rarities and covers throughout the set, the band finally obliged with a ripping version of CCR's "Long As I Can See the Light."
I recorded this set with my usual mounted setup of DPAs on the center post plus a soundboard feed from Josh, the head FOH engineer at Glasslands. The sound is excellent.  Enjoy!
Stream "The White Bird"
Audio clip: Adobe Flash Player (version 9 or above) is required to play this audio clip. Download the latest version here. You also need to have JavaScript enabled in your browser.
Stream "Long As I Can See the Light [Creedence Clearwater Revival]"
Audio clip: Adobe Flash Player (version 9 or above) is required to play this audio clip. Download the latest version here. You also need to have JavaScript enabled in your browser.
This recording is now available to download as FLAC or MP3 at Archive.org [HERE].
Follow acidjack on twitter
Arbouretum
2011-10-14
Glasslands
Brooklyn, NY USA
An acidjack master recording
Recorded and produced by acidjack for nyctaper.com
DPA 4021 (DFC, ORTF)>Sound Devices USBpre2+Soundboard >> Edirol R-44 [Oade Concert Mod] (24/48)>2x24bit/48kHz WAV>Audition (mixdown)>Audacity (tracking, set fades, amplify and balance)>FLAC ( level 8 )
Tracks [Total Time 59:22]
01 [intro]
02 False Spring
03 The White Bird
04 Down By the Fall Line>
05 Mohammed's Hex and Bounty
06 Ghosts of Here and There
07 Song of the Nile
08 Long As I Can See the Light [Creedence Clearwater Revival]
If you enjoyed this recording, PLEASE SUPPORT Arbouretum by visiting their MySpace page and purchasing their official releases directly from Thrill Jockey [HERE]