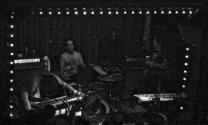 [Photo by acidjack. The photos are bad, but the recording is great.]
The band Trans Am reintroduced themselves in a big way with their seminal 1999 album, Futureworld nine years into their career. For the first time, the post-rock band introduced vocoder-enhanced vocals to their rock/krautrock hybrid. In many ways, this record, with its Atari graphics cover, augured the chiptunes genre, with its propulsive, fast-paced rock attack and robotic vocals. It also showcased a little bit of the band's sense of humor, which you can get a dose of on their band page at Thrill Jockey. As is all the rage these days for classic bands, Trans Am did a two-night stand at one of my favorite venues, Union Pool, to close out their tour celebrating this classic record by playing it straight through.
With the smoke still clearing from The Psychic Paramount's thunderous opening set, Trans Am kicked off the opening track "1999" to roars of approval from the crowd. By the time they hit the title track, "Futureworld," the crowd was singing along to the vocoder-enhanced vocals, dancing, and sweating like hell – the show was completely sold out, and the room was packed. The band tore through the record with virtuosity and aggression; I can't imagine this show being better in '99 than it was today. The band even gave us an unexpected dose of (slightly) newer flavor when they ended the set with "I Want It All" and "Play in the Summer", both from their 2000 record Red Line. Expect a followup to the band's 2010 record, Thing, soon, and go see them live for an unforgettable experience.
I recorded this set from the balcony with the DPA microphones split wide, and an excellent soundboard feed. The quality is excellent. Enjoy!
Stream "Futureworld"
[audio:http://www.nyctaper.com/T0018TransAm2011/03 Futureworld.mp3]
Stream "Play In the Summer"
[audio:http://www.nyctaper.com/T0018TransAm2011/13 Play in the Summer.mp3]
Direct download of MP3 files [HERE] | Direct Download of the FLAC files [HERE]
Follow acidjack on twitter
Note: All of the material on this site is offered with artist permission, free to fans, at our expense. The only thing we ask is that you download the material directly from this site, rather than re-posting the direct links or the files on other sites without our permission. Please respect our request.
Trans Am
2011-10-08
Union Pool
Brooklyn, NY USA
An acidjack master recording
Recorded and produced by acidjack for nyctaper.com
Soundboard + DPA 4021 (slightly LOC, ORTF)>Naiant littlebox>>Edirol R-44 [Oade Concert Mod] (24/48)>Audition (mixdown)>Audacity (set fades, tracking, EQ, amplify and balance)>FLAC Level 8
Tracks
Futureworld
01 1999
02 Television Eyes
03 Futureworld
04 City in Flames
05 Am Rhein
06 Cocaine Computer
07 Runners Standing Still>Futureworld II
08 Positron
09 Sad and Young
Additional Songs from Red Line
10 [banter]
11 I Want It All
12 [encore break]
13 Play in the Summer
If you enjoyed this recording, PLEASE SUPPORT Trans Am, visit their website, and purchase their official releases directly from Thrill Jockey.