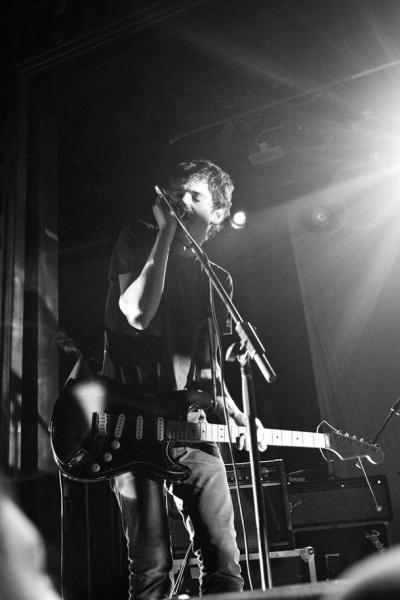 [photo courtesy of Maryanne Ventrice and Impose Magazine]
When acidjack recorded Suuns in January at Rock Shop, he noted the versatility of the band and the "controlled intensity" that the band brings to each song. By December, when I recorded their show at Webster Hall opening for The Antlers, Sunns seem to have perfected that approach. In one of the best-received opening sets we've seen in quite some time, Suuns began with the new 12″ b-side "Red Song" (streaming below), which presaged the compelling tension and release of the post-rock they delivered in spades. The balance of the setlist included much of their excellent 2010 release Zeroes QC (Secretly Canadian Records) and one new song. We expect that the continued development of this talented and imaginative quartet will bring to them to larger stages and audiences — it won't be long before they'll play Webster again as the headliner.
I recorded this set in the same manner as the Antlers set from the same show, and the sound quality is superb.
Stream "Red Song":
[audio:http://www.nyctaper.com/S0125Suuns0211/01.%20Red%20Song.mp3]
Direct download of complete show in MP3 files (HERE)
Download the Complete show in FLAC [HERE].
Note: All of the material on this site is offered with artist permission, free to fans, at our expense. The only thing we ask is that you download the material directly from this site, rather than re-posting the direct links or the files on other sites without our permission. Please respect our request.
Suuns
2011-12-10
Webster Hall
New York, NY USA
Digital Master Recording
Soundboard + Audience Matrix
Soundboard + Neumann KM-150s > Edirol R-44 (Oade Concert Mod) > 2x 24bit 48kHz wav files > Soundforge (level adjustments, mixdown, downsample, set fades) > CDWave 1.95 (tracking) > TLH > flac (320 MP3 and Tagging via Foobar)
Recorded and Produced
by nyctaper
2011-12-18
Setlist:
[Total Time 31:46]
01 Red Song
02 Arena
03 Pie IX
04 [new song – Cities]
05 Sweet Nothing
If you email nyctaper for access to this recording, we expect that you will PLEASE SUPPORT Suuns, visit their Facebook page, and purchase Zeroes QC from Secretly Canadian Records [HERE].