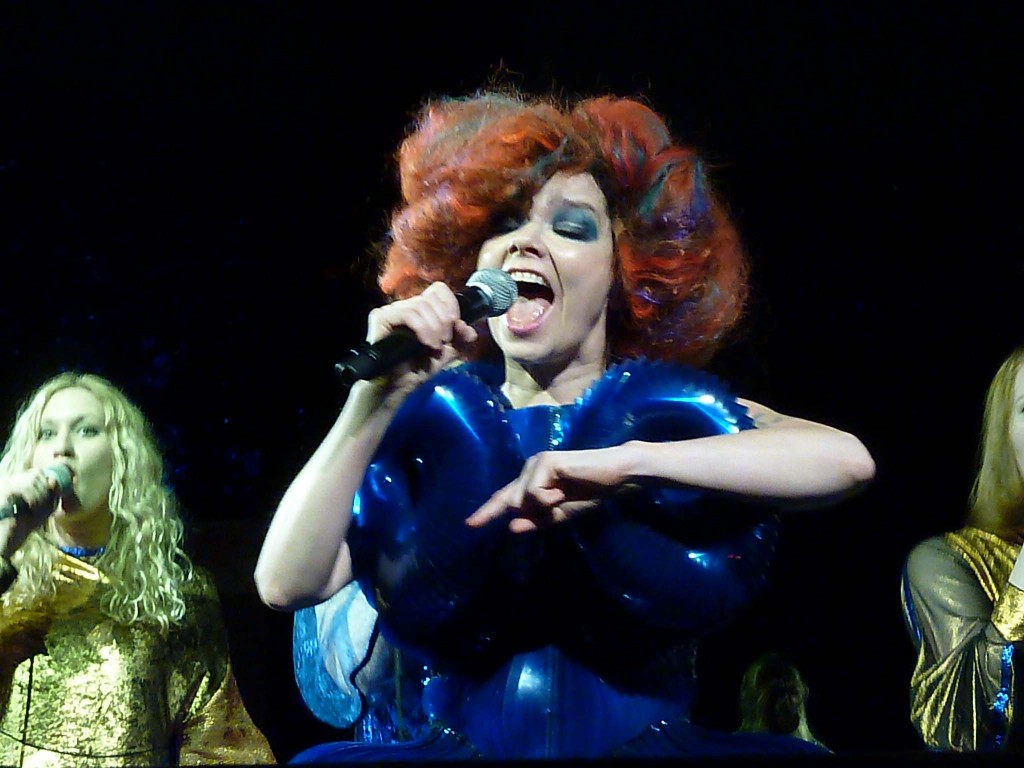 [Photos by Geoffrey Dicker for According 2 G. See his review of the show here]
This same night that the inimitable Björk took the stage at the New York Hall of Science, it happened to be "music's biggest night of the year" – the annual Grammy Awards.  In a giant auditorium in Los Angeles, the four major U.S. music corporations ("record label" seems too artistic a term) slathered awards on artists who – even in the case of the best performances – dutifully trod the well-worn ground of Motown, 60s rock, by-the-numbers country and preprogrammed pop.  On the other coast, in a science museum in Queens, Björk had concocted a circular stage in the middle of an imposing yet intimate auditorium, ringed by synced video screens.  An Icelandic female choir, a harpist, an electrostatic organ complete with a Tesla coil, a percussionist and a man playing (among other things) four iPads and keyboards shared the stage with her for most of the time.  For just over an hour and a half, Björk and this ensemble performed daring, highly original pieces primarily culled from her latest record, Biophilia, complete with visual narration.
I should not overstate the contrast – though she has never won, Björk has been nominated for twelve Grammys.  But if ever there were an example of an artist who is literally bursting with ideas (as her dress suggested), who combines musical genius, pop songcraft, and technology to challenge the basic assumptions and boundaries of what music is, or what it can be, Björk must be that artist.  A Grammy (or a BRIT, VMA, or any of the other awards she has won) cannot contain or categorize her.  Björk has been such an inspiration to us, in fact, that a Sugarcubes recording was the first recording offered for download on this site.
Biophilia is an innovative multimedia production (not really just a "record") that combines a set of new songs with a corresponding iPad app, with each of the record's ten songs married to its own mini-app within the app.  It is the first major release produced in this way, and its goal of celebrating the marriage of nature, technology and art is outlandishly ambitious, and equally well-executed.  Each song has a particular theme (some more concrete than others), like structure, equilibrium, scales, DNA, gravity and tectonic plates.  In musical form, Biophilia mimics the intellectual scope of Jacob Bronowski's classic book and TV miniseries The Ascent of Man, which explored how man's unique relationship with nature and technology led to modern civilization.  Björk's version, of course, is much more colorful, and equally less linear.
As we gathered around the stage, the show kicked off with one word, "Thunderbolt" (many of the songs were announced by name).  From the early notes of the electrostatic organ firing the enormous Tesla coil onstage, it became clear that this show would be a wholly different concert experience.  The pounding dance track, and first single, "Crystalline" got the choir involved in both singing and dancing, and the round stage gave the song a more celebratory and inclusive feel.  Björk seemed attentive to fans all around the stage; while the seated area could have been called the "front", she did not remain focused there, not only moving around during her performance but performing specific songs in specific directions.  The stage itself served as an additional performer, not only in terms of the visual narration from the screens, but in the artful spacing of the performers and the careful deployment of the sound system.   "Virus" made for a compelling use of the custom setup, as the visual narration largely based on the iPad app drove home the scientific metaphor perfectly (that a virus loves a cell so much it destroys it).  But this wasn't all-Biophilia all the time, either; "Isobel" from her critically acclaimed album Post became a visual and aural fantasia with the dancers in the mix.  Other favorites as well as rarities, like "Pagan Poetry" from Vespertine and the "Nattura" single, also made appearances, with each non-Biophilia track melding seamlessly with the newest material.
Björk didn't say much other than "Thank you" during this performance, and she didn't have to.  The show ended on a loud, clangorous note with the brazen "Declare Independence" from Volta, a track that has earned her some controversy in some quarters (she has dedicated it to local independence movements in nations around the world) and has served as a staple set closer.  Coming from an artist of Björk's level of artistry, the concept doesn't come off corny the way such an entreaty often does.  Indeed, this was the performance of a proud, original, fiercely independent artist – one whose example her "peers" in Los Angeles ought to follow.
I recorded this set with DPA 4061 omnidirectional microphones that capture a perfectly localized sense of the concert.  The sound quality is excellent, although frankly, no recording can come close to replicating the experience of seeing this performance live.  Enjoy!
Stream "Crystalline"
[audio:http://www.nyctaper.com/B6591Bjork8793/04 Crystalline.mp3]
Stream "Virus"
[audio:http://www.nyctaper.com/B6591Bjork8793/10 Virus.mp3]
Stream "Isobel"
[audio:http://www.nyctaper.com/B6591Bjork8793/09 Isobel.mp3]
Direct download of MP3 files [HERE]
Download the Complete show in FLAC [HERE]
Follow acidjack on twitter
Note: All of the material on this site is offered with artist permission, free to fans, at our expense.  The only thing we ask is that you download the material directly from this site, rather than re-posting the direct links or the files on other sites without our permission. Please respect our request.
Björk
2012-02-12
New York Hall of Science
Queens, NY USA
Recorded and produced by acidjack
exclusively for nyctaper.com
DPA 4061 (HRTF)>CA-UBB>Sony PCM-M10 (24/44.1)>24bit/44.1kHz WAV>Audacity (set fades, tracking, light EQ, amplify and individually balance each track, volume envelope on clapping, downsample)>FLAC ( level 8 )
Tracks
01 [intro]
02 Thunderbolt
03 Moon
04 Crystalline
05 Hollow
06 Dark Matter
07 Mouth's Cradle
08 You've Been Flirting Again
09 Isobel
10 Virus
11 Generous Palmstroke
12 Sacrifice
13 Pagan Poetry
14 Mutual Core
15 Cosmogony
16 Solstice
17 [encore break]
18 Nattura
19 Declare Independence
If you enjoyed this recording, PLEASE SUPPORT Björk, visit her website, and purchase Biophilia directly from her [HERE]