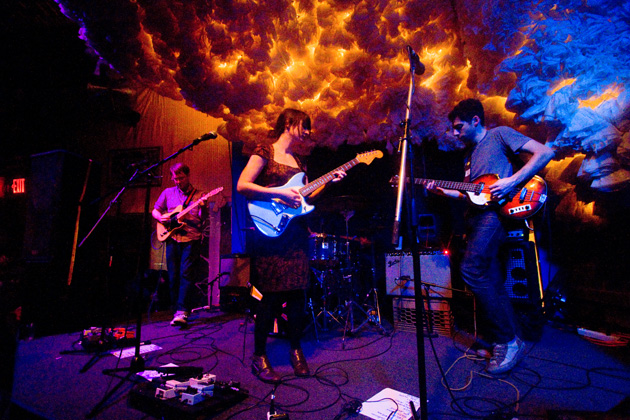 [photo courtesy of Maryanne Ventrice]
On nyctaper, we take pride in recognizing the talent and potential of bands long before they hit it big. We have had a nice little track record and the results are archived in five years worth of posts on this site. But we're also perfectly willing to admit when we miss one entirely. Two and a half years ago, I recorded Hospitality at Littlefield but did not post it on nyctaper, because, well, I did not see the band's potential. This week Hospitality released their debut album on Merge Records and I've had it on constant play. The album is a superb collection of brilliant pop songs, with elements of British folk pop, twee, and American indie. The main features are intelligent lyrics, irresistible hooks and tight musicianship. I met the band at that Littlefield show, and it was clear that they are modest and authentic people — the kind of band that you like to root for. Out of curiosity, I went back and listened to the 2009 recording, and sure enough I just completely missed Hospitality's appeal. They were great back then, just not quite as tight. At the record release show at Glasslands on Friday night, the buzz from their outstanding new release resulted in a packed sold out show. A poorly-timed visit from the NYC Health Department caused a lengthy delay to the start of their set, but the crowd seemed calm and patient and Hospitality were thoughtful enough to inform their followers of the situation on their twitter feed. Once the show began, it was clear that buoyed by the recent acclaim and a supportive local crowd, the band worked through the entire new album (and two new songs!) with confidence and a lot of energy. Hospitality welcomed a horn section for the last two songs of the set, including "Friends of Friends" which we're streaming below. When the song ended, I turned to acidjack and predicted that they will play that very song on Fallon, Letterman or Leno within the next couple of months. I hope I finally get one right with Hospitality.
Acidjack recorded this show with his AKG microphones on cardioid setting and mounted on the projector ledge about fifteen feet from the stage. The excellent upfront audience recording is mixed with a superb soundboard feed from house FOH Josh, and the sound quality is superb.
Stream "Friends of Friends":
Audio clip: Adobe Flash Player (version 9 or above) is required to play this audio clip. Download the latest version here. You also need to have JavaScript enabled in your browser.
Direct download of complete show in MP3 files (HERE)
Download the Complete show in FLAC [HERE].
Note: All of the material on this site is offered with artist permission, free to fans, at our expense. The only thing we ask is that you download the material directly from this site, rather than re-posting the direct links or the files on other sites without our permission. Please respect our request.
Hospitality
2012-02-03
Glasslands Gallery
Brooklyn, NY USA
Digital Master Recording
Soundboard + Audience Matrix
Soundboard + AKG C 414 B-XLS (Cardioid setting) > Edirol R-44 (Oade Concert Mod) > 24bit 48kHz wav file > Soundforge (level adjustments, set fades, downsample) > CDWave 1.95 (tracking) > TLH > flac (320 MP3 and Tagging via Foobar)
Recorded and Produced
by acidjack and nyctaper
2012-02-04
Setlist:
[Total Time 42:40]
01 [introduction]
02 The Right Profession
03 The Birthday
04 The Drift
05 Betty Wang
06 Eighth Avenue
07 Julie
08 Sleepover
09 Liberal Arts
10 Monkey
11 [banter]
12 Friends of Friends
13 All Day Today
14 [encore break]
15 Argonauts
If you email nyctaper for access to this recording, we expect that you will PLEASE SUPPORT Hospitality, visit their Facebook page, visit their artist page at Merge's website, and purchase their debut album from the Merge Records website [HERE].