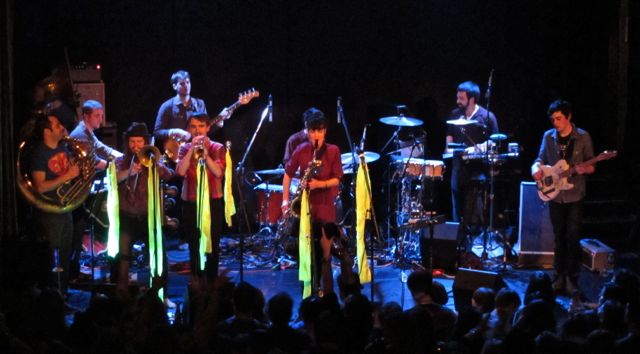 [Photos by acidjack]
Rubblebucket is a Brooklyn-by-way-of-Vermont band that is building a fan base the old-fashioned way: outstanding live shows and the positive word of mouth that results.  With a touring schedule that has blanketed the eastern seaboard and made them regulars in their home region, the band has come by every new fan and every new gig as honestly as possible.  That's why, although you may have never heard of them, they sold out the Bowery Ballroom handily on a Saturday night.  They may have gotten their start on the college music circuit, but judging by this diverse crowd, they've not only kept those early fans, but grown well beyond their beginnings.
Rubblebucket hybridizes elements of NOLA jazz, lounge music, rock and French pop into a dance-ready, coherent whole.  Coming on strong with songs from their latest record, Omega La La, the band got things going early with the combo of "Worker", "Raining" and "Breatherz" from Omega, each punctuated by exuberant blasts of brass (trombone, trumpet and occasionally sousaphone make appearances).  Their mic stands adorned with streamers, their energy relentlessly positive, and their giant robot-puppets (yes) waiting in the wings, Rubblebucket commanded the moment easily, turning the Bowery floor into a giant dance party.  About the robot puppets – during their extended-jam cover of Blondie's "Heart of Glass," two nearly balcony-high puppets roamed through the audience, engaged in mock robot-puppet warfare.  I don't think you need a BA from a northeastern liberal arts school to understand how this makes for a good time.  (But I guess it might not hurt).
Maybe it shouldn't be a novelty that Rubblebucket are distinguished by their virtuosity on their instruments – lead singer Kalmia Triver does double duty on sax, even – but that has been enough to get them included in another faux genre, "yes wave".  I think I'll pass on the genre name, but whatever you want to call their sound, Rubblebucket is a band you shouldn't miss live.
I recorded this set with Schoeps MK41 microphones from our usual spot in the balcony, for a flawless capture of the night. Enjoy!
Stream "Raining"
[audio:http://www.nyctaper.com/R0128Rubblebucket0211/03 Raining.mp3]
Stream "Heart of Glass [Blondie]"
[audio:http://www.nyctaper.com/R0128Rubblebucket0211/08 Heart of Glass.mp3]
Download the MP3 and FLAC files and stream the entire show at the Live Music Archive [HERE]
Follow acidjack on twitter
Note: All of the material on this site is offered with artist permission, free to fans, at our expense. The only thing we ask is that you download the material directly from this site, rather than re-posting the direct links or the files on other sites without our permission. Please respect our request.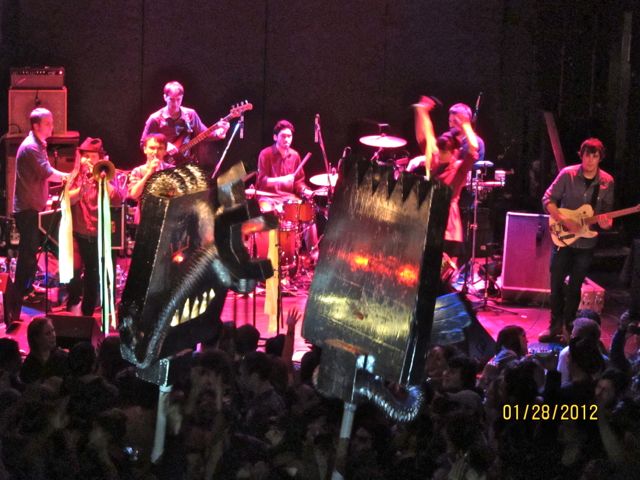 Rubblebucket
2012-01-28
Bowery Ballroom
New York, NY USA
Hosted exclusively at nyctaper.com
Recorded and produced by acidjack
Schoeps MK41 (balcony, DIN, slightly LOC)>KCY>littlebox>Edirol R-44 [Oade Concert Mod]>2x24bit/48kHz WAV>Audacity (mixdown, balance, tracking, set fades, amplify and balance)>FLAC ( level 8)
Tracks [Total Time 1:23:14]
01 [intro]
02 Worker
03 Raining
04 Breatherz (Young as Clouds)
05 Landing
06 [?]-1
07 Silly Fathers
08 Heart of Glass [Blondie]
09 [banter]
10 Bikes
11 Triangular Daisies
12 [?]-2
13 [banter]
14 [?]-3
15 Came Out of a Lady
16 [encore break]
17 Down In the Yards
18 L'Homme
If you enjoyed this recording, PLEASE SUPPORT Rubblebucket, visit their website, and buy Omega La La and their other releases from their official store [HERE]