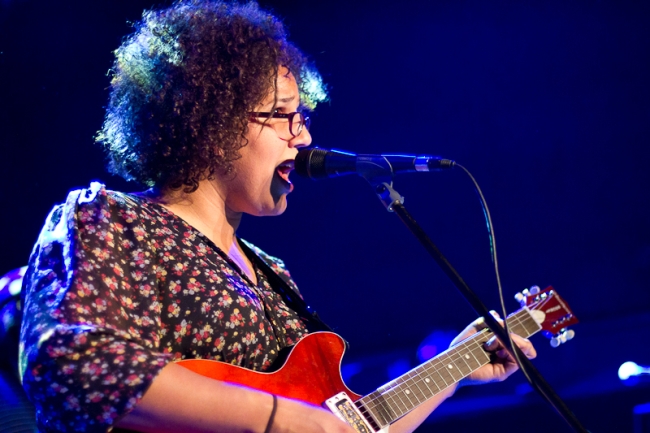 [Photo courtesy of Eric Groom.  See more of his excellent work HERE.]
Alabama Shakes recent rise in popularity can be described as nothing short of meteoric.  Less than a year ago, they were virtually unknown outside of a handful of bars in the southeastern United States.  Getting a push via the internet, word of mouth and their Alabama brethren, Drive-By Truckers, the group began to blow up, playing gigs with DBT and flooring attendees at their NYC debut this past October as part of the CMJ Music Marathon.  After a follow up at the intimate Mercury Lounge in December, Alabama Shakes blitzed our city again with sold out, back-to-back shows at the Studio at Webster Hall, Bowery Ballroom and Music Hall of Williamsburg to coincide with the release of their first full-length album, 'Boys & Girls'.
The band took the stage of Bowery Ballroom to an exuberant crowd that was practically humming with anticipation.  And frontwoman Brittany Howard, bassist Zac Cockrell, guitarist Heath Fogg, drummer Steve Johnson, and keyboardist Ben Tanner brought their A-game.  With their blistering mix of soul, R&B and good old fashioned, kick-ass rock 'n' roll, the house was treated to a nearly non-stop set that left us smiling and wishing there were more songs for them to play.  On their current trajectory, I suspect that Alabama Shakes won't be playing small venues for too much longer.  Definitely check them out when you can.
At the great sounding Bowery Ballroom, Alabama Shakes engineer Shane and house engineer Kenny had the sound perfectly dialed in on this night.  Set up in our usual balcony spot, we had a board feed to combine with our microphones and it has resulted in an excellent recording.  We hope you like what you hear as much as we did.  Enjoy!
Stream "Hang Loose": [audio:http://www.nyctaper.com/A2210AlabamaShakes1410/Alabama_Shakes_-_Hang_Loose.mp3]
Stream "Boys & Girls": [audio:http://www.nyctaper.com/A2210AlabamaShakes1410/Alabama_Shakes_-_Boys_and_Girls.mp3]
Download the MP3 / FLAC files and stream this entire show on the Live Music Archive [HERE]
Follow Johnny Fried Chicken Boy on Twitter.
Note: All of the material on this site is offered with artist permission, free to fans, at our expense.  The only thing we ask is that you download the material directly from this site, rather than re-posting the direct links or the files on other sites without our permission.  Please respect our request.
Alabama Shakes
Wednesday, April 11, 2012
Bowery Ballroom
New York, NY, USA
Source: SBD + Audio-Technica AT3031's > Edirol R-44 (WAV @ 24-bit/48kHz)
Lineage: R-44 > PC > Adobe Audition (mixdown, downsample, dither, tracking) > WAV (16-bit/44.1kHz) > TLH (check/fix SBE's, FLAC conversion) > FLAC ( level 8 )
Alabama Shakes' sound engineer: Shane
Bowery Ballroom house engineer: Kenny
Recorded by: acidjack and Johnny Fried Chicken Boy
Produced by: Johnny Fried Chicken Boy
SETLIST:
[Total time: 1:06:00]
01. Goin' to the Party
02. Hang Loose
03. Hold On
04. I Found You
05. Always Alright
06. Boys & Girls
07. Be Mine
08. Hurricane Strut
09. Mama
10. Making Me Itch
11. You Ain't Alone
12. On Your Way
13. Rise to the Sun
14. Heavy Chevy
15. encore break
16. I Ain't the Same
17. Heat Lightning
If you download this recording, we expect that you will PLEASE SUPPORT Alabama Shakes, go see their shows, visit their website, visit their Facebook and MySpace pages, and purchase their album, 'Boys & Girls', and merchandise [HERE].