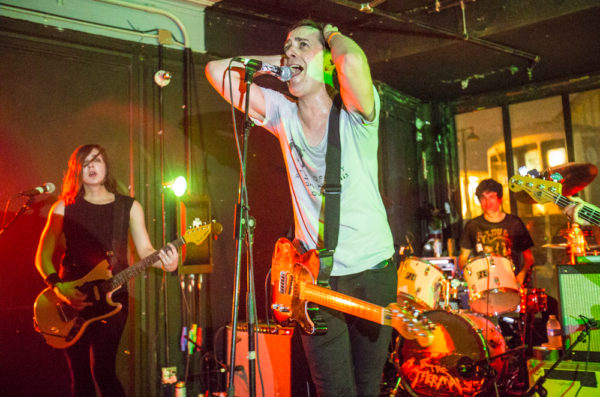 [photos by Will Oliver from We All Want Someone blog]
"This is the best Brooklyn show we've ever had, for sure". Hutch Harris made his love of this night clear before the band's last song, the third of three encores "Pillar Of Salt". In a way it wasn't hard to predict that The Thermals at the Market Hotel would be a show for the ages — the two institutions have recently returned from a hiatus and are now better than ever. There are also historical parallels between the two — ToddP used to book earlier versions of the band in Portland in the last decade.
This was a show for the now, as The Thermals' first new album in three years, We Disappear was released in the end of March and the band is on tour to support its release. But there was also an acknowledgment of history as the band is also celebrating the 10th anniversary of perhaps their most successful album, 2006's The Body, the Blood, the Machine. As a result, the setlist was a curious alternating selection of songs from each album in sequence with a few other classics sprinkled in between. The show maintained a consistent energy level and the very sold-out crowd was with the band throughout — physically and support-wise. This was one of the most animated Market crowds thus far and the band acknowledged the crowd in tribute.
The Thermals tour continues across the US over the next 3 weeks, dates here.
I recorded this set with the installed Audio Technics cards mixed with an excellent board feed mixed by the band's superb touring FOH. The results are raw but right. Enjoy!
Download the Complete Show [MP3] / [FLAC]
Stream the Complete Show:

Thermals
2016-04-28
Market Hotel
Brooklyn NY
Digital Master Recording
Soundboard + Upfront Audience
Soundboard + Audio Technica 4051 > Sound Devices 744t > 2 x 24bit 48kHz wav files > Soundforge (level adjustments, mixdown, set fades) > CDWave 1.95 (tracking) > TLH > flac (320 MP3 and tagging via Foobar)
Recorded and Produced
by nyctaper
Setlist:
[Total Time 1:17:17]
01 Into the Code
02 My Heart Went Cold
03 Here's Your Future
04 I Might Need You to Kill
05 An Ear for Baby
06 [banter – blood splattered vinyl]
07 Hey You
08 If We Don't Die Today
09 The Sunset
10 Born to Kill
11 [crowd]
12 The Great Dying
13 In Every Way
14 Test Pattern
15 St Rosa and the Swallows
16 Back to the Sea
17 Now We Can See
18 The Walls
19 Thinking of You
20 Always Never Be
21 Power Doesn't Run on Nothing
22 I Hold the Sound
23 [encore break]
24 No Culture Icons
25 Returning to the Fold
26 A Pillar of Salt
Support The Thermals: Website | Purchase We Disappear | Tour Dates