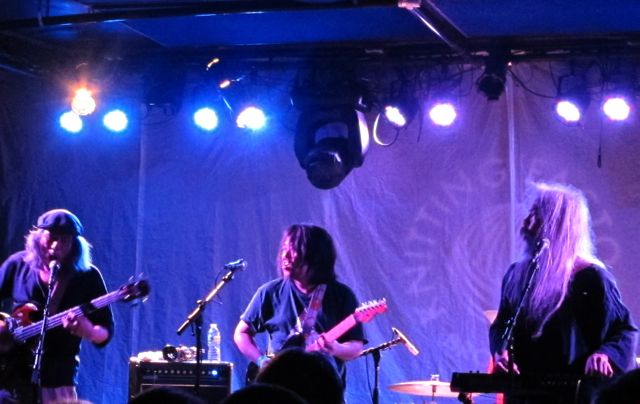 [Photos by acidjack]
Acid Mothers Temple (well, the full name of this ensemble being Acid Mothers Temple & the Melting Paraiso U.F.O.) blew my mind the first time I saw them, back in 2010, and they did so again on this night at the Knitting Factory.  With two new studio albums under their belt from 2011, the band came out and delivered a mind-melting 104 minute performance that showed off the new tracks. Unconfined by the strictures of expectation or conventional song structure, each of this night's songs was a study in improvisation. Rather than the wonky soloing that often typifies improvisational bands, the Mothers took their journey as a tight and focused unit, obviously cueing off of each other. This show had more vocal-heavy songs than the previous show, which gave some of the songs a more cohesive feel despite their even-more-extended jamming. As was the case even before its release, the instant-classic "Pink Lady Lemonade" with its Zeppelinesque main riff was the crowd favorite.  The show ended with the wallop of "Chinese Flying Saucer", one of the tighter songs in the set, as the band continued to rock furiously, right until the last guitar hit the floor.
I recorded this set with AKG large-diaphragm cardiod microphones and a naturally "warm" handbuilt preamp, plus an excellent soundboard feed provided by the Knitting Factory FOH Devin. In retrospect, the choice of microphone and preamp was not ideal, as this combination is better suited to the fine detail of acoustic and less-bassy shows. Nonetheless, with a bit of editing, the resulting capture is excellent.  Further, please let me know of any tracking errors – I think I did better than last time, but there may still be mistakes in song names.  For convenient listening and breaking up into CDs, I broke up long improvisational pieces into multiple parts in order to make them a bit easier to navigate.
Brooklyn's own Phantom Family Halo opened this show, and that recording will be posted soon.
Stream "Pink Lady Lemonade Pt. 1"

Audio clip: Adobe Flash Player (version 9 or above) is required to play this audio clip. Download the latest version here. You also need to have JavaScript enabled in your browser.
Stream "Chinese Flying Saucer"

Audio clip: Adobe Flash Player (version 9 or above) is required to play this audio clip. Download the latest version here. You also need to have JavaScript enabled in your browser.
This recording is now available to download as FLAC or MP3 at Archive.org [HERE].
Acid Mothers Temple
2012-04-30
Knitting Factory
Brooklyn, NY USA
Exclusive download hosted at NYCTaper.com
Recorded and produced by acidjack
AKG C 414 B-XLS (cardiod, slightly ROC, at SBD, 7.5ft, POS)>Aerco MP-2 + Soundboard >> Edirol R-44 [Oade Concert Mod]>2x24bit/48kHz WAV>Adobe Audition CS 5.5 (mixdown)>Izotope Ozone 5 (EQ, harmonic exciter)>Audacity (set fades, tracking, additional EQ, amplify and balance)>FLAC ( level 8 )
Tracks [Total Time 1:44:26]
01 Space Ritual Jam
02 Shine On You Crazy Dynamite
03 Shine On You Crazy Dynamite Pt. II
04 Shine On You Crazy Dynamite Pt. III
05 Pink Lady Lemonade
06 Pink Lady Lemonade Pt. II
07 Pink Lady Lemonade Pt. III
08 Cometary Orbital Drive>Speed Guru
09 [encore break]
10 Chinese Flying Saucer
If you enjoyed this recording, please support Acid Mothers Temple, visit their website, and buy their records from your favorite retailer.