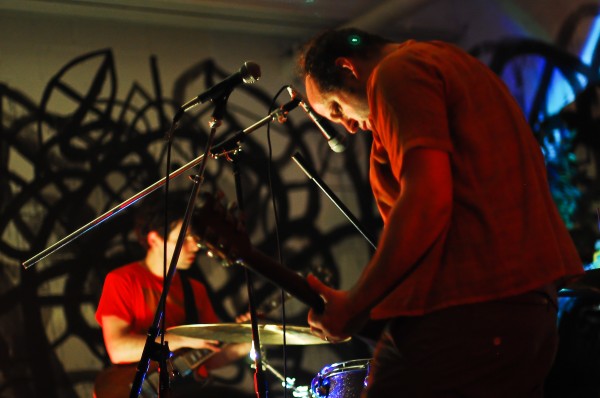 [photo by Jill Harrison from For The Love of Brooklyn blog]
These first five years of NYCTaper have been as unpredictable as they have been profoundly enjoyable. The very act of capturing live music can be exhilarating, but when taping becomes part of an entire subculture that introduces you to new and exciting acts on a regular basis, and allows you to access the act of live musical creation of a band like Oneida, there are really no words to describe the experience. We asked Oneida to play and to curate our 5th Anniversary show and were overjoyed when they accepted. The band has been an important part of NYCTaper over these five years. We've recorded them in their own studio for a day's worth of jams, we recorded them in the old Knitting Factory and the new Knitting Factory, I woke up pre-dawn to record them as the sun rose over the East River in Brooklyn, we've captured three of their CD release events. Its been a great ride, and a couple of Saturdays back at 285 Kent, the amazing journey continued. Oneida invited James McNew and Greg Fox to join them on stage for the set. The band then launched into an eighty minute set of entirely new material, and completed the show with another exercise in Oneida boundary-breaking. We are streaming "Bad Habit", a song that begins in the style similar to Oneida's "kraut-rock" material, but which detoured into a lengthy noise-rock jam. The final song is called "Reputation" and it was an obvious highlight, as it transpired over an astounding forty-eight minutes as the double-drum attack led the charge through a trip of musical peaks and valleys with a few pit stops in between. As an analog to our amazing first five years of existence, we could not have asked for a more appropriate set closer.
Acidjack and I recorded this set in a manner we had not previously accomplished. I took four discreet tracks from the board into my R-44, while acidjack recorded four channels of audience microphones — the Schoeps mounted center and above the stage, and the Sennheiser cards mounted on a beam 10 feet from the PA into his R-44. The eight channels were synced live. All the tracks were mixed in Soundforge fairly equally in post-production. The result is a professional quality multitrack recording with superb quality. Enjoy!
Stream "Bad Habit":
Audio clip: Adobe Flash Player (version 9 or above) is required to play this audio clip. Download the latest version here. You also need to have JavaScript enabled in your browser.
Direct download of complete show in MP3 files (HERE)
Direct download of the complete show in FLAC [HERE].
Note: All of the material on this site is offered with artist permission, free to fans, at our expense. The only thing we ask is that you download the material directly from this site, rather than re-posting the direct links or the files on other sites without our permission. Please respect our request.
Oneida
2012-05-12
285 Kent
NYCTaper 5th Anniversary Party
Brooklyn, NY USA
Eight Channel Digital Master Recording
Multitrack Soundboard + Audience Matrix
Multitrack Soundboard + Sennheiser MKH-8040s + Schoeps MK22 > KCY > Z-PFA > Sound Devices USBPre2 > Edirol R-44 (Oade Concert Mod) > 24bit 48kHz wav file > Soundforge (mix 8 channels, level adjustments, set fades, downsample) > CDWave 1.95 > (tracking) > TLH > flac (320 MP3 and Tagging via Foobar)
Recorded and Produced
by nyctaper
2012-06-02
Setlist:
[Total Time 1:17:56]
01 [introduction]
02 8th Ruler*
03 Bad Habit
04 [banter]
05 That Goes There
06 [banter – Greg intro]
07 Reputation
*with stage power failure
entire set with James McNew
track 07 with Greg Fox
If you email nyctaper for access to this recording, we expect that you will PLEASE SUPPORT Oneida, visit their website, visit their page at Jagjaguwar Records, and purchase all of the CDs in the Thank Your Parents trilogy at the Jagjaguwar site [HERE], [HERE] and [HERE] .