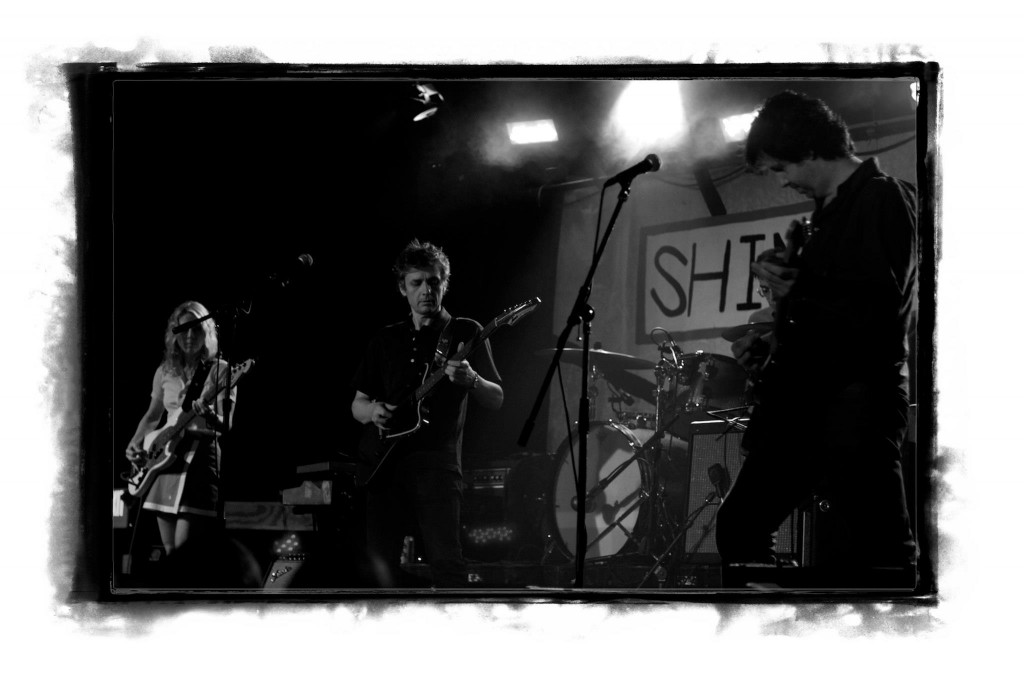 [photo courtesy of Tim Besa]
The amazing story of how this Dean & Britta / Luna reunion concert at the Tommy Brull Foundation Benefit came to fruition is a tale that bears repeating many times over. Tommy Brull was a huge Luna fan, and as his brother Martin relates in the introduction to this recording, many of the memories of his friends and family have of Tommy revolve around seeing or listening to the music of Luna. After several unsuccessful attempts to persuade Dean and Britta to perform at previous Benefits, fate intervened. This Winter, Martin answered an ad for a guitar for sale on craigslist and was shocked to find that the seller was none other than Dean Wareham. When Martin sampled the guitar by playing some of Luna's "Tiger Lily", a connection was made. And when Dean learned the details of the life of Tommy Brull and the mission of the Foundation, Dean and Britta agreed to play this year's Shine A Light Festival. For the show, Sean Eden also agreed to play, and the Luna reunion was set. On Saturday night in Wantagh, I arrived in time to witness some of the Luna soundcheck. It seemed like no time had passed since the last incarnation of the band said farewell with a series of shows at Bowery Ballroom. With Dean, Sean and Britta out front and joined by Dean and Britta drummer Anthony LaMarca, this was as close to a full-fledged Luna reunion as we are likely to ever see — and it was one night only. The set began with two Galaxie 500 songs and a stunning cover of Nico's (penned by Dylan) "I'll Keep It With Mine" that we are streaming below. After a brief introduction, Sean joined the band on stage and the balance of the set contained seven Luna songs and two more Galaxie 500 songs that Luna performed often. The guitar interplay between Dean and Sean was spot on, and the rhythm section was flawless. In tribute to Martin and fate's intervention, we are streaming "Tiger Lily" with the faith that Tommy Brull is smiling, knowing that more than a decade since his passing, he can still make amazing things happen.
I recorded this set with the Sennheiser 8040's on stage and mixed with a soundboard feed. A problem with the phantom powering of the Sennheiser's led to a minimal signal from the on-stage feed, and I relied heavily (75%) on the board feed for the mix. The feed is quite heavily on kick drums but after quite a bit of editing, I was able to produce an excellent listening recording. With those caveats, enjoy!
We ask that if you download this recording, you'll also contribute to the Tommy Brull Foundation. The Shine A Light Festival was held to raise money for Camp Anchor, a camp in Long Beach that assists disabled children.
Donate to Tommy Brull Foundation [HERE].
There are still some t-shirts for sale from the Festival. Photo [here]. Email Tommy Brull Foundation for information.
Stream "I'll Keep It With Mine":
Audio clip: Adobe Flash Player (version 9 or above) is required to play this audio clip. Download the latest version here. You also need to have JavaScript enabled in your browser.
Stream "Tiger Lily":
Audio clip: Adobe Flash Player (version 9 or above) is required to play this audio clip. Download the latest version here. You also need to have JavaScript enabled in your browser.
Direct download of complete show in MP3 files (HERE)
Download the Complete show in FLAC [HERE].
Note: All of the material on this site is offered with artist permission, free to fans, at our expense. The only thing we ask is that you download the material directly from this site, rather than re-posting the direct links or the files on other sites without our permission. Please respect our request.
Dean and Britta (with Luna Reunion)
2012-07-21
Shine A Light Festival
Mulcahy's
Wantagh, NY USA
Digital Master Recording
Soundboard + On-Stage Audience Matrix
Soundboard + Sennheiser 8040 Cardioids > Edirol R-44 (Oade Concert Mod) > 2 x 24bit 48kHz wav files > Soundforge (level adjustments, mixdown, set fades) > CDWave 1.95 (tracking) > TLH > flac (320 MP3 and tagging via Foobar)
Recorded and Produced
by nyctaper 2012-07-24
Setlist:
[Total Time 1:14:25]
01 [introduction]
02 Flowers
03 When Will You Come Home
04 I'll Keep It With Mine (Nico)
05 [Sean Eden intro]
06 Bewitched
07 23 Minutes in Brussels
08 Tiger Lily
09 Moon Palace
10 Blue Thunder
11 Tugboat
12 Bonnie and Clyde
13 [banter – tuning]
14 Indian Summer
15 [encore break]
16 Listen The Snow is Falling (Yoko)
17 4th of July
If you email nyctaper for access to this recording, we expect that you will PLEASE SUPPORT Dean and Britta, visit their website, where you can purchase their official releases at the Shop at their website [HERE].