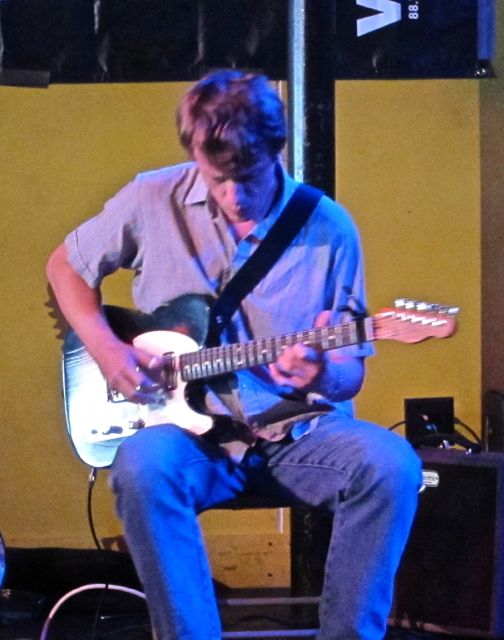 [Photos by acidjack]
The duo of the guitarist Steve Gunn and drummer John Truscinski, better known as Gunn-Truscinski Duo, was a perfect closer to the Three Lobed Recordings/WXDU Day Show during the Hopscotch Music Festival. The pair epitomizes some of the highlights of the Three Lobed aesthetic – rhythmically complex, guitar-based music with psychedelic overtones that occupies no obvious musical niche, that advances the state of its art while giving a subtle nod to its forebears. With no words sung during their set, it is still easy to locate Gunn-Truscinski as distinctly American; although he melds Eastern elements to his work, Gunn is nonetheless a successor to this country's folk tradition. What we got at King's Barcade on this fine Friday afternoon was a short barnstormer of a set consisting of three of the five songs from the duo's latest release on Three Lobed, Ocean Parkway.  Gunn and Truscinski kicked off with perhaps that record's best song, "Banh Mi Ringtones", given some extended jamming treatment, followed by "Don't Lean On Door" and "Ocean Parkway". For those who would doubt that an instrumental guitar and drum duo can unrepentantly rock, I submit this recording as Exhibit A.
I recorded this set in the same manner as all of the other sets from this show, with Schoeps MK5 microphones onstage in the omnidirectional setting and a soundboard feed provided by the King's staff. As I was able to get the mics closer to the performers for this set, this is one of the best quality-wise of the day. Enjoy!
Thanks to WXDU, Cory Rayborn and Three Lobed. Also check out our post of Gunn and Truscinski playing as a trio in support of Tom Carter, which is coming soon.

Stream "Banh Mi Ringtones"

Direct download of MP3 files [HERE] | Direct download of FLAC files [HERE]
If the FLAC link is no longer working, email nyctaper for the FLAC files
Follow acidjack on twitter
Check out all of NYCTaper's Hopscotch Festival recordings
Note: All of the material on this site is offered with artist permission, free to fans, at our expense. The only thing we ask is that you download the material directly from this site, rather than re-posting the direct links or the files on other sites without our permission. Please respect our request.
Gunn-Truscinski Duo
2012-09-07
Three Lobed/WXDU Day Show
Kings Barcade
Raleigh, NC USA
Recorded and produced by acidjack
Soundboard + Schoeps MK5 (omni, onstage, split)>KC5>CMC6>>Edirol R-44 [OCM]>2x24bit/48kHz WAV>Audition CS 5.5 (mixdown)>Izotope Ozone 5 (light EQ and tube effects)>Audacity 3.0 (set fades, tracking, amplify, balance, downsample)>FLAC ( level 8 )
Tracks
01 [intro]
02 Banh Mi Ringtones
03 Don't Lean On Door
04 [banter]
05 Ocean Parkway
If you enjoyed this recording, PLEASE SUPPORT Gunn-Truscinski Duo, visit Steve Gunn's website, and purchase Ocean Parkway and their other releases directly from Three Lobed [HERE]