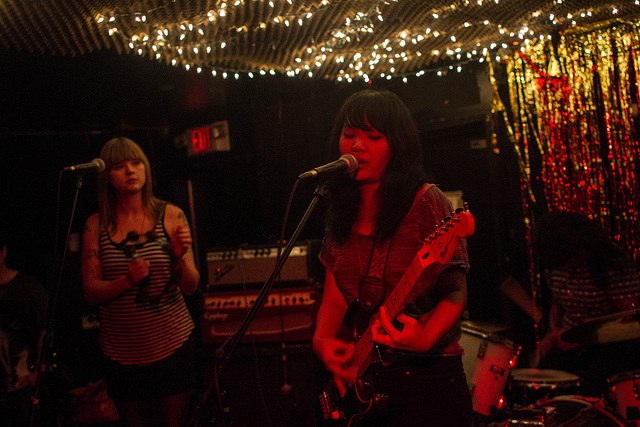 [Photo courtesy of MaryAnne Ventrice]
At first, it's hard to grasp that the women of Heliotropes are your showcase's heaviest band by far. From looking at them, you might not guess that the diverse group of young women makes monster, Sabbath-inspired rock with chunky, wah wah riffs and a raging backbeat. Also one of the newest acts on our CMJ day show bill, these ladies are kindred spirits of modern stoner/psych rockers like The Midnight Ghost Train, Pontiak and others, and they don't hold back onstage. For a band whose current output consists of some singles on their bandcamp page, Heliotropes already have a well-developed sound and delivery – and based on this set at our unofficial CMJ day show at Cake Shop, are well on their way to an LP. Most of the tracks played at this show were new other than the released single "Ribbons", and that new material is consistently hard hitting. The band closed out with a favorite of mine from Nirvana's first album Bleach, the scorching "Negative Creep", which the women of Heliotropes brought down in tempo a touch to give a more dirge-like sound to the song.
I recorded this set with a soundboard feed provided by the day's excellent engineer Justin together with Schoeps MK5 microphones in the cardiod setting mounted directly in front of the stage.  The sound is "in your face" and excellent. Enjoy!
Stream "Quatto"
Direct download of MP3 files [HERE] | Direct download of FLAC files [HERE]
If the FLAC link is no longer working, email nyctaper for the FLAC filesFollow acidjack on twitter
Note: All of the material on this site is offered with artist permission, free to fans, at our expense. The only thing we ask is that you download the material directly from this site, rather than re-posting the direct links or the files on other sites without our permission. Please respect our request.
Heliotropes
2012-10-18
NYCTaper CMJ Day Show
Cake Shop
New York, NY USA
Exclusive download hosted at nyctaper.com
Recorded and produced by acidjack
Soundboard (engineer: Justin) + Schoeps MK5>KCY>Z-PFA>>Edirol R-44 [OCM]>Adobe Audition CS 5.5 (mix down, fades, align, adjust levels)>Izotope Ozone 5 (EQ, thicken, exciter)>Audacity 3.0 (tracking, amplify, balance, light DR compression, downsample)>FLAC ( level 8 )
Tracks
01 Psalms
02 Early In The Morning
03 Light and Dark
04 Ribbons
05 Quatto
06 Negative Creep
If you enjoyed this recording, PLEASE SUPPORT Heliotropes, like them on Facebook, and check out their music on their bandcamp page.