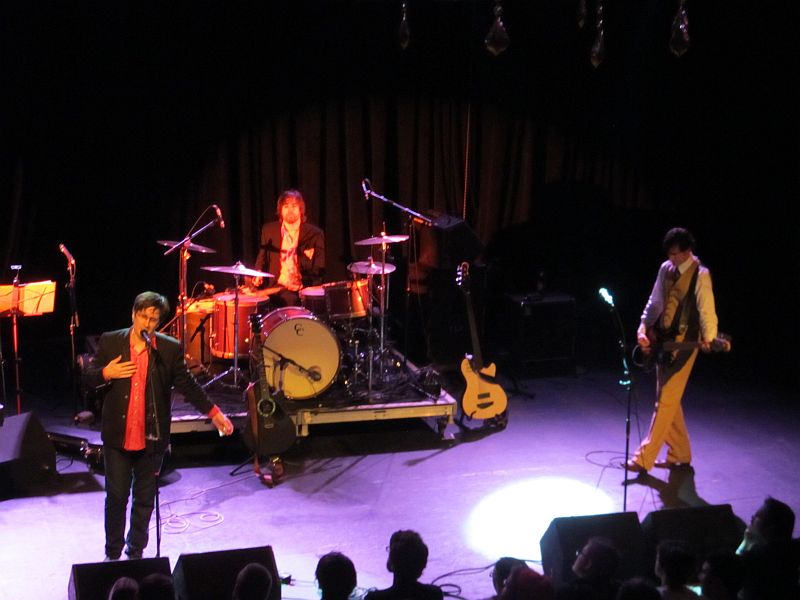 [photo by John R. Palmer]
Last night, I was told by someone in the know that John Darnielle thought that Saturday night's show in Brooklyn was perhaps the best of the tour. Our review concurred, as we found it one of the best Mountain Goats shows I've ever seen. So the question would be whether tMG matched that intensity for the other night we saw them on this tour, Tuesday at Bowery Ballroom. Bowery is undoubtedly one of our favorite venues — it feels like "home". Its hard not to have a good time there. With that backdrop, its not for me to objectively say whether Tuesday night was "better" or "as good as" the epic Saturday performance. Suffice to say, it was a Mountain Goats show with a superb setlist, some neat banter, and horns (!). It would not be possible to go wrong with that combination and rather than try to analyze it, I'll just that say I had a great time, the new album is outstanding, we'll see tMG whenever we can, and the recording is killer. That should be enough.
This recording is a testament to the talents of the band's tour FOH Brandon and the consistent excellence of Bowery and their staff. It was captured with the Sennheiser cards mixed with an excellent feed. The room mics are about 70% of the mix. Its sounds superb and we hope you enjoy!
Stream "Transcendental Youth":

This Recording is now available to Download in FLAC and MP3 and to Stream at Archive.org [HERE].
Note: All of the material on this site is offered with artist permission, free to fans, at our expense. The only thing we ask is that you download the material directly from this site, rather than re-posting the direct links or the files on other sites without our permission. Please respect our request.
Mountain Goats
2012-10-16
Bowery Ballroom
New York, NY USA
Digital Master Recording
Soundboard + Audience Matrix
Soundboard + Sennheiser 8040 Cardioids > Edirol R-44 (Oade Concert Mod) > 2 x 24bit 48kHz wav files > Soundforge (level adjustments, mixdown, set fades) > CDWave 1.95 (tracking) > TLH > flac (320 MP3 and tagging via Foobar)
Recorded and Produced
by nyctaper 2012-10-17
Setlist:
[Total Time 1:32:29]
01 [Pink Floyd intro music]
02 Dinu Lipatti's Bones
03 Birth of Serpents
04 First Few Desperate Hours
05 Amy aka Spent Gladiator 1
06 [banter – Frankie Lymon]
07 Harlem Roulette
08 [banter – spoke intros]
09 Pure Milk
10 Jenny
11 Linda Blair Was Born Innocent
12 Song For The Julian Calendar
13 You Were Cool
14 Ezekiel 7 and the Permanent Efficacy of Grace
15 [banter – hats]
16 Lakeside View Apartments Suite
17 [banter – Jackson Browne]
18 Never Quite Free
19 White Cedar
20 In Memory Of Satan
21 Spent Gladiator 2
22 Cry For Judas
23 Broom People
24 [encore break]
25 Transcendental Youth
26 This Year
27 [second encore break]
28 See America Right
29 Palmcorder Yajna
30 [banter – Proposition 13]
31 No Children
If you download this recording from NYCTaper, we expect that you will PLEASE SUPPORT the Mountain Goats, visit their website, and purchase the latest album Transcendental Youth from Merge Records [HERE].