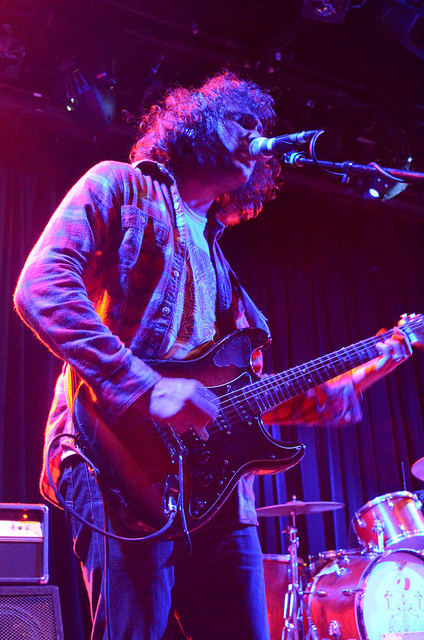 [photos courtesy of PSquared Photography]
Its always an encouraging story when talent, hard work and persistence are rewarded. We have been big fans of Purling Hiss for a couple of years, and we have been convinced since we first saw them in early 2011 at Bowery Ballroom that Mike Polizze's band was ultimately going to reach a large audience. Mike is an extraordinarily talented guitarist and the band's ferocious performing style fits with the aggressive garage-punk songs. At Music Hall of Williamsburg last week, we learned before the show that Purling Hiss has signed to the excellent label Drag City Records. We expect a new album to appear in March. At Music Hall some of the newer songs were performed, and while the songcraft remains strong, there is definitely a more melodic tint to the material. Purling Hiss wasted no time in their thirty-five minute opening set and immediately got down to business, transitioning each song into the next. We're streaming old favorite "Almost Washed My Hair" which was both the finale and the band's chance to stretch out and shred.
Acidjack and I recorded this set with a combination of four room mics, his Schoeps hyper-cards and my Sennheiser cards and mixed with an excellent board feed. The sound is superb. Enjoy!
Stream "Almost Washed My Hair":

Download the Complete show in [MP3] / [FLAC]
Note: All of the material on this site is offered with artist permission, free to fans, at our expense. The only thing we ask is that you download the material directly from this site, rather than re-posting the direct links or the files on other sites without our permission. Please respect our request.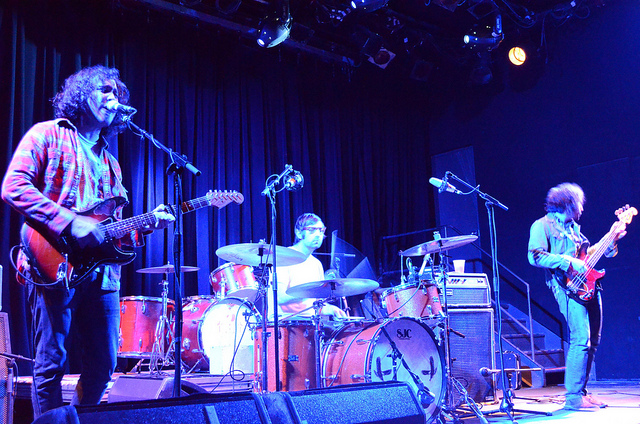 Purling Hiss
2012-11-03
Music Hall of Williamsburg
Brooklyn, NY USA
Six Channel Digital Master Recording
Soundboard + Audience Matrix
Soundboard + Sennheiser MKH-8040s + Schoeps MK41 > KC5> CMC6 > Sound Devices USBPre2 > Edirol R-44 (Oade Concert Mod) > 24bit 48kHz wav files > Soundforge (mix 6 channels, level adjustments, set fades, downsample) > CDWave 1.95 > (tracking) > TLH > flac (320 MP3 and Tagging via Foobar)
Recorded and Produced
by nyctaper
2012-11-11
Setlist:
[Total Time 33:17]
01 Run From the City
02 Lolita
03 Voices
04 Don't Even Try It
05 Rat Race
06 I Don't Know
07 Mercury Retrograde Mary Bumblebee
08 Almost Washed My Hair
If you download this recording from NYCTaper, we expect that you will PLEASE SUPPORT Purling Hiss, visit their Facebook page, and purchase their official releases from from the Mexican Summer website [HERE], and their other releases from Woodsist Records [HERE]. Keep an eyes on the Drag City Records site for updates on their new album.