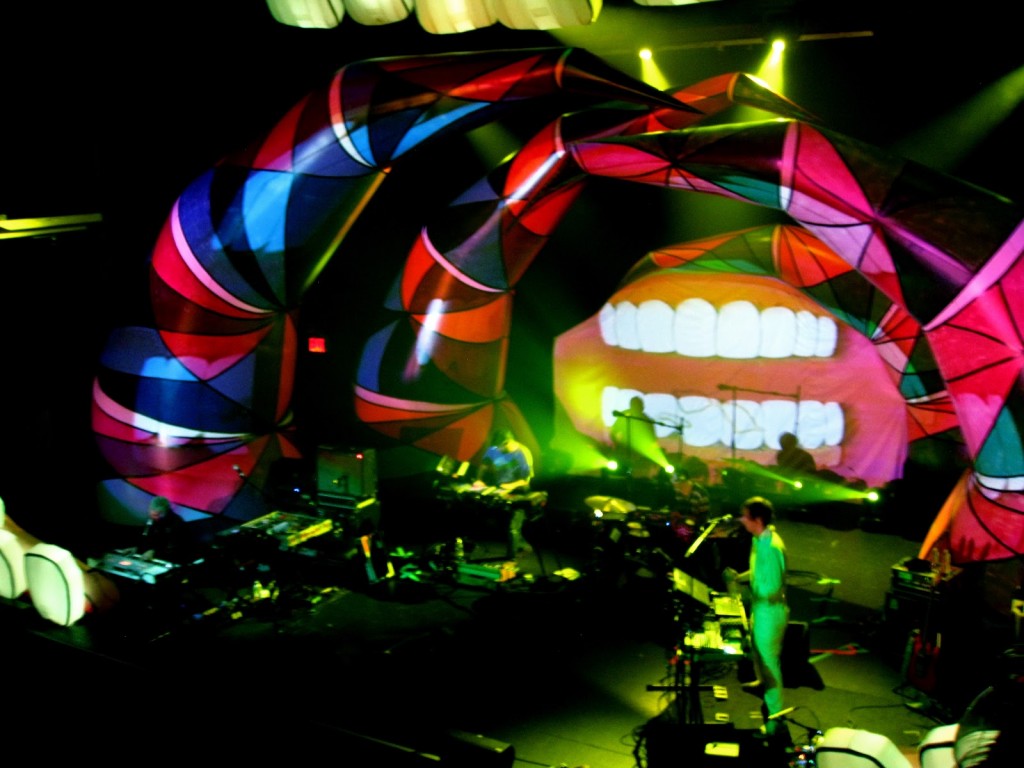 [photo courtesy of Two Sails]
Ever the new music innovators, for their tour in 2012 Animal Collective has gone retro. Over the last decade the band has slowly evolved into a purely electronic live act. And when founder Deakin took a "leave", the band was a trio for the last several years. But Deakin is back and so is a more traditional band layout on stage. At Terminal 5 earlier this month, Panda Bear spent the entire show playing a full drum set, Deakin was primarily on guitar and Avey Tare played keyboards. Surely, there were electronics — Geologist mostly, but each of the other three had their gizmos laid out in front of them. This year the band is touring on the strength of the new album Centipede Hz (Domino), a release that flew under the buzz radar but which is as solid as anything the band has ever produced. At Terminal 5 Animal Collective played two consecutive nights, a make-up of sorts for the Williamsburg Waterfront show postponed in August. AC seemed quite comfortable in the "new" config on the first night of the Terminal 5 shows, and played nearly two hours. The setlist began with almost all of Centipede before the classics to closed the show. Animal Collective will tour Australia after the New Year, and likely return to NYC for Spring or Summer shows.
I recorded this show with the 4-mic configuration from inside of the soundboard booth on the floor. The large venue swallowed up some of the sound on this night, so that while the recording is rich in bottom end, its also a bit "boomy". With that caveat, enjoy!
Stream "Monkey Riches":

Stream "My Girls":

This Recording is now available for Download in FLAC and MP3 and to Stream at Archive.org [HERE].
Note: All of the material on this site is offered with artist permission, free to fans, at our expense. The only thing we ask is that you download the material directly from this site, rather than re-posting the direct links or the files on other sites without our permission. Please respect our request.
Animal Collective
2012-12-04
Terminal 5
New York, NY USA
Digital Master
Front of Board Four-Track Audience Recording
Sennheiser MKH-8040 Cardioids + Neumann KM-150s > Edirol R-44 (Oade Concert Mod) > 2x 24bit 48kHz wav file > Soundforge (level adjustments, mixdown, set fades) > CDWave 1.95 (tracking) > TLH > flac (320 MP3 and tagging via Foobar)
Recorded and Produced by nyctaper
2012-12-10
Setlist:
[Total Time 1:47:45]
01 Rosie Oh
02 Todays Supernatural
03 Wide Eyed
04 Applesauce
05 Honeycomb
06 Lion In A Coma
07 Moonjock
08 Pulleys
09 New Town Burnout
10 Monkey Riches
11 Brother Sport
12 Peacebone
13 [encore break]
14 Cobwebs
15 My Girls
16 Amanita
If you download this recording from NYCTaper, we expect that you will PLEASE SUPPORT Animal Collective, visit their website, and purchase Centipede Hz from the Domino Records Store [HERE].