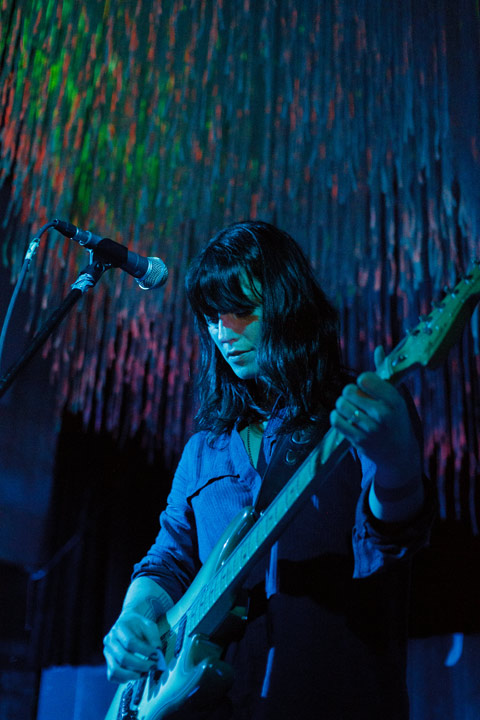 [photo courtesy of Amanda Hatfield]
Apparently, you can go home again. As she returned to her old haunts, Sharon Van Etten played a semi-secret show at Cameo Gallery that brought everyone in the packed room back five years to the days when she charmed small crowds at the various local venues. Zebulon is now closed, Monkeytown is long gone, and Galapagos is now Public Assembly, but the passing of time was irrelevant last night. It was the performer and her magic voice playing songs that propelled her to her current lofty status that had the room enchanted. Sharon was joined for much of the set by current band member Heather Woods Broderick, who provided beautiful harmonies. The set consisted of a nice mix of older numbers ("Consolation Prize" is streaming below), her current repertoire and some fairly obscure early numbers. But through it all Sharon proved that even though her gigs are now at venues like Town Hall and Beacon Theatre, she is still the same unassuming and modest young woman that charmed us all back then. "I miss the old days", Sharon said late in the show. So do we.
I recorded this set with the Sennheiser cards mounted front and center of the soundboard and mixed with an excellent board feed. The quiet music on stage is subject to some of the ambient noise of the room (bottles, doors, etc), but overall the sound is excellent. Enjoy!
Stream "Consolation Prize":

This Recording is now available to Download in FLAC and MP3 and to Stream at Archive.org [HERE].
Note: All of the material on this site is offered with artist permission, free to fans, at our expense. The only thing we ask is that you download the material directly from this site, rather than re-posting the direct links or the files on other sites without our permission. Please respect our request.
Sharon Van Etten
2012-12-15
Cameo Gallery
Brooklyn, NY USA
Digital Master Recording
Recorded from Center Balcony Rail
Soundboard + Sennheiser MKH-8040s > Edirol R-44 (Oade Concert Mod) > 24bit 48kHz wav file > Soundforge (level adjustments, EQ, mixdown, set fades) > CDWave 1.95 (tracking) > TLH > flac (320 MP3 and Tagging via Foobar)
Recorded and Produced
by nyctaper
2012-12-16
Setlist:
[Total Time 1:11:28]
01 [introduction]
02 Kevin's
03 Leonard
04 I Fold
05 Have You Seen
06 All I Can
07 You Really Didn't Do That
08 [banter – Santa Con]
09 Consolation Prize
10 [banter – parent's basement]
11 Tornado
12 Give Out
13 Damn Right [aborted]
14 Heart In The Ground
15 Oh My Love
If you download this recording from NYCTaper we expect that you will PLEASE SUPPORT Sharon Van Etten, visit her website, and purchase Tramp directly from Jagjaguwar Records [HERE]