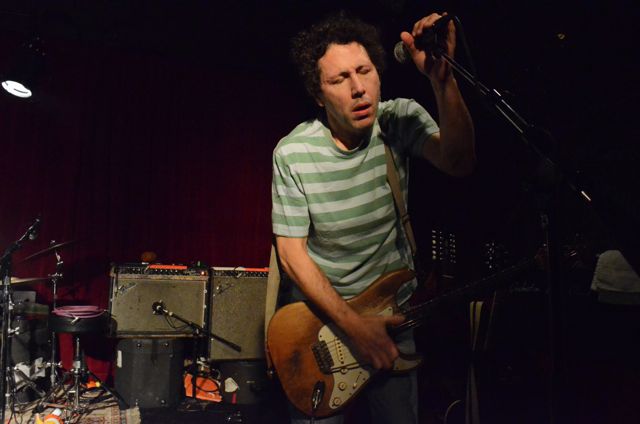 [Photos courtesy of P Squared Photography]
Donate to Waves for Water's Hurricane Sandy Relief Initiative
When bewildered people ask me why I have spent a significant chunk of my December so far attending and recording Yo La Tengo shows at Maxwell's in (currently hard-to-reach) Hoboken, I usually point them to this performance from December 7, 2010.  That show had everything you look for in a YLT Hanukkah set – amazing  setlist of old songs, new songs and covers; lots of extended guitar jams, and  a special guest (Nels Cline) who added a whole new dimension to the band's sound. Several of this year's shows had that, too, including Sunday night with honorary members of the Sun Ra Arkestra and Fred Armisen, and Tuesday night with Kid Millions of Oneida. I thought that for me, Sunday would be the impossible show to top this year, but this Friday night show proved me wrong. I am not ready for it to de-throne 12/7/10 on my list of all-time favorites, but having now seen the entire 2012 run, I'm sure it is my favorite of this year.
For this set, singer-songwriter Andrew Bird joined the band for the entire performance on violin. Bird gave added a graceful, somber element to some quieter numbers like "Last Days of Disco" and Dylan's "I'll Keep It With Mine".  Though the violin naturally lent itself to quiet songs, this night saw yet another set of monster guitar songs as well, including an absolutely scorching "Flying Lesson (Hot Chicken #1)". But it might be the main set's closer, the Roky Erickson arrangement of the Velvet Underground's "Heroin" that was the ultimate highlight; even compared to the version played last year, this was an inspired rendition, and Bird's violin squealing along gave it added intensity.
If this had not already been my favorite show by that point, YLT sealed the deal with the encore. For the second encore song, the band was joined by Devendra Banhart. The song, Jorma Kaukonen's "Song For the North Star", was dedicated to "the tapers", as Kaukonen's band Hot Tuna was once a longtime favorite of the taping community (why they no longer are is the subject of another post). While of course it was gratifying to be acknowledged by the band at all, it was more gratifying to see such a unique cover at this point in the set, which the band then closed with another cover, "If I Only Had A Match." Given how much these Hanukkah shows take out of the band, it was a testament to their creative energy and love for what they are doing that they absolutely killed it on their second-to-last night. Not that Night 8 (coming soon), didn't have some treats of its own…
I recorded this set in the same manner as our other Hanukkah recordings, again with Schoeps MK5 microphones in the cardiod setting and an excellent soundboard feed by the band's engineer, Mark.  Enjoy!
All of these Hanukkah shows are for charity. Like all of this year's Hanukkah shows, tonight's charity, Waves for Water's Hurrican Sandy Relief Initiative, is working hard to assist the New York City area with its recovery from the storm. As the band has pointed out every night, they take their obligation to help seriously, and so do we. We ask that if you download this show, you contribute to the charity. Although you are not required to donate in order to download this show, Yo La Tengo – and NYCTaper – would greatly appreciate it if you would.
Stream "Song For the North Star" [Jorma Kaukonen]

Download the complete show: [MP3] | [FLAC]
Due to high download volume, we are hosting these files off-site. The off-site host has a maximum download limit of 500, which will periodically be reached. Please let us know if the download limit is reached and we will re-upload the files in a new location.  

Follow acidjack on twitter
Note: All of the material on this site is offered with artist permission, free to fans, at our expense. The only thing we ask is that you download the material directly from this site, rather than re-posting the direct links or the files on other sites without our permission. Please respect our request.
Yo La Tengo
2012-12-14
Hanukkah Night 7
Maxwell's
Hoboken, NJ USA
Exclusive download hosted at nyctaper.com
Recorded and produced by acidjack
Setlist courtesy of Jesse Jarnow, author of Big Day Coming: Yo La Tengo and the Rise of Indie Rock
Schoeps MK5>CMC6>Sound Devices USBPre2 + Soundboard (engineer: Mark) >> Edirol R-44 [OCM]>Adobe Audition CS 5.5 (mix down, adjust levels)>Izotope Ozone 5 (EQ, exciter)>Audacity 3.0 (set fades, tracking, amplify, balance, downsample)>FLAC ( level 8 )
Tracks [Total Time 1:35:23]
01 Everyday
02 One PM Again
03 How To Make A Baby Elephant Float
04 Last Days of Disco
05 Flying Lesson (Hot Chicken #1)
06 Little Eyes
07 I Fall In Love Too Easily [Jule Styne & Sammy Cohn] &
08 [banter1]
09 When It's Dark
10 I'll Keep It With Mine [Bob Dylan]
11 [banter2]
12 Stupid Things
13 More Stars Than There Are In Heaven
14 Heroin (Velvet Underground) [Roky Erickson arrangement]
15 [encore break]
16 Griselda [Antonia]
17 [banter3]
18 Song For the North Star [Jorma Kaukonen] $
19 If I Only Had A Match [Lee Morris, Arthur Johnson, & George W. Meyer] $
* Entire set with Andrew Bird on Violin
& with Andrew Bird on vocals
$ with Devendra Banhart on vocals
If you download this recording from NYCTaper, we expect that you will PLEASE SUPPORT Yo La Tengo, visit their website, and pre-order the new album Fade from Matador Records [HERE].