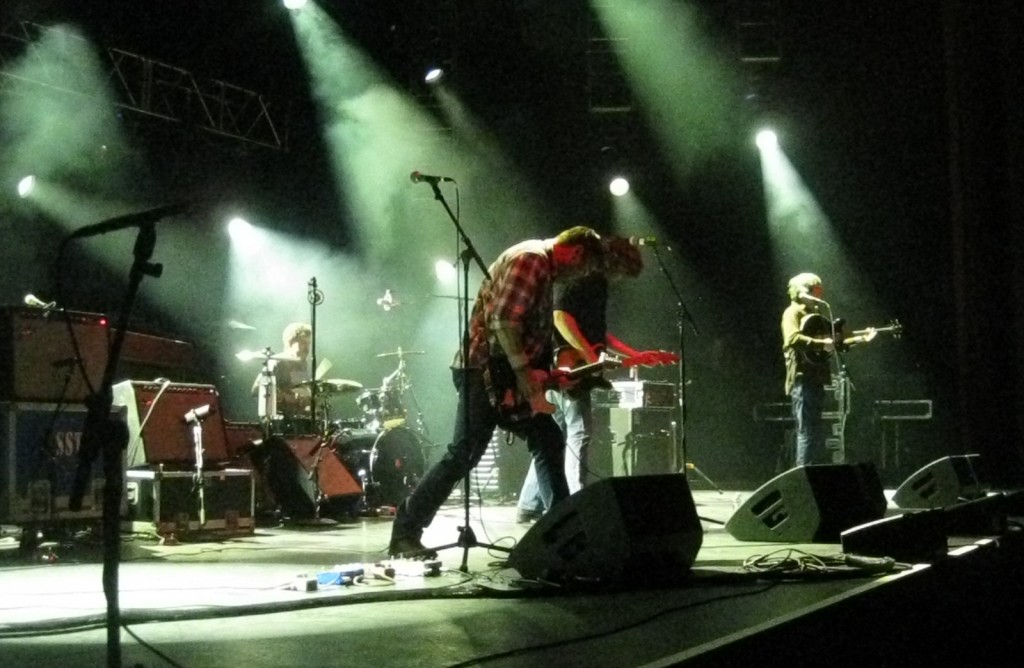 [photo by Joe Madonna]
There was a brief time in my life when the Old 97s were one of my top 3 favorite bands. 1999's Fight Songs is a perfect album and one that I played on rotation an infinite number of times. I've always felt that Fight Songs was a more consistently excellent album even than Wilco's Summerteeth, also released in '99 — a more truly realized blend of alt-country and pop that both albums sought to achieve. Although Satellite Rides was a worthy follow-up, and I've seen them a few times this century (including this 2007 concert on nyctaper) I'll admit that I lost touch with the band over the years. But its always rewarding to catch up with an old favorite and that we did at the Capital Theatre in Portchester last month. Old 97s performed a superb 20-song headliner-length set opening for Drive By Truckers, and the magic was back. They barreled through many of the hits in a set that was high energy, focused, and virtually never came up for air. We're streaming "Lonely Holiday" below. The Old 97s will return to NYC for a three-night run at Brooklyn Bowl on June 27-29.
This recording was captured in the same manner as the Drive By Truckers set and the sound quality is excellent. Enjoy!
Stream "Lonely Holiday":

Download the Complete show [MP3] / [FLAC]
Old 97s
2013-03-15
Capitol Theatre
Portchester, NY
Digital Master
Four-Track Audience Recording
Sennheiser MKH-8040 Cardioids + Neumann KM-150s > Edirol R-44 (Oade Concert Mod) > 2x 24bit 48kHz wav file > Soundforge (level adjustments, mixdown, set fades) > CDWave 1.95 (tracking) > TLH > flac (320 MP3 and tagging via Foobar)
Recorded and Produced by nyctaper 2013-04-09
Setlist:
[Total Time 1:12:25]
01 Barrier Reef
02 Won't Be Home
03 Brown Haired Daughter
04 Lonely Holiday
05 Champaign Illinois
06 West Texas Teardrops
07 Ivys Got A Boyfriend (Problem)
08 The Other Shoe
09 The Dance Class
10 Four Leaf Clover
11 Stoned
12 Mama Tried (Merle Haggard)
13 Question
14 Big Brown Eyes
15 Every Night is Friday Night
16 Can't Get A Line
17 Jagged
18 Dance With Me
19 Rollerskate Skinny
20 Timebomb
If you download this recording from NYCTaper, we expect that you will PLEASE SUPPORT Old 97s, visit their website, purchase their official releases from the Store at their website [HERE].