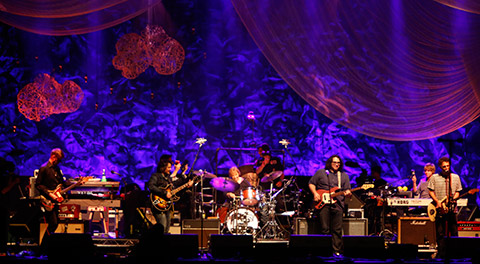 [photos by PSquared Photography]
I've taken road trips before to see Wilco. But I'll admit that the trip from NYC to Northeast Massachusetts there-and-back in one day was quite a lark. We applied for media credentials months ago, and PSquared got his weeks ago, but mine came through just this past week. I moved some scheduling things around, freed up all Friday and we drove up in the afternoon. It was still light out when we arrived in North Adams, and the quaint beauty of the town was immediately recognizable. The Solid Sound Festival takes place on the grounds of the Massachusetts Museum of Contemporary Art (MASS MoCA) which is located on the re-purposed grounds of all old factory and the riverside lands that surround it, and the entire complex is simply stunning in its classic charm. The riverside field next to the train tracks is the location for the large outdoor stage and is where Wilco performed. I knew this would be an "all request" set, but I was surprised to hear the rumors pre-show that it would be an all covers show. From the opening notes of the appropriate "The Boys Are Back in Town", I sensed that this would be a very unique and special evening — and that's exactly what we experienced. The band worked through a quick run of a handful of excellent covers before comedian John Hodgman came on stage as the "emcee". In the both the running "randomizer" bit and the "stump the band" segment, Hodgman ribbed the band and provided an almost variety-show atmosphere to the set, which gave the show both levity and a theme. The covers were classic (Beatles, Stones, The Band), alternative (Replacements, Pavement), and pretty much everything in between — all played pretty straight-on in Wilco's patented style. Our two favorite tracks of the evening were the epic cover of Television's "Marquee Moon" (streaming below) which during the performance began to sound very much like the band's own "Kidsmoke", and reminded me that Wilco was not just playing covers but also telling us a little about what has influenced their music. For the Replacements "Color Me Impressed" (also streaming) Wilco brought out a very unexpected guest, original Replacement bassist Tommy Stinson, who played guitar on the song. It was that kind of once in a lifetime show, with constant smiles and surprises. And just when we thought we'd heard it all Wilco played a head-scratcher, a fairly straight forward rendition of Daft Punk's "Get Lucky". That one is sure to get much of the attention, but this night was much bigger than any single song. At the end of the final cover, a state-appropriate "Roadrunner", one of my fellow tapers asked me if the extended trip was worth it. Oh, yeah.
I recorded this set from inside the soundboard cage in the middle of the field. While the elements and distance were a bit of an issue, overall the sound is quite excellent. Enjoy!
Stream "Marquee Moon" (Television):

Stream "Color Me Impressed":

Download the Complete show [MP3] / [FLAC]
PLEASE NOTE THAT WHILE WE ARE THRILLED WITH THE POPULARITY OF THIS DOWNLOAD, IT HAS CRUSHED OUR SERVERS. WE ARE WORKING TO KEEP THE OFF-SITE LINKS ACTIVE, PERIODICALLY THEY WILL EXPIRE AND WE WILL RE-POST NEW ONES. PLEASE BE PATIENT. 
Note: All of the material on this site is offered with artist permission, free to fans, at our expense. The only thing we ask is that you download the material directly from this site, rather than re-posting the direct links or the files on other sites without our permission. Please respect our request.
Wilco
2013-06-21
Solid Sound Festival
North Adams MA
Digital Master Audience Recording
Recorded inside Soundboard Cage
Sennheiser MKH-8040 Cardioids > Edirol R-44 (Oade Concert Mod) > 24bit 48kHz wav file > Soundforge (level adjustments, EQ, set fades) > CDWave 1.95 (tracking) > TLH > flac (320 MP3 and tagging via Foobar)
Recorded and Produced
by nyctaper 2013-06-22
Setlist:
[Total Time 2:25:00]
01 The Boys Are Back in Town [Thin Lizzy]
02 Cut Your Hair [Pavement]
03 In the Street [Big Star]
04 New Madrid [Uncle Tupelo]
05 Dead Flowers [Rolling Stones]
06 Simple Twist of Fate [Bob Dylan cover]
07 [John Hodgeman – the Randomizer 1]
08 Ripple [Grateful Dead]
09 Who Loves the Sun [Velvet Underground]
10 And Your Bird Can Sing [The Beatles]
11 And Your Bird Can Sing [repeat]
12 Psychotic Reaction [Count Five]
13 [John Hodgeman – the Randomizer 2]
14 Tom Courtenay [Yo La Tengo]
15 [John Hodgeman – the Randomizer 3]
16 James Alley Blues [Richard Rabbit Brown]
17 Waterloo Sunset [Kinks]
18 Waterloo [ABBA]
19 Peace Love and Understanding [Nick Lowe]
20 [John Hodgeman – the Randomizer 4]
21 Marquee Moon [Television]
22 [Happy Birthday to Pat Sansone]
23 Don't Fear The Reaper [Blue Oyster Cult]
24 Cinnamon Girl [Neil Young]
25 [Stump the Band]
26 Get Lucky [Daft Punk]
27 Surrender [Cheap Trick]
28 Color Me Impressed [Replacements]
29 [John Hodgeman – the Randomizer 5]
30 Kingpin
31 Thank You Friends [Big Star]
32 [encore break]
33 The Weight [The Band]
34 Roadrunner [The Modern Lovers]
notes
Track 14 performed with Yo La Tengo
Track 17 and 18 with Lucius
Track 28 with Tommy Stinson
Track 33 with Lucius
Track 34 with Yo La Tengo
If you download this recording, we expect that you will PLEASE SUPPORT Wilco, visit their website, and purchase their official releases at their website [HERE].