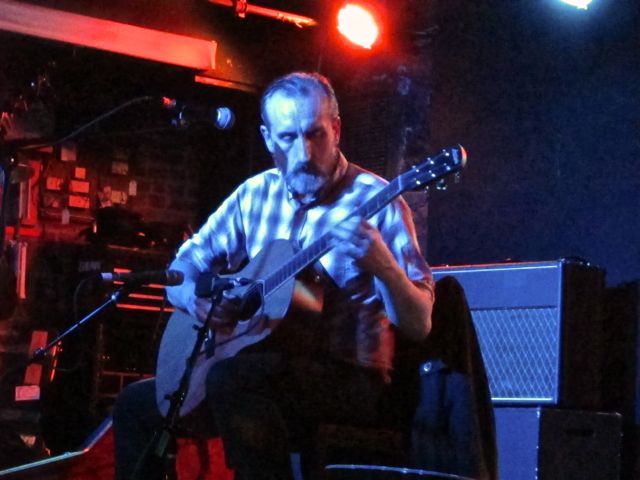 [Photo by acidjack]
After getting a preview of what was to come last year at Hopscotch Music Festival, we expected Chuck Johnson's 2013 record Crows In the Basilica to be an important part of the conversation on best guitar records of the year. That was confirmed both by Basilica's release on Three Lobed Recordings this spring, as well as by this performance at Mercury Lounge, where Chuck demonstrated that the subtle brilliance of his compositions can't be contained by the studio.
Chuck and his contemporaries are almost always categorized by the label "American Primitive", a sub genre of guitar playing shared with its progenitor John Fahey and many other worthy players, but the term "primitive" as understood by most is misleading. Rather than suggesting a simplicity or naïveté to the material, American Primitive is best understood as a recognition of the ability of these players to use highly complex guitar arrangements that link the instrument's present with its more elemental, folk-derived origins. Before venturing out as a solo player, Johnson played in well-regarded North Carolina bands like Shark Quest and the string trio Idyll Swords, but it is here where Johnson's skill on guitar is best appreciated. We hope you will enjoy this moving set of music from Johnson and be on the lookout for his future shows.
I recorded this set with Schoeps MK41 supercardiod microphones from our usual spot in the venue, plus a soundboard feed provided by Mercury team. Given that it is a recording of a single instrument, the recording heavily favors the soundboard feed, with a bit of audience mics mixed in to give a feel of the room. It is an excellent recording. Enjoy!
Stream "Crows In the Basilica"

Direct download of MP3 files [HERE] | Direct Download of  FLAC files [HERE]
Note: All of the material on this site is offered with artist permission, free to fans, at our expense. The only thing we ask is that you download the material directly from this site, rather than re-posting the direct links or the files on other sites without our permission. Please respect our request.
Chuck Johnson
2013-05-25
Mercury Lounge
New York, NY USA
Exclusive download hosted at nyctaper.com
Recorded and produced by acidjack
Soundboard + Schoeps MK41>KCY>Z-PFA>Sound Devices USBPre2 >> Edirol R-44 [OCM]>2x24bit/48kHz WAV>Adobe Audition CS 5.5 (align, adjust levels, mix down)>Izotope Ozone 5 (effects, EQ)>Audacity 3.0 (fades, tracking, amplify, balance, downsample)>FLAC ( 8 )
Tracks
01 Swallow the Sun>
02 Albion Source
03 Caldera Wires
04 Vastapol
05 On A Slow Passing In Ghost Town *
06 Crows In the Basilica
07 Mine Creek
08 The Stars Rose Behind Us
If you enjoyed this recording, please support Chuck Johnson, visit his website and purchase Crows In the Basilica from Three Lobed Recordings [HERE]