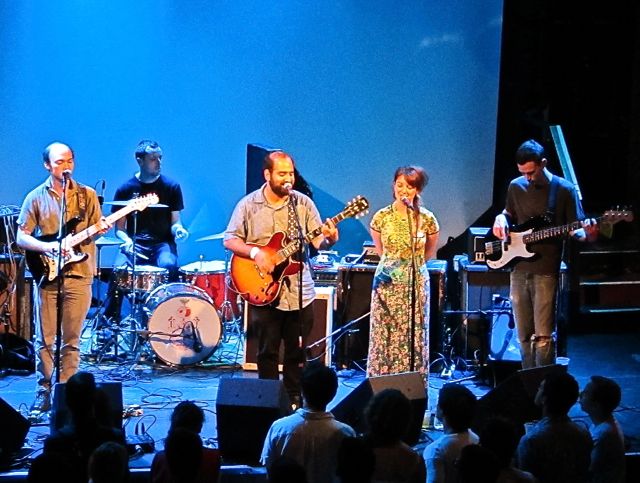 [photo by acidjack]
I know I've thrown around the term "indie rock jam-band" before. But it's hard to find a more appropriate label for Alex Bleeker & The Freaks, who used their three quarters of an hour opening for fellow Brooklynites Woods at Bowery Ballroom to play more than a few songs that hearkened to an earlier era in tone and in their ability to flow seamlessly from one to the other. Bleeker, who also serves as bassist in Real Estate, had a birthday on this night, and he treated himself by playing songs that I suspect reminded him of home. You knew this set was going to be right when the band led off with the Grateful Dead's "Let the Good Times Roll" and went from there into a mix of songs from the band's latest record and fun-loving covers that did exactly what the first one promised.
If you listen to their new record, How Far Away, you'd be forgiven for the cheap comparison that Bleeker & the Freaks sound almost like a hybrid of Woods and Real Estate at points, with some of the former band's lo-fi style blending with Real Estate's easygoing sound. That's no more in evidence than on "Home I Love", which made for one of this show's most compact bursts of good feeling. That led into a superjam of sorts, with three more numbers from the album, with "See You On Sunday" jamming into "Steve's Theme" and then "Rhythm Shakers" before the band switched gears into Katrina and the Waves' all-time classic "Walking On Sunshine". After "Step Right Up (Pour Yourself Some Wine)", Bleeker toasted his birthday in grand style with their song "Epilogue" teasing Dylan's "You Ain't Goin' Nowhere" into the set closer, Brewer & Shipley's "One Toke Over the Line". A happy birthday, indeed.
I recorded this set in the same manner as the Woods recording with Schoeps MK5 microphones and a soundboard feed from longtime Bowery engineer Kenny. The sound is outstanding. Enjoy!
Stream "Home I Love"

Stream "Epilogue>One Toke Over the Line"

Download the complete show in [MP3] or [FLAC]
Note: All of the material on this site is offered with artist permission, free to fans, at our expense. The only thing we ask is that you download the material directly from this site, rather than re-posting the direct links or the files on other sites without our permission. Please respect our request.
Alex Bleeker & the Freaks
2013-07-27
Bowery Ballroom
New York, NY USA
Exclusive download hosted at nyctaper.com
Recorded and produced by acidjack
Schoeps MK5 (DINa, DFC)>KCY>Z-PFA>Sound Devices USBPre2 + Soundboard (engineer: Kenny)>>Edirol R-44 [OCM]>2x24bit/48kHz WAV>Adobe Audition CS 5.5 (align, mix down)>Izotope Ozone 5 (EQ, effects)>Audacity 2.03 (fades, tracking, amplify, light parallel compression, balance, downsample)>FLAC ( level 8 )
Tracks
01 [intro banter]
02 Let the Good Times Roll [Grateful Dead]
03 Don't Look Down
04 Home I Love
05 [banter]
06 See You On Sunday>Steve's Theme>Rhythm Shakers
07 Walking On Sunshine [Katrina and the Waves]
08 Step Right Up (Pour Yourself Some Wine)
09 Epilogue>One Toke Over the Line [Brewer and Shipley]
If you enjoyed this recording, PLEASE SUPPORT Alex Bleeker & The Freaks, visit their website, and buy their latest, How Far Away, from Woodsist Records.