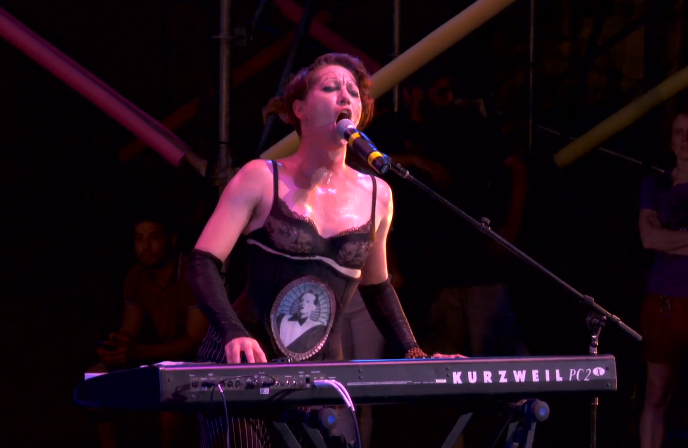 [webcast screenshot from indecisean tumblr]
On the final weekend of Lincoln Center's "Out Of Doors" Summer concert series, Amanda Palmer and the Grand Theft Orchestra brought their "punk cabaret" for a free show in a public park that was packed with all manner of folks. There were young parents with toddlers, teenage kids, older couples, and oddballs of all sorts — devoted fans and curiosity seekers all the same. Damrosch Park was packed and it remained so throughout the supremely entertaining show and spectacle that is an Amanda Palmer concert. We were treated to Grand Theft standards, a semi-surprise appearance of Amanda's old partner in the Dresden Dolls Brian Viglione, a mid-show ukelele solo set, a Nirvana cover, and an all-guests-on-stage finale ("Leeds United") that filled the huge stage to capacity. At the center of it all was Palmer, who amongst the agenda-driven is derided as a polarizing figure, but on this night received nothing but adoration, particularly from the rabid screaming standing-room-only crowd upfront. I make no secret of my personal admiration for Amanda's personality, performance-style, and in the case of her May show at Bowery, her extreme generosity. Regardless of varied opinions, there's no denying that Amanda is a stellar entertainer and given the positive reaction of a true cross-section of the NYC population that attended this entire free show, her reach is perhaps greater than perhaps previously believed. That reach will include tours of Australia and Europe throughout the Fall of 2013, tour dates here.
To say I am disappointed in my own performance on this night would be an understatement. Due to some bad decisions on my part, not the least of which was setting up way too far back, this recording falls well below the usual standards of this site. The distance, the elements, and the outdoor noise all conspired to create a recording that sounds very much like an outdoor stadium show made with inferior equipment. The details are that I ran the Sennheiser cards from directly in front of the soundboard about 200 feet from the stage. The samples will give you an idea of the best of this recording. Caveat listener, but otherwise enjoy!
Stream "The Killing Type":

Stream "Smell Like Teen Spirit" (Nirvana cover):

Download the Complete show [MP3] / [FLAC]
Note: All of the material on this site is offered with artist permission, free to fans, at our expense. The only thing we ask is that you download the material directly from this site, rather than re-posting the direct links or the files on other sites without our permission. Please respect our request.
Amanda Palmer
and the Grand Theft Orchestra
2013-08-09
Lincoln Center Out of Doors
Damrosch Park
New York, NY USA
Digital Master Audience Recording
Sennheiser MKH-8040 Cardioids > Edirol R-44 (Oade Concert Mod) > 24bit 48kHz wav file > Soundforge (level adjustments, mixdown, set fades) > CDWave 1.95 (tracking) > TLH > flac (320 MP3 and tagging via Foobar)
Recorded and Produced
by nyctaper 2013-08-11
Setlist:
[Total Time 1:14:24]
01 A Grand Theft Intermission
02 Do It With a Rockstar
03 The Killing Type
04 [band introduction – Brian intro]
05 Missed Me
06 Want It Back
07 Astronaut: A Short History Of Nearly Nothing
08 Smells Like Teen Spirit [Nirvana]
09 [banter – magic word]
10 Map Of Tasmania
11 [banter – Gaga intro]
12 Gaga Palmer Madonna
13 Bigger On The Inside
14 Lost
15 [banter – thank you]
16 Leeds United
17 [encore break]
18 Ukelele Anthem
If you download this recording from NYCTaper, we expect that you will PLEASE SUPPORT Amanda Palmer, visit her website, and visit the Shop at her website [HERE].