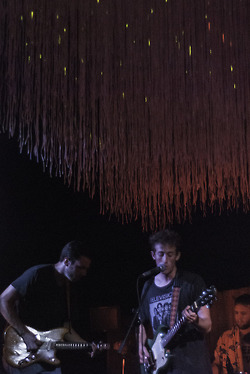 [photo courtesy of Eidolons]
Eidolons is a quirky alt-pop band from Portland Oregon, whose catchy music shows influences from 80s Brit pop (Smiths, Cure) to 90s West coast alternative (Shins, Death Cab), but yet sounds very contemporary. We caught them at Cameo Gallery a few weeks back on a Sunday night headlining gig. Their set alternated between tracks from their 2012 album China, and their new album Skyhook which was released in June. The band can change tempo and key on the dime and their talent bodes well for their future — or as the Portland-Mercury described them, "freaky potential".
I recorded this set in our standard location in this venue and the sound quality is superb. Enjoy!
Stream "Gross Towel":

Download the Complete show [MP3] / [FLAC]
Note: All of the material on this site is offered with artist permission, free to fans, at our expense. The only thing we ask is that you download the material directly from this site, rather than re-posting the direct links or the files on other sites without our permission. Please respect our request.
Eidolons
2013-06-30
Cameo Gallery
Brooklyn, NY USA
Digital Master Recording
Recorded from Front of Soundboard Booth
Soundboard + Sennheiser MKH-8040s > Edirol R-44 (Oade Concert Mod) > 24bit 48kHz wav file > Soundforge (level adjustments, EQ, mixdown, set fades) > CDWave 1.95 (tracking) > TLH > flac (320 MP3 and Tagging via Foobar)
Recorded and Produced
by nyctaper
2013-08-02
Setlist:
[Total Time 46:59]
01 Skyhook
02 Gross Towel
03 Gonna Ride Out
04 Yellow Wallpaper
05 Twin Falls
06 Hangin Out
07 Xylem and Phloem
08 Milonga For A Long Face
09 Corky Calhoun
10 Gordy
11 Montana
If you download this recording from nyctaper, we expect that you will PLEASE SUPPORT Eidolons, and visit their bandcamp page where you can purchase their official releases including the latest album Skyhook [HERE].