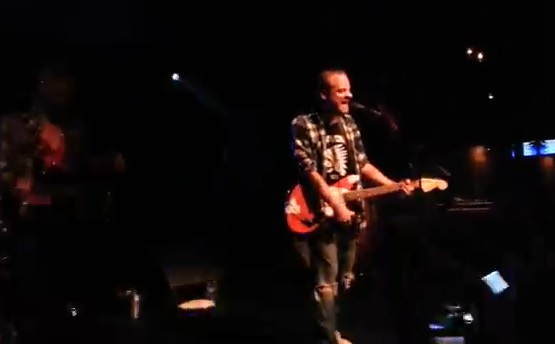 [screen cap from this video]
Nirvana's final album In Utero was released on September 13, 1993. In many ways, 1993 was a watershed year. It was the year that Clinton became President, and the year that the Web evolved from a connection to a handful of servers to a truly "world-wide" phenomenon. It was also the last full year of Kurt Cobain's life. In Utero reflects many of the troubles and contradictions in Cobain's life at that time — illness, drug addiction, the complications of fame and fatherhood. As an album of representing the life of a troubled artist and tortured soul its a brilliant work. Twenty years removed, the historical significance of the album is established and the painful events that followed its release are old wounds. Deervana is Deer Tick's alter ego and its attempt to both pay tribute to the band and enjoy playing music that the band loves. On Friday night, the band played its first Deervana show in NYC in two years, this time to play In Utero from start to finish on its 20th anniversary. John McCauley noted several times during the show that Deervana is "just for fun". And at Brooklyn Bowl the band and the crowd had just that. There were no deep philosophical statements, recriminations or any sign of mourning. Enough time has passed for that. The performance was a faithful and at times eerily soundalike play through the album from start to finish. We are streaming "All Apologies", the album's final track and Nirvana's swan song. As the crowd chanted along with Deervana, "all in all is all we are" indeed.
I recorded this set with the Sennheiser cardioids mounted high about midway on the floor and mixed with an excellent stereo board feed mixed expertly by Deer Tick's FOH Matt. The sound quality is superb. Enjoy!
Stream "All Apologies":

Download the Complete show [MP3] / [FLAC]
Note: All of the material on this site is offered with artist permission, free to fans, at our expense. The only thing we ask is that you download the material directly from this site, rather than re-posting the direct links or the files on other sites without our permission. Please respect our request.
Deervana
2013-09-13
Brooklyn Bowl
Brooklyn, NY USA
Digital Master Recording
Soundboard + Audience Matrix
Soundboard + Sennheiser 8040 Cardioids > Edirol R-44 (Oade Concert Mod) > 2 x 24bit 48kHz wav files > Soundforge (level adjustments, mixdown, set fades) > CDWave 1.95 (tracking) > TLH > flac (320 MP3 and tagging via Foobar)
Recorded and Produced
by nyctaper 2013-09-14
Setlist:
[Total Time 45:57]
01 [introduction]
02 Serve the Servants
03 Scentless Apprentice
04 Heart-Shaped Box
05 Rape Me
06 Frances Farmer Will Have Her Revenge on Seattle
07 Dumb
08 Very Ape
09 Milk It
10 Pennyroyal Tea
11 Radio Friendly Unit Shifter
12 Tourette's
13 All Apologies
If you email nyctaper for access to this recording, we expect that you will PLEASE SUPPORT Deer Tick, visit their website, and purchase their official releases from the Partisan Records Store [HERE].