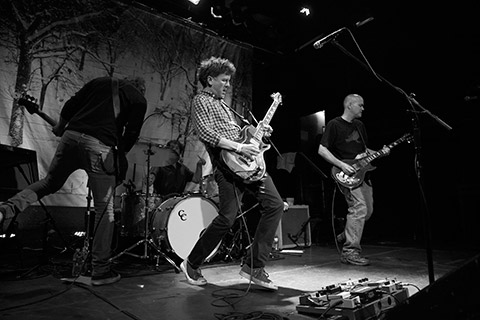 [photos by PSquared Photography]
I don't believe its quite accurate to say that Superchunk is the best working band in America today, but you'd be hard pressed to name one that's actually better. For more than two decades, minus a few years hiatus, Superchunk has consistently released high quality albums filled with excellent songs. There's not a clunker among any of their ten studio albums — heck, there isn't even a bad song in their catalog. The newest release came out last month, and I Hate Music not only continues the streak, but its one of the strongest albums in their history. The band is currently on tour in support of the album and performed two shows at Bowery Ballroom this weekend, and we were there for Saturday's barnburner. Superchunk opened the show on high octane, working through a democratic mix of songs from the new album interspersed with the classics in an hour-long set that barely came up for air. And the very-sold out crowd was with them throughout. From our standard balcony perch we could see the craziness on the floor, but the manic crowd response even spread to the balcony itself, where we witnessed enough pogoing to shake the floor of the upper deck. But it was in the ten song encore segment where all hell broke loose. The band welcomed out Merge recording artist Eleanor Friedberger for two legendary punk covers (we're streaming the Patti Smith one below) and then just continued to play a series of their own deep tracks in maniacal fashion. The show reached its climax when Mac laid down his guitar, took over behind the kit and drummer Jon Wurster came out to deliver a couple of hardcore covers to end the night.
I recorded this set with the Sennheiser cards mixed with an excellent board feed. There is a couple of minutes of static near the very end of the set caused by a problematic mic on the snare drum, but otherwise this is a superb capture. Enjoy!
We will also have a recording of the first night of Superchunk's Bowery shows. That recording should be available by the end of the week.
Stream "Free Money" (Patti Smith cover with Eleanor Friedberger):

Stream "Digging for Something":

Download the Complete show [MP3] or [MP3] (off site) / [FLAC] or [FLAC] (off site)
Note: All of the material on this site is offered with artist permission, free to fans, at our expense. The only thing we ask is that you download the material directly from this site, rather than re-posting the direct links or the files on other sites without our permission. Please respect our request.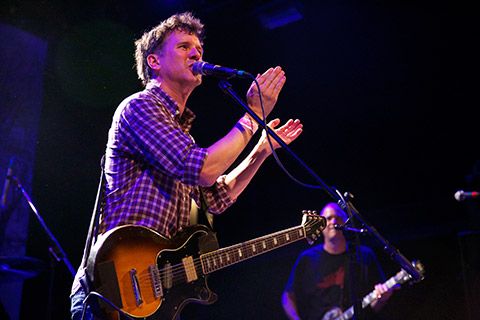 Superchunk
2013-09-28
Bowery Ballroom
New York, NY
Digital Master Recording
Soundboard + Audience Matrix
Soundboard + Sennheiser MKH-8040s > Edirol R-44 (Oade Concert Mod) > 2 x 24bit 48kHz wav files > Soundforge (level adjustments, mixdown, set fades) > CDWave 1.95 (tracking) > TLH > flac (320 MP3 and tagging via Foobar)
Recorded and Produced
by nyctaper 2013-09-29
Setlist:
[Total Time 1:32:11]
01 Breaking Down
02 FOH
03 Crossed Wires
04 Detroit Has A Skyline
05 Punch Me Harder
06 Staying Home
07 [banter – video]
08 Void
09 Like A Fool
10 Tower
11 Iron On
12 Water Wings
13 [banter – requests]
14 Out of the Sun
15 Me and You and Jackie Mittoo
16 Cast Iron
17 Digging For Something
18 Trees of Barcelona
19 [encore break]
20 Seed Toss
21 [Eleanor introduction]
22 Free Money [Patti Smith]
23 Oh Oh I Love Her So [Ramones]
24 Slack Motherfucker
25 Precision Auto
26 [second encore break]
27 Animated Airplanes Over Germany
28 Throwing Things
29 Fishing
30 20 Eyes [Misfits]
31 My War [Black Flag]
If you enjoyed this recording, PLEASE SUPPORT Superchunk, visit their website, and purchase I Hate Music directly from Merge Records [HERE].