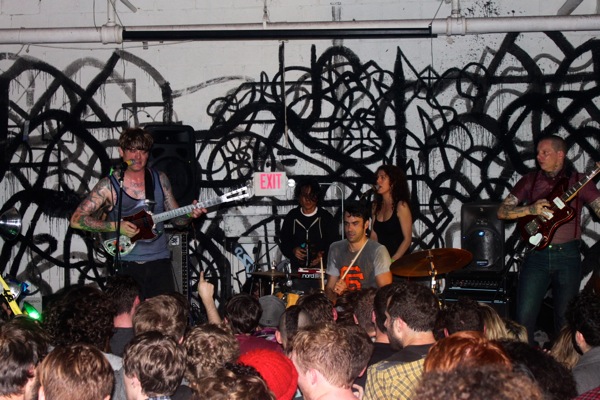 [photo courtesy of We All Want Someone To Shout For blog]
Lou Reed died on Sunday morning, October 27, 2013. If that fact is important to you, then by now you've read the hundreds of excellent tributes across the web. The man was complicated, but one thing is for certain — his vast and ubiquitous influence over multiple genres of music and musical lifestyles will be felt for generations to come. So it was abundantly appropriate that on the night of his death, one of New York's premiere DIY venues — in a warehouse no less — hosted one of the country's premiere garage-rock bands. I don't think its a reach to say that if Lou Reed's life had not taken the path he began nearly fifty years ago, 285 Kent and Thee Oh Sees would not exist, or at least exist in the way they do now. ToddP recognized the importance of the evening, as his house music was all-Reed for virtually the entire night. And as Thee Oh Sees were about to take the stage, the ipod mix queued up "Walk On The Wild Side", and a natural and spontaneous cheer arose from the packed house. As John Dwyer approached the mic, he dedicated the set to Lou, and began to play. And play they did. Thee Oh Sees are one of today's most engaging live acts, but this performance was special. Each song was a bundle of kinetic energy and it seemed as if the crowd was of one mind, moshing in beat to every single song for this meaty and lengthy set. The band is on tour to support their latest album Floating Coffin, and while the setlist included more than half the album, there were also plenty of old favorites. Thee Oh Sees play locally again tonight (Tuesday October 29), at Irving Plaza. As of this writing, there are less than 100 tickets left. We'll be there, and if you're reading this, hopefully you will be too.
I recorded this set by mounting the Sennheiser cards on the beam ten feet from the stage and mixed it with a fine board mix. The sound is excellent. Enjoy!
Stream "Block of Ice":

Download the Complete Show [MP3] / [FLAC]
Note: All of the material on this site is offered with artist permission, free to fans, at our expense. The only thing we ask is that you download the material directly from this site, rather than re-posting the direct links or the files on other sites without our permission. Please respect our request.
Thee Oh Sees
2013-10-27
285 Kent
Brooklyn, NY USA
Digital Master Recording
Soundboard + Audience Matrix
Soundboard + Sennheiser MKH-8040s > Edirol R-44 (Oade Concert Mod) > 24bit 48kHz wav file > Soundforge (level adjustments, set fades, downsample) > CDWave 1.95 > (tracking) > TLH > flac (320 MP3 and Tagging via Foobar)
Recorded and Produced
by nyctaper
Setlist:
[Total Time 1:24:54]
01 I Come From The Mountain
02 Toe Cutter – Thumb Buster
03 Block of Ice
04 Contraption – Soul Desert
05 The Dream
06 Tidal Wave
07 Tunnel Time
08 What's Over There
09 Strawberries 1 and 2
10 Meat Step Lively
11 [tech break – bad cable]
12 No Spell
13 [tech break – power strip]
14 Dead Energy
15 Minotaur
16 Lupine Dominus
17 [encore break]
18 Carrion Crawler
If you download this recording from NYCTaper, we expect that you will PLEASE SUPPORT Thee Oh Sees, visit their website, and purchase Floating Coffin from Castle Face Records [HERE].