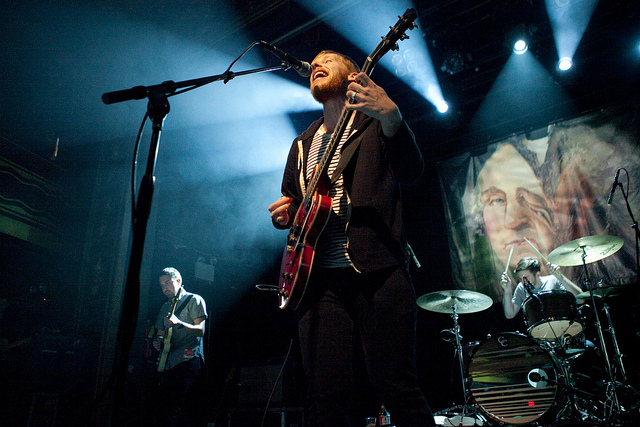 [photos by Sean O'Kane]
These days, Kevin Devine is the worst kept secret in pop music. For the first ten years of his career, Kevin was one of those performers who felt like he was yours alone — until you'd come to his shows and finding that you were hardly his only rabid fan. The front rows of Kevin's shows are always filled with the kind of fans who know every single word to every song and buy tickets whenever he's in town. Or, as the girl who yelled out a compliment about the Washington DC show on this tour, whenever he's in any town. At Webster Hall on Friday night, it was the hometown show of a lengthy tour that's brought Kevin Devine and the Goddamn Band across the country. Ostensibly to promote Bubblegum, the "rock" album of his dual album release (along with Bulldozer) that was fully funded in less than one day on Kickstarter, this tour has been a victory lap of sorts. Bubblegum and Bulldozer aren't just new albums to support on a tour — they were at first affirmative proof that an artist of tremendous talent with an extremely dedicated underground fanbase could break free from the label trap and forge his own path on his own terms. But more than that, these two albums are superior works of art. Bubblegum on display at Webster is the full-band album that rocks from start to finish. There isn't a weak track on the album, quite inapposite every track is a scorcher. If some of the larger music sites on the web haven't yet caught onto these simple facts, its a credit to Paste Magazine, who reviewed Bubblegum with a 8.9 rating. At Webster on Friday, after the classic "Cotton Crush" opener, the band ripped through the first three tracks of the album in order and didn't really come up for air throughout the entire hour-long main set. The encore set was a bit of a goof, with the band playing portions of a bunch of rock classics, before Kevin ended the show with a couple of solo songs. We're streaming "Ballgame" which has closed each of the shows on this tour. This is Kevin's early confessional song but at this point in his career maturity, it seems to be less about him and more about us and our obsessions with the current flavor-of-the-month. For the last few years, Kevin has added a verse for the live version of "Ballgame" which seems to be an evolving set of lyrics. The new last section was the most poignant — "wake up, cause you're not done. You can fix yourselves up kids, and you can learn how to love, the way you've wanted to love someone besides yourself for once, and mean something for more than six months. There's work to be done". And that's how the show ended. Kevin Devine will return in the Spring with a tour to support Bulldozer, and we'll expect a little bit of a different format, but undoubtedly the same commitment and intensity.
I recorded this show with the Sennheiser cards mounted inside the sub-balcony of the soundboard booth and mixed with a board feed. There was a problematic microphone on one of the drums heads that caused some static in the middle of the show and can be heard at points. With that caveat, enjoy!
Stream "Bubblegum":

Stream "Ballgame":

Download the Complete Show [MP3] / [FLAC]
Note: All of the material on this site is offered with artist permission, free to fans, at our expense. The only thing we ask is that you download the material directly from this site, rather than re-posting the direct links or the files on other sites without our permission. Please respect our request.
Kevin Devine
2013-11-22
Webster Hall
New York, NY USA
Digital Master Recording
Soundboard + Audience Matrix
Soundboard + Sennheiser MKH-8040s > Edirol R-44 (Oade Concert Mod) > 2x 24bit 48kHz wav files > Soundforge (level adjustments, mixdown, downsample set fades) > CDWave 1.95 (tracking) > TLH > flac (320 MP3 and Tagging via Foobar)
Recorded and Produced
by nyctaper
Setlist:
[Total Time 1:35:46]
01 Cotton Crush
02 Nobel Prize
03 Private First Class
04 Fiscal Cliff
05 Carnival
06 [banter – spirit animal]
07 Bloodhound
08 Bubblegum
09 Buried By the Buzz
10 Another Bag of Bones
11 [banter – Now Now]
12 A Story A Sneak
13 She Can See Me (Bubblegum version)
14 Somewhere Unoccupied
15 I Don't Care About Your Band
16 [banter – not cool]
17 Brother's Blood
18 [encore break]
19 Sweet Child of Mine [Guns N Roses]
20 Thunderstruck [ACDC]
21 Round Here [Counting Crows]
22 Enter Sandman [Metallica]
23 El Scorcho [Weezer]
24 Stir It Up [Bob Marley]
25 Lose Yourself [Eminem]
26 Stan [Eminem]
27 [banter – 2 albums]
28 Little Bulldozer
29 I Could Be With Anyone
30 Redbird
31 Safe
32 Ballgame
If you email nyctaper for access to this recording, we expect that you will PLEASE SUPPORT Kevin Devine, visit his website, and purchase Bulldozer and Bubblegum from the Merch link at his website [HERE].