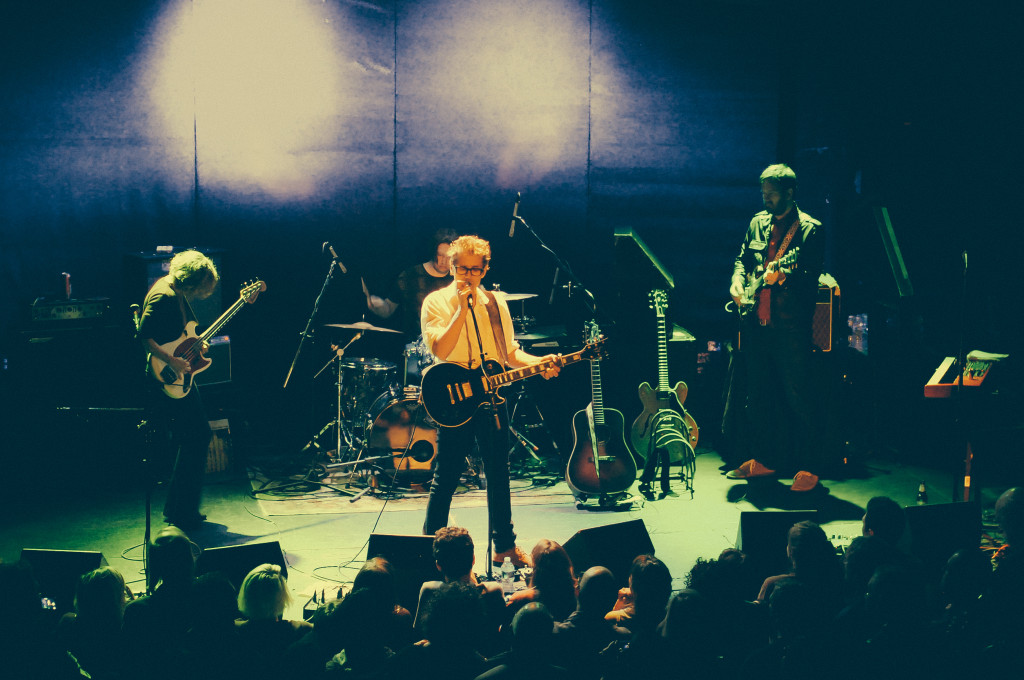 [photos by Jill from For The Love of Brooklyn]
Dean Wareham has created music for more than 25 years, but he's always been part of a group — be it Galaxie 500, Luna or Dean & Britta. In the last year, Dean has released an excellent EP and his first true solo album, and the current tour in support of the March release of his self-titled album came to Bowery Ballroom last week. Bowery is a venue that holds a special place in the history of Luna, having hosted the band's final shows (we recorded a recent one-off reunion) that became the Tell Me Do You Miss Me documentary. Dean's set was a democratic run through a selection of material from throughout his career and included only four songs from the new album and just the title track from the EP. But the crowd was as we'd hope for this performer — reverent and respectful during the music and properly enthusiastic in between. And they were rewarded, as Dean Wareham continues to produce outstanding music on par with his entire career output. Dean's current tour is over, but he'll be in Europe in May.
This show was recorded with precision by hiandlo, who utilized his Schoeps cards in conjunction with a well-balanced board feed to create a truly superb recording. Enjoy!
Stream "Heartless People"

Stream "Ceremony" (New Order cover)

Download The Complete Show [MP3] / [FLAC]
Note: All of the material on this site is offered with artist permission, free to fans, at our expense. The only thing we ask is that you download the material directly from this site, rather than re-posting the direct links or the files on other sites without our permission. Please respect our request.
Dean Wareham
Bowery Ballroom
New York, NY, US
2014-04-05
Recordist : hi and lo
Source : Soundboard + Schoeps MK5c (DIN) > KCY > Naiant PFA > E.A.A. PSP-2 >> Sound Devices 744T @ 24 bit / 48 kHz
Edit : WaveLab V6 (mixdown/eq/gain/fades/dither/resampling)
Encoding : FLAC v1.2.1 Level 8 with TLH v2.6.0
Tracklist:
01. Emancipated Hearts
02. Heartless People
03. Tiger Lily
04. The Dancer Disappears
05. Holding Pattern
06. Temperature's Rising
07. When Will You Come Home
08. Love Is Not a Roof
09. Blue Thunder
10. Moon Palace
11. Lost in Space
12. Babes in the Woods
13. Tugboat
14. (Encore Call #1)
15. Don't Let Our Youth Go To Waste
16. Strange
17. (Encore Call #2)
18. Happy and Free
19. Ceremony
Running Time: 1:32:52
If you download this recording from NYCTaper, we expect that you will PLEASE SUPPORT Dean Wareham, visit his website, and purchase his self-titled album from links on his blog [HERE].