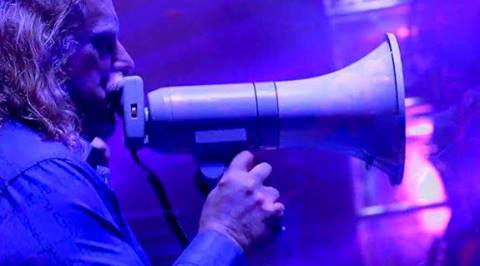 [photo from this post at MuleArmy.net]
Guitarist Warren Haynes is a busy man, playing in multiple iterations of Grateful Dead-related bands (including the recent Phil Lesh and Friends that we documented), The Allman Brothers, and of course, Gov't Mule. On top of all that, Warren continues to play an integral role in the Mountain Jam festival that he founded, where Mule can be counted on for a spectacle of a Saturday set. This year's version was three and half hours of guitar pyrotechnics and a host of especially inspired covers. Along with an encore of three consecutive Doors songs, we got to see Mule's version of the song that made Radiohead famous, "Creep". Even if Haynes' vocals and persona don't convey the sense of self-loathing and alienation that Thom Yorke does so effortlessly, Mule's version was nonetheless a notable one. The set also echoed recent Mule Mountain Jam successes, with a fiery rendition of "Brighter Days", which kicked off Mountain Jam VIII (that set here), and last year's set opener, "Broke Down On the Brazos" (that set here). As is also a Mule tradition, the band was joined by a slew of special guests, including Derek Trucks and Susan Tedeschi, who played their own set just before this one, along with Jackie Greene and Soulive's Eric Krasno. No Mountain Jam is complete without the Mule, and this one was yet another winner.
I recorded this set with MBHO microphones and an extra-warm Aerco custom preamp. The sound quality is excellent. Enjoy!
Download the complete show: [MP3] | [MP3] (permanent link – use if first one is not working) | [FLAC]
Stream "Creep" [Radiohead]

Stream "Brighter Days"

Note: All of the material on this site is offered with artist permission, free to fans, at our expense. The only thing we ask is that you download the material directly from this site, rather than re-posting the direct download links or the files on other sites without our permission. Feel free to re-post the Soundcloud links. Please respect our request.
Gov't Mule
2014-06-07
Mountain Jam X (West Stage)
Hunter, NY USA
Hosted at nyctaper.com
Recorded and produced by acidjack
MBHO KA200N/MBP603>Aerco MP-2>Sony PCM-M10>24bit/44.1kHz WAV>Izotope Ozone 5 (EQ, effects, M/S compression)>Adobe Audition CS 5.5 (adjust levels, multiband compression, fades)>Audacity 2.0.3 (track, amplify, balance, dither)>FLAC ( level 8 )
Tracks [Total Time: 3:29:11]
Set One
01 World Boss>
02 Steppin' Lightly
03 Inside Outside Woman Blues #3
04 Trane
05 Eternity's Breath
06 St. Stephen (instrumental) [Mahavishnu Orchestra]
07 Beautifully Broken>
08 Breakdown> [Tom Petty]
09 Beautifully Broken
10 Whisper In Your Soul
11 Banks of the Deep End
12 Stratus [Billy Cobham] *
13 Game Face
14 Stoop So Low
15 Since I've Been Loving You [Led Zeppelin]
Set Two
01 Mule
02 Tell Me Something Good # [Rufus & Chaka Khan]
03 Funny Little Tragedy
04 Which Way Do We Run
05 Brighter Days
06 Soulshine
07 Creep [Radiohead]
08 Sugaree [Jerry Garcia] %
09 Sometimes Salvation [Black Crowes] %
10 Broke Down on the Brazos>
11 Tributary Jam
12 [encore break]
13 People Are Strange [The Doors]
14 Five To One [The Doors]
15 Break On Through (To the Other Side) [The Doors]
* with Derek Trucks
# with Eric Krasno, Susan Tedeschi, and Kofi Burbridge
% with Jackie Greene
If you enjoyed this recording, PLEASE SUPPORT Gov't Mule, visit their website, and purchase their official releases from the Mule Store [HERE].