Follow @acidjacknyc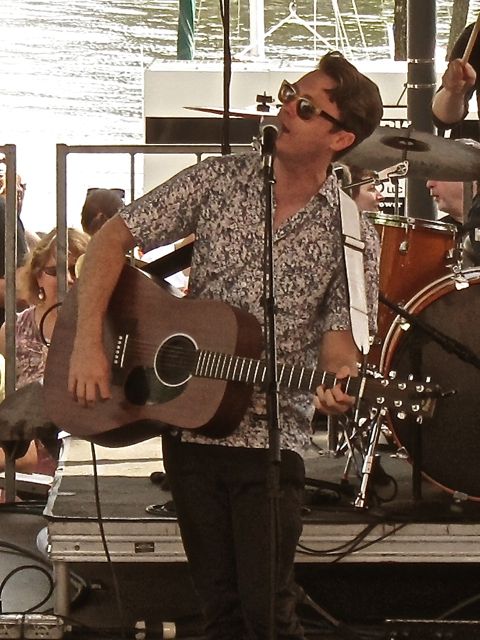 [photos by acidjack]
SUPPORT INDEPENDENT RADIO – DONATE TO WXPN HERE
Jeremy Messersmith is one of those consummate singer-songwriters who keeps fans engaged with a combination of hard work and compelling music. Though he first broke out in 2006, appearing on this site in 2008 as he toured behind the outstanding The Silver City, to hear Messersmith play again two albums later is to fall in love with his music all over again. It retains its easygoing spirit, with lyrics that are poignant but not labored and hooks that dig in and don't let go. This appearance at the XPonential Music Festival on the Camden waterfront, put on by the stalwart independent Philadelphia radio station WXPN, brought us a more mature but still playful Messersmith who looked comfortable playing to a sizable outdoor crowd. The set focused on his new record of fractured love songs, Heart Murmurs, but didn't shy from some of his best-known rockers from earlier albums, like the propulsive "Dillinger Eyes" and set closer "Violet!" from 2010's The Reluctant Graveyard. Even if Messersmith did sing a song about wanting to be a one-night stand, I suspect fans' commitment to him will continue to run much deeper than that.
I recorded this set with a flawless soundboard feed from the local engineer Tom, combined with Schoeps MK5 microphones flying back at the board. The sound quality is excellent. Enjoy!
Download the full set: [MP3] | [FLAC]
Stream:

Note: All of the material on this site is offered with artist permission, free to fans, at our expense. The only thing we ask is that you download the material directly from this site, rather than re-posting the direct links or the files on other sites without our permission. Please respect our request. Please feel free to re-post the Soundcloud links.
Jeremy Messersmith
2014-07-26
XPonential Music Festival, Marina Stage
Camden, NJ USA
Exclusive download hosted at nyctaper.com
Recorded and produced by acidjack
Soundboard (engineer: Tom) + Schoeps MK5c (PAS)>KC5>CMC6>Sound Devices USBPre2>>Edirol R-44 [OCM]>2x24bit/48kHz WAV>Adobe Audition CS 5.5 (mix down, adjust levels)>Izotope Ozone 5 (EQ, compression, effects)>Audacity 2.0.3 (tracking, fades, amplify, balance, downsample, dither)>FLAC ( level 8 )
Tracks [Total Time 46:27]
01 [intro]
02 Tourniquet
03 It's Only Dancing
04 Lazy Bones
05 Knots
06 I Want To Be Your One Night Stand
07 A Girl, a Boy, and a Graveyard
08 Dillinger Eyes
09 Organ Donor
10 Hitman
11 Ghost
12 [banter]
13 Violet!
If you enjoyed this recording, PLEASE SUPPORT Jeremy Messersmith, visit his website, and buy his records in his online store.