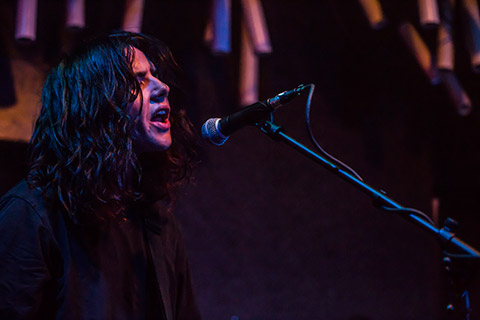 [photo by PSquared Photography – complete set at brooklynvegan]
The Wytches are an interesting amalgam of neo-psychedelia, 70s-style acid rock and 90s alternative. The British trio has released a series of singles and EPs on smaller labels in England but are now poised to break in the US with the release of their debut album Annabel Dream Reader on Partisan Records. In that regard, The Wytches came to the US this month for their first US tour. On Thursday, we caught the band's first-ever NYC show and it was a burner. In a packed and darkened Mercury Lounge, The Wytches live show relied less on the spacey side of their music and stressed the louder elements — this was not some loopy psychedelic prace but a full-on heavy acid-rock set from the outset with lead singer Kristian Bell growling out vocals to the one-two punch openers of "Digsaw" and "Burn Out the Bruise". We're streaming the band's latest and perhaps most popular single "Wire Frame Mattress" which was also heavier live than on record. The balance of the set touched on most of the material that will appear on the new record, a couple of b-sides and one new song. The Wytches will return to the UK for touring throughout August and early September, but we expect they'll be back stateside in the Fall.
I recorded this set with my newly purchased Schoeps CCM4Ug compact cardioid microphones. The mics picked up a little bit of chatter in the soundscape but overall I'm really happy with the sweet sound. The mics are mixed with an excellent soundboard feed provided by Merc FOH Dave. The sound quality is superb. Enjoy!
Stream "Wire Frame Mattress":

Download the Complete Show [MP3] / [FLAC]
Note: All of the material on this site is offered with artist permission, free to fans, at our expense. The only thing we ask is that you download the material directly from this site, rather than re-posting the direct links or the files on other sites without our permission. Please respect our request
Wytches
2014-07-24
Mercury Lounge
New York, NY
Digital Master Recording
Soundboard + Audience Matrix
Soundboard + Schoeps CCM4Ug's > Edirol R-44 (Oade Mod) > 2 x 24bit 48kHz wav files > Soundforge (level adjustments, mixdown, set fades) > CDWave 1.95 (tracking) > TLH > flac (320 MP3 and tagging via Foobar)
Recorded and Produced
by nyctaper
Setlist:
[Total Time 45:37]
01 Digsaw
02 Burn Out the Bruise
03 Wire Frame Mattress
04 [banter – NYC]
05 Gravedweller
06 Wide at Midnight
07 Beehive Queen
08 The Holy Tightrope
09 Robe for Juda
10 [banter – headline]
11 Darker
12 Weights and Ties
13 Crying Clown
If you download this recording from NYCTaper, we expect that you will PLEASE SUPPORT The Wytches, visit their website, and pre-order Annabel Dream Reader from the Partisan Records site [HERE].